Dzmitry Bandarenka: Iosif Siaredzich's Letter Draws Tough Anti-Russian Line
105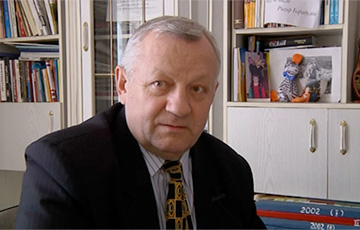 A group of Belarusian officials are trying to play their own game.
Editor-in-chief of Narodnaya Volya Iosif Siaredzich addressed the Belarusians with an open letter. He called for national reconciliation to preserve independence with his letter. According to the journalist, the risk that the country may disappear is as great as ever, so he offers a way out of the situation.
"What to do when such hard luck hits our native Belarus? What should we do so that we, Belarusians, do not lose our independence and our sovereignty so that we do not become the Northwestern Krai again?
There is only one answer to these disturbing questions: we cannot preserve the independence of Belarus without national reconciliation! This means that without the solidity of all the people, everyone - right and left, and conservatives, and liberals, pro-Western and pro-Eastern - we will not have a happy future in our native land.
The letter became the subject of discussion on the Belsat TV channel. Coordinator of the European Belarus Civil Campaign Dzmitry Bandarenka and Euroradio journalist Dzmitry Lukashuk came to the studio. Host - Siarhei Padsasonny.
– Isn't it too late to write what Iosif Siaredzich writes about? Why is he writing about reconciliation? Why did he decide this now? Does he suddenly notice what is happening in the country?
Dzmitry Bandarenka: He is inside Belarus and perceives reality differently than we here and in safety. But I will say that Iosif Paulavich Siaredzich, I am not afraid of such words, is a towering figure in Belarusian politics and Belarusian journalism. Why now? I agree with Andrei Sannikov, who expressed the idea that Siaredzich's letter is, in a way, the position of a group of officials who are also in danger from the security services, who no longer see the difference between enemies and supporters of the regime. Therefore, I am sure that this was not only an emotional decision of Iosif Siaredzich. And this is such a signal of a certain group from those of the authorities.
– At the same time, he writes at the end that no one influenced this letter from either side. So I don't know if I can agree with you.
Dzmitry Lukashuk: I think that he could not have written something else. This is the first thing. Secondly, Iosif Paulavich came up with the idea of a round table more than once, even before all the 2020 events. And I remember at one of Lukashenka's press conferences, he spoke directly about the idea of holding a round conciliation table. A year ago he did it again. And by and large, if you theoretically approach everything that Iosif Paulavich wrote, it is all correct in theory. But when this theory is imposed, like a tracing paper, on the reality of Belarus, they do not coincide.
– I also liked the first part because he accurately evaluates everything that is in this letter. However, there is another opinion. For example, Iosif Siaredzich noted that he sees a request to start a dialogue from some propagandists and representatives of the moderate pro-government wing, but it is the security services that prevent the cessation of repression and violence.
"Has the top leadership of the country become a hostage of the security forces? Yes, the security services are suffering from fear, and responsibility for the violence, torture and unlawful acts against many, many citizens. And they are ready to go, as they say, to the end, crushing everyone who does not fall to their knees after the 'Face down on the floor!' shout.
One gets the impression that not only the entire Belarusian society but also all branches of power are in captivity of these armed people. Those who have not taken off their balaclavas for years do not understand that evil multiplies evil."
Another quote preceded this statement. As the well-known writer, winner of the State Prize of Belarus Viktar Kazko said the other day: "They want to drive us all through Akrestsina, all the people," writes Siaredzich, and then suddenly the top leadership became hostages of the security forces. Is this "the tsar is good, the boyars are bad"? What exactly does that mean?
Dzmitry Lukashuk: We've already heard that More than once (Dzmitry, I think, will agree with me) that "Lukashenka may want to stop the rink of repressions, but he cannot do this, because the security services will consider this weakness".
– Is Lukashenka a hostage of the security services?
Dzmitry Bandarenka: You know, the personality of Siaredzich is the main thing here because we see that everyone is discussing his letter. The entire diaspora and people in Belarus, at least, because it gives some hope. The same is true for bureaucrats. Because they wanted to live well so that their children could study in the West. However, they can be drafted into the army and thrown to attack Kyiv or Zhytomyr in the current situation. Indeed, Siaredzich also remembers our Nobel laureate Ales Bialiatski. And I will say that Sannikov and I once, while in prison, also called for dialogue. Perhaps these are ordinary thoughts of sane Belarusians. And this letter will go down in history anyway, because we must differ from this gang, from these lowlifes. We are showing people that we are ready to do this…
– Are you ready to hug the riot police officers?
Dzmitry Bandarenka: You know, there's a famous President Lincoln speech after the American Civil War. Everyone was waiting for Lincoln to say that "we are so good people of the North and we won". He made a statement, where he addressed both the South and the North and said: "We are Americans, it was a great war, but we are to turn this page." Naturally, we will probably have to defend our rights with arms in hand. But we still stand, unlike them, for a united Belarus. And this, it seems to me, is the main message of Siaredzich and Bialiatski.
– Should we forgive and move on or what?
Dzmitry Bandarenka: I'd like to say one more thing in this regard. There is a pitfall about Siaredzich: they might want to use him. He made a specific proposal in his letter: Western diplomats should start negotiations with the opposition and the authorities separately. Those in power can count on this Siaredzich's letter and believe it can help them to lift sanctions on potash or something else.
– Free the political prisoners and then the sanctions will be lifted - this sounds clear in this letter.
Dzmitry Bandarenka: Hats off to Iosif Sairedzich for that.
– And who should take it off? Democrats or still the government?
Dzmitry Bandarenka: My hat's off to him.
Dzmitry Lukashuk: We, the supporters of morality, can hats off to Iosif Paulavich and his level of morality. However, I'd like to say that if we look at reality, what do we see? It still looks like an answer: today's verdicts, which we saw, are a response to Sairedzich's letter yesterday. "Oh, you want reconciliation? Here you are 10-12 years in prison each. So, I'm saying: just theoretically, everything is correct there, as it can be from the morality point of view, as we would like. But in reality, we do not see this, because the Lukashenka regime will not agree to any negotiations with anyone.
– At the same time, Iosif Siaredzich said that there was a call for dialogue in Lukashenka's New Year's address. I do not believe in Siaredzich's naivety in this situation because Lukashenka has shown thousands of times that his words are empty and mean nothing. What kind of dialogue?
Dzmitry Bandarenka: Look, 90% of Seredich's text is worth a life sentence under today's laws. If each of the three of us would repeat this separately, then these are several criminal cases. The person took a risk. Of course, there is some kind of bureaucratic game, but he took a chance and we do not know how it will end for him personally. Calling Siaredzich a "naive" one... He is not naive, he was a deputy back in the early 90s, and I know that this person is a tough nut.
– Why does he say that he believes Lukashenka's words?
Dzmitry Bandarenka: Because he is in a fascist dictatorship, he is in a concentration camp and is trying to make, I don't want to say a game but try to somehow influence the situation from there. And this works sometimes.
Dzmitry Lukashuk: This is such a political move...
– … over very thin ice.
Dzmitry Lukashuk: ... you need to find some citation of the "ruler" that matches and say "Look, he said this" in order to push your thesis. It's a political calculation but will it work? Dzmitry's remark is really important to me in this regard. Because now they are sentencing people to home confinement at least or even more severe restrictions of liberty not only for comments but for likes under social media posts. Writing about the job performance of the punishes like Karpenkou and or someone else is extremely risky. And even having some kind of guarantee from a certain circle of powerful people(although it's unlikely as we noted previously), I do not think that those people in power who advocate some kind of thaw under the current regime have influence. When we see the confrontation between the KGB and GUBOPiK, then it is very doubtful to say that some conditionally liberal Ministry of Finance, the Ministry of Economy or the Ministry of Foreign Affairs can influence anyhow.
– Actually, Iosif Siaredzich outlined the date when the authorities and the opposition should begin their negotiations. In this regard, if we talk about this period, he says that we must sit down at this table immediately. "And if this is not done, we will lose Belarus without national reconciliation. Our independence is in greater danger than ever over the past 20-30 years, and we can only save our homeland together. This is our sacred duty."
Dzmitry Lukashuk: Another thing, who sits with whom? They will sit, for example, with Dzmitry, with Sannikov, with Tsikhanouskaya, with Yahorau or with Latushka. Who will do it? Lukashenka will not.
– Half of these people not only appear in criminal cases but most of them have already been sentenced.
Dzmitry Lukashuk: Who will negotiate? Some Hygin. And what next? What do they decide? What can they promise, what papers can they sign?
Dzmitry Bondarenka: I would like to point out one more thing. It's likely the main message of Iosif Siaredzich's letter. The letter was written on the basis of clear patriotic positions, I would say anti-Russian, strongly anti-Russian. There is no game in this regard, no shadows.
– Does he believe that Lukashenka ...?
Dzmitry Bandarenka: He does not believe, he declares. The man is fighting in a concentration camp and opposing the occupation. He was the first inside the country to call the occupation an occupation publicly. There is no need to discuss this letter in terms of political science because Siaredzich specifically said: "other people's boots, someone else's planes, someone else's war." My hat off to Siaredzich for this. It's just desperate courage and it's his attitude. Even the Russians saw it. They saw that in Belarus, which is already all broken and everyone is in jail, such a statement appeared. And this is the most important thing.
– Who will be ready, in your opinion, to talk? Because this is an important issue. Who will negotiate? Lukashenka is demonstrating that there will be no negotiations. There are political prisoners in prisons and, as we have already said, another huge sentence, the Nobel prizewinner is in prison. What dialogue are we talking about? Who and with whom?
Dzmitry Lukashuk: Perhaps, as Dzmitry noted, the letter by Iosif Paulavich contains the hope that negotiations will take place at least with some foreign diplomats, representatives or heads of some mission, Switzerland, for example, perhaps Sweden will go for it, anyone who wants. Because neither the regime nor Lukashenka will enter into negotiations at a high level with someone else, as I have already said, with any representative of the democratic forces. With no one.
– Then, according to Siaredzich, does this mean that Belarus remains under threat of losing independence?
Dzmitry Bandarenka: I perceive this message differently. He shows the youth, he shows those who are abroad, to you and me: "Look, I'm here in the country and I can call things by their proper names using my native "Jazep" language [Iosif - Jazep in Belarusian - Ed.], and what are you doing? Therefore, I perceive his message that we should go there and help them in Belarus. Indeed, if there was a group of youth, or the Kalinouski Regiment or other volunteers who would say "we are going to Belarus"...
– It's necessary to liberate Ukraine first.
Dzmitry Bandarenka: Why not? Siaredzich does not say that let's go after Ukraine. In this sense, I am a Belarusian nationalist. For me, Belarus comes first.
– Will you go?
Dzmitry Bandarenka: Yes, I will go. If there were people who said "we are going to Belarus", I would go.
– And again, it's the Belarusian way: "If there was any".
Dzmitry Bandarenka: Look, I headed demonstrators when I was younger, for many years. It's another generation's task today. Because I can't for health reasons. But Siaredzich showed what can be done even in the conditions of the Belarusian concentration camp. For me, this is the greatest value of his address, and not the discussion "negotiations - no negotiations". Read the comments in Nasha Niva, Euroradio, and other media - everyone writes that there will be no negotiations.
- As Iosif Siaredzich says, this is the task of Belarus and the Belarusians. Let's put an end to this. Thanks for coming to our studio.