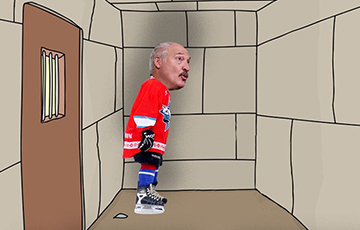 14:19
No "conspiracies" gonna help.  55
Latest news
21:01

Former KGB Lieutenant Colonel Valery Kostka: For Me, Lukashenka Is Not a Commander-in-Chief 27

Everyone who participated in the compilation of the lists will be held accountable for their actions.

17:57

Are the Authorities Preparing for Fuel Interruptions at Belarusian Filling Stations?

The Mozyr Oil Refinery is being repaired in June, not May.

17:21

Maksim Viniarski: I Will Fight to the End

Freedom to the hero of the Belarusian revolution!

16:52

"We Have No Right to Finance the Regime": Lviv Refused Belarusian Buses 7

The tender for the purchase is canceled.

16:00

Doctors about the Condition of a 12-Year-Old Boy Who Saved His Younger Brother: There Is a Positive Trend 2

The most modern methods are used in the treatment.

15:24

Naftan Suffers Blow: Ukraine Refuses To Buy Bitumen From navapolatsk 21

Will the regime lose the Ukrainian construction market?

15:18

Vitsebsk Political Prisoner Malakhouski, Suffering From Cancer, Chained Up 6

He fully denies his guilt.

15:15

De-Ranked Intelligence Operative: It's Not Just Us Lukashenka Fears, There Can Be No Ex-Officers 10

Probably, the usurper receives reports on what they really think of him in the law-enforcement agencies.

14:01

Babruisk Schools Decorated With White-Red-White Symbols

photo

Partisans are approaching the day when it will be raised officially.

13:50

'If Authorities Keep On Shouting 'Wolf!', It May Hear And Come' 2

An idea that has taken possession of the masses becomes material.

13:31

Opinion: General Shaposhnikov Won Battle Of His Life Without Firing Single Shot 10

All decent officers will receive just deserts.

12:58

Political Prisoner, Who Defended Girl From Riot Guard, Got Married In Prison

photo

4

The wedding took place in Hrodna.

12:55

"When Golovchenko Mentions Growth, He Means His Salary" 6

The state of the economy has been deplorable for a long time.

12:05

Belarusian Veterans Lose Their One-Time Payments on May 9 This Year 37

The cockroach has neither money nor conscience.

11:57

Torture of European Belarus Activist Continues in Brest Prison 13

She refused to cooperate with the investigation.

11:33

"Hands off the Doctors!": Belarusians Came out to New Solidarity Actions

photo

The wave of support for people in white coats is gaining strength.

11:20

Political Analyst: The Kremlin Turns to Tougher Instruments of Pressure on Lukashenka 3

The story with the suspension of oil supplies to Naftan is indicative.

10:36

Get Out, Sasha, Get Out 1

We are waiting for new hysterics and one really fateful decision.

10:22

"Everything Is in Our Hands, Let's Say No to the Boors from Power!" 5

Ahead is May 9 - Victory Day.

9:41

When Will the Tail Wag the Dog? 4

The "medical" fact still determines the situation in the economy of Belarus.

9:35

"What If the Security Is No Longer Secure but Vice Versa?": The Cockroach Sees Conspiracies Everywhere 7

Nerves are already giving up.

9:11

Minsk District And Drazhnia Came Out To Rallies In Support Of Andrei Lubetski And All Brave Belarusians

photo

The keys to their freedom are in our hands.

8:32

Valer Tsapkala Reveals How Lukashenka Steals Money From Belarusians

photo

43

The gray schemes of the Belarusian regime.

8:23

Partisans Held Several Rallies At Key Locations Near Minsk

photo

Siomkava and Dziarzynsk got back on track.

7:39

Barauliany Held Great March With Huge National Flag

video

1

The people marched through the streets singing the anthem "Pahonia."