"Belarus Had a Chance to Become European Country of Poland's Level"
28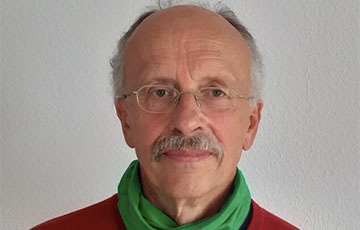 An activist from Germany spoke about his meetings with Hanchar and Karpenka and the potential of the Belarusian people.
German activist Rolf Laschet from Esslingen am Neckar has repeatedly been to Belarus. In an interview with Charter97.org, he spoke about his meetings with Belarusian politicians Henadz Karpenka and Viktar Hanchar, how Germany saw the future of our country, as well as the potential of the Belarusian people.
- The city of Esslingen has been developing relations with the Belarusian Maladzechna. How did it all start?
- The partnership between Esslingen and Maladzechna began back in 1987. We conducted the first German-Soviet exchange of schoolchildren with their accommodation in homes. It had never happened before, because the Soviet Union did not want your students to live with our families. We have developed a very lively urban partnership.
The height of partnership happened in the nineties, when Henadz Karpenka was the head of the Maladzechna City Executive Committee. His deputy was Viktar Hanchar. About a month before his disappearance, our mayor and I met with him in Minsk . Then our mayor warned him: "Do you really want to continue your work here in this country? Aren't you afraid?" And he said: "No. My place is here. I am not afraid." He just wanted to continue his work in Belarus.
In 1999, we had very few people who knew Russian in Germany. I am a teacher of Russian, history, and mathematics, but I was translating at that time, so I had an opportunity to meet very interesting people, such as Viktar Hanchar and Henadz Karpenka.
- When did you first meet Henadz Karpenka?
- I met him in 1988. He was among those in the first delegation from Maladzechna, which arrived to Esslingen. At that time, he was still director of the powder metallurgy plant in Maladzechna. He was invited here due to his outstanding economic work. His speech was always impressing. He had such a spectacular appearance.
- What do you remember about him?
- He was very thoughtful. He didn't talk too fast, but every word had weight. One could rely on him. If there were any agreements with him, one could be sure that it would really happen as agreed. He had a very broad education. Even philosophically, it was very interesting to talk to him.
We used to visit him at his dacha between Minsk and Maladzechna. I was an interpreter, but I spoke to him a little bit personally. I rather saw my role as an intermediary between Germans and Belarusians, between Western people and, at that time, semi-Soviet people.
- Going back to your last conversation with Viktar Hanchar, was he aware of the risks he was taking?
- I think he knew there was a certain risk, but that the risk was so great he might not know. Otherwise, he would have left Belarus.
After his disappearance, Esslingen immediately took measures. Our mayor, Jürgen Seeger, was very shocked when Viktar disappeared a few weeks after our fateful conversation.
Then (at the time we still hoped he was alive) his wife, Zinaida Hanchar, was ceremonially awarded the Hecker Prize (Theodor Hecker - cultural critic, mentor of Hans and Sophie Scholl of the resistance group against the National Socialist dictatorship, the White Rose - note).
Before his disappearance and before the disappearance of former Interior Minister Yury Zakharenka, Lukashenka was a politician of a different kind. Because of Hanchar's disappearance and the assassination of Karpenka, he became a real criminal.
Nowadays, a lot of people who come here from Belarus - they don't know anything about Hanchar. We always ask: "Do you know? Have you heard about him?" but often young people don't know much. I believe Lukashenka will be brought to justice in some international court. That's where he belongs.
Hanchar was a well-educated, energetic, intelligent man who knew what he wanted in Belarus. He had, I think, some kind of plan for the future of Belarus. In Esslingen, we all believed that Viktar Hanchar was going to be a hundred per cent Belarusian president.
I think that if he had become the president of Belarus (there was a probability), Belarus would have become a European country on the level of Poland. After the collapse of the Soviet Union, we used to often say the conditions for democracy development in Poland were much worse then in Belarus at the time of Kebich and Shushkevich. Everything, in principle, was open there. They [Karpenka and Hanchar] could, most likely, put Belarus on the same path as the Poles, in the sense of becoming a Western state.
To our great regret, nothing worked out in this respect. Of course, it relates to Lukashenka, but every nation eventually gets the rulers that the majority deserves. Unfortunately, this is true.
- The disappearances of politicians in 1999 divided life in Belarus into "before" and "after". How was it taken by Germany?
- Our city was in shock. When Hanchar and Karpenka really suffered, they were no longer living in Maladzechna, but we remembered them here as good and honest people. The disappearance of such people - to the German mind, at least twenty years ago - was simply inconceivable.
It seems to me that Lukashenka has started to practise the methods that Putin has now upgraded. It seems that Lukashenka and Belarus are a small experimental laboratory. Although, Putin was acting in a different field at that time.
- You are right. Many people point out that it is Putin who is Lukashenka's disciple.
- I think Belarus, Ukraine and the Soviet Union were unlucky, because they won World War II, while we (Germans - ed.) were lucky, because we were defeated. Thank God! In addition, we received denazification as an additional gift. So, Germany took the path of democratisation. Belarus or the former Soviet Union did not get this fate.
Mikhail Zygar, a journalist from Moscow, who moved to Germany at the beginning of the war, said in an interview: "Only defeat will save Russia. Thank God, the defeat of our fascism saved Germany.
- Still, Belarus and Russia are different in this respect. Unlike the Russians, the Belarusians do not follow their Führer. Thousands of Belarusians are in prisons; they have been tortured; they are resisting the regime.
- Belarusians are heroic people, especially Belarusian women. What they have done, in a positive sense, after August 2020, is wonderful. I thought there was a rebirth of Mahatma Gandhi in Belarus, a non-violent resistance. But, unfortunately, it turns out that pure pacifism seems to be lacking after all - that's a pity! It would have been so great if this monster, the Lukashists, had been overthrown two years ago.
Belarusian women are such brave people. I always ask my German colleagues, acquaintances, friends: "Do you remember any public manifestation in Germany against Hitler?" There were none, no demonstrations. And now, there are almost 1200 political prisoners in Belarus, plus thousands of people who have not been recognised as political prisoners.
There are also many in Russia: fifteen thousand people who have protested. There is democratic potential, resistance potential in your peoples, especially in Belarus. Nobody thought that exactly in Belarus, such a modest, tolerant people, would be able to rise against the dictatorship. On our part, a low tribute to all these people who rebel or resist in some way. But, of course, one has to resist in a clever way: not to end up in prison.
- Do you agree with the opinion that if Lukashenka had not managed to suppress the protests in Belarus in 2020, there would not be such a terrible war in Ukraine now?
- It's true. If Belarus had not been as safe as it is now from the Russian point of view, Putin would not have dared to take such a step as this war.
Speaking frankly, I didn't think he was stupid enough to end his rule this way after all. It's just a repeat of the Crimean War (Russia lost to France, Britain and the Ottoman Empire in 1856 - ed.) I was already convinced three days after the war started that this was the collapse of Putinism in Russia. And probably the whole of Russia would collapse. Or there will be even worse rule in Russia after Putin, but at least this is the end of Putin. He won't come out of this war any more.
Lukashenka has always been the most evil dictator in the world, or at least in Europe, until now. Now it's Putin. Historically, he is a monster of the kind that Hitler or Pol Pot or Stalin was.
In principle, Lukashenka should thank Putin for the fact that he is no longer the greatest evil, and his prestige has even risen a little, although he is at such a low level that it means nothing.
- What kind of end is awaiting Lukashenka?
- The end of Milosevic. Prison and death. I think there are no other options. In the West, at least in those courts that have influence on Eastern European events, nothing is forgotten. Hanchar is not forgotten, nor is Karpenka and all the others who suffered from him.