Employees Leave Belarusian Retail Chains En Masse
13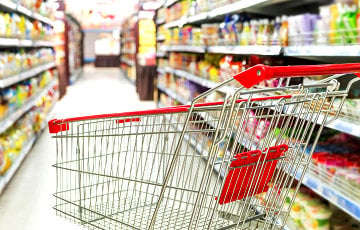 Retail in the country showed record debts and outflows.
The flagships of the Belarusian retail trade are increasing their liabilities to creditors. Against this background, consumer demand in the country remains weak, writes banki24.by.
In August, retail trade turnover in Belarus grew by only 1.5% by 2020. This is the lowest rate since March 2021. Besides, in April sales in retail rose by 6.7%, in May - by 3.3%, in June - by 3.4%, in July - by 2.3%.
There is a damping dynamics of consumer demand in comparison with the crisis last year. By the way, the August + 1.5% are shown against an extremely modest base: a year earlier (August 2020) trade turnover grew by only 1.8% against 4.3% in July.
Accelerated inflation probably plays a negative role. If in August last year, the growth in consumer prices in annual terms was 5.6%, then in August 2021 - as much as 9.8%.
Growth of real incomes of Belarusians is slowing down. In July, compared to last year, real wages increased by 3.7% and this is the smallest increase in real wages since April 2017. As of July 1, 2021, among the flagships of the industry, about 50.4% did not have their own working capital, and another 7.9% were provided with a turnover below the standard.
In 2021, there is a net outflow of staff in retail. For 7 months, large and medium-sized retail organizations laid off 58.4 thousand employees and hired 51.6 thousand. Thus, the net outflow of personnel from the industry amounted to about 6.8 thousand people. Places of every 100 dismissed were taken by only 88.2 hired people.
With an increase in the nominal revenue for 7 months by 16.4%, the decline in the industry's profit from sales was 11.7%. Apparently, this is how the growth in the volume of state regulation of prices affects retail. In April, Minister of Antimonopoly Regulation and Trade Kaltovich said that "today we regulate 55% of all consumer prices."
Since the profit in the industry has fallen with the growth of revenue, it is logical that the average return on sales has also decreased. If in 2020 it was 2.1%, then in 2021 it was only 1.6%.
Among the retail flagships there is a large share of unprofitable (operationally unprofitable) and low-profit (0-5%) companies. The first indicator for 7 months amounted to 34.7%, the second - 49.4%.
The authorities counted only 0.6% of flagships in retail with profit margins of 20% or more, and only 0.2% - with profit margins of 30% or more.
The total debts of large and medium-sized retail enterprises as of August 1 reached BYN 10.279 billion. The amount of debt of the industry flagships has become a record for the entire period of measurements according to the Belarusian methodology. The previous record lasted only a month.