Lukashenka's Spitz Was Killed by a German Shepherd?
255
15.09.2021, 11:54

215,186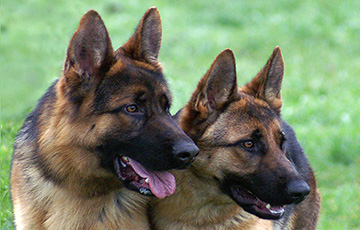 During the Zapad 2021 exercise, the ammunition depot was guarded by guard dogs.
Unusual news about the Zapad 2021 maneuvers was reported by one of the chat participants on the Brest 97% Telegram channel:
- Lukashenka's Spitz was killed by a service dog (German shepherd).
During a visit by Mustachioed on Sunday, he, as always, took a small dog with him. It walked wherever it wanted.
Not far from the filming site, a tent was set up (an ammunition warehouse), which was guarded by a guard with service dogs (dog handlers were attracted for training (showing off)).
In front of my eyes, a huge dog killed the spitz, which approached the warehouse. The squeak was wild. When the soldier was able to pull back the shepherd, the spitz twitched a little and went limp. Everyone was shocked.
Two young men in gray uniforms (most likely from the security service) approached the sentry (conscript); after 30 seconds, the chief of the guard came running. They did not talk for long; after 10 minutes, there was no one near the warehouse.
As a result, the head of the Canine Centre was fired, the first deputy was given incomplete service compliance, the chief of the guard was dismissed from military service.
I certainly feel sorry for this little dog, but what do the commanders have to do with it? It turns out that the life of a dog is more important for the "leader" than human destinies!