Natallia Radzina: Lukashenka's Regime Can Collapse at Any Moment
12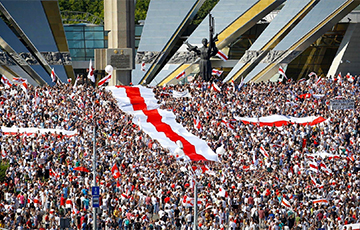 Three essential elements of a winning strategy.
In an interview with the YouTube channel of the Free Russia Forum, Natallia Radzina, editor-in-chief of Charter97.org, spoke about the protest dynamics in Belarus, methods of pressure on the Lukashenka regime, as well as about the real leaders of the popular movement.
Charter97.org prepared a transcript of the conversation.
- I would like to start our conversation with a discussion of the past Freedom Day. Despite Sviatlana Tsikhanouskaya's calls for renewed protests, it appears that protests in Belarus were relatively few. Why do you think this happened?
- There are several factors to consider. First of all, this is the coronavirus epidemic, today it is much stronger than a year ago. In Poland, neighboring Belarus, for example, 30 thousand people are infected with coronavirus every day. The scale of the epidemic in Belarus can be comparable because, despite the difference in population, there are virtually no quarantine measures in the country. I think that now the death toll from the coronavirus goes to tens of thousands.
As for other reasons, then, of course, this is an unprecedented level of repression that has befallen Belarus. Human rights activists compare it to the days of Stalin. Since then, there have been no such massive violations of human rights in Belarus, and if you take Europe as a whole, they say that the last time such a scale of repression was under the regime of the "black colonels" in Greece was in the 70s. This factor also had its influence.
In addition, it is necessary to take into account the policy of Lukashenka, which was directed against everything national in Belarus; now not so many people understand that March 25, Freedom Day, the greatest public holiday, was the formation of the Belarusian People's Republic in 1918. The understanding of this is not at the level of the whole country, not so wide. Unfortunately, again, that's because of Lukashenka's policy.
I would not make this day any indicator of how dissatisfied the society is because the whole country is still rebelling against Lukashenka, and the protests will resume only a little later. I believe that it will be closer to the summer when it will warm up and there will be a decline in the epidemic.
- A sufficiently large military force was sent to Minsk. I think that Lukashenka expected a rather serious mobilization of the protest. Do you think it was an act of intimidation or, given the current political situation, can we expect that serious military equipment will be used against the civilian population?
- For me, this is primarily an indicator of the cowardice of the authorities. It can be seen how afraid he is of his own people, using military equipment and so many militia and army. This suggests that the regime feels how unstable it is, that it can collapse at any moment. For me, this is a demonstration of Lukashenka's panic fear.
- What dynamics of the events do you expect? What will happen to the protest? Is it possible to somehow influence the Lukashenka regime? What can we expect this summer?
- The protests will resume and grow because there is no other way to put pressure on the Lukashenka regime except for workers' strikes, sanctions against the regime, and protests directly within the country. Unfortunately, there are no other methods of pressure on the dictatorship. I think that this is coming to the consciousness of an increasing number of Belarusians - without protests, without active actions, it is impossible to defeat the dictatorship. Therefore, I am confident that the protests will resume.
- If we talk about the form of protests, even though the Belarusian protest is absolutely peaceful and it is declared that this protest will remain peaceful, I have heard opinions and criticism regarding the peaceful approach. Do you think that it is by peaceful protest, in addition to sanctions and strikes, that this regime can be removed, or will there still be serious confrontations?
- Personally, I have always advocated a peaceful protest. I know that the democratic opposition in Belarus also advocated peaceful methods of fighting the dictatorship. You need to understand that there have never been paramilitary organizations in Belarus. Over the course of 27 years of Lukashenka's rule, he destroyed all initiatives, controlled all organizations. There are simply no prerequisites for a force option.
I do not think that in this situation the force option can change the situation. The situation can be changed by a wide, mass, and peaceful protest, as well as strikes.
Strikes are needed directly at the factories. They will be because now the situation in the economy is catastrophic: wages are low, there are massive layoffs at large enterprises and, in general, all experts agree that Belarus can expect a default. The situation is catastrophic, the dictator has nowhere to take loans. Recently, he complained that Russia no longer has the capacity to support the neighboring satrapy to such an extent. Serious economic problems await us; this can help the formation and revitalization of the labor movement.
- Do you think Russia's influence is now obvious? If there is a situation where the protest will win, can Russia use something other than economic assistance? Is it possible, for example, to introduce troops from Russia, or is this an unrealistic situation?
- If the Russian authorities take such a step, it could lead to even more serious sanctions against the Putin regime and further isolation of Russia from the entire civilized world. I hope for the reason that the Russian leadership still retains because the experience of the revolution in Serbia shows that when the Russian authorities saw that the democratic opposition was winning, they even persuaded dictator Milošević to resign. Serbian opposition activists testify to this.
I think that Russia can connect when it sees that democracy is winning and realizes the need to negotiate with the new authorities of Belarus.
- How effective are the sanctions that have already been introduced against Belarus?
- Unfortunately, the sanctions are not enough. Even compared to 2010, when a flurry of reprisals also fell on the country, but they were less ambitious than now, and the sanctions were stronger. Of course, these sanctions are not enough. We need to continue working to strengthen them, we are talking about the fact that sanctions can affect the regime, namely economic ones. Both against enterprises and banks, and, therefore, all democratic forces must continue to strive for them. To speak with one voice about how necessary economic pressure on the Lukashenka regime is because it is precisely this pressure that can seriously affect the situation. If such sanctions are introduced, then I think the regime will collapse in a very short time.
- How do you assess the influence of the headquarters, Tsikhanouskaya's team on the dynamics of the protest? How effective are they and do they effectively put pressure on the Lukashenka regime?
- It's hard for me to judge because I know that there are not so many people left at Tsikhanouskaya's headquarters today. Many, unfortunately, are now leaving this headquarters. The influence is falling, this is due to the weakness of the positions of both Sviatlana Tsikhanouskaya and her advisers. People expect decisive action from the opposition. Unfortunately, this determination is lacking today.
- Are there people who can not replace but support or somehow distribute this determination? Are there any other influencers who are willing to take on such a role?
- There are a huge number of strong leaders in Belarus, unfortunately, many of them are now in prisons. These are Mikalai Statkevich, Pavel Seviarynets, Siarhei Tsikhanouski, Yauhen Afnahel, Viktar Babaryka, as well as a huge number of brave and courageous people.
We can safely say that thousands of people are in prisons, of which several hundred are real leaders. These are opposition leaders, workers' leaders. In August 2020, in the wake of protests, there was a very serious activation of society.
Today, some people continue to work quite actively underground. They understand that if they declare themselves openly, they will be arrested. Some people were forced to go abroad and continue to work actively from abroad. I think that we will not have a shortage of leaders in the future.
- If we talk about leaders, do you think that some kind of leaders' protest is needed, or is horizontal mobilization still possible? If we compare with the Russian one, then it was the Belarusian protest that showed a fairly high level of horizontal ties, the ability to self-organize. Is a leader needed, or maybe they just get in the way and take people aside?
- Depending on which leader. Today in Belarus, yes, there is still horizontal communication and activity, which is very good. Society has woken up, and these horizontal ties, which Lukashenka has been destroying for 27 years, are being restored. This is incredible and really important. Even the activity that is being formed today at the level of courtyards and micro-districts in Minsk and other cities is extremely important.
All these people can be in the government of the country and parliament. This is extremely important for the country, for the formation of the nation. Strong leaders are certainly needed today and I would very much like them to appear. People with a clear and definite position, people of principle, who understand that what is needed is not negotiations from scratch, but serious actions. Such as mass protests, strikes, and serious sanctions, which will lead to long-awaited changes in Belarus.
- Returning to the issue of Sviatlana Tsikhanouskaya, the Prosecutor General's Office of Belarus recently announced that it had opened a criminal case on the preparation of a terrorist attack. I would like to know your opinion: is this some kind of symbolic gesture for the internal consumer and can it lead to any serious consequences?
- Criminal cases are regularly initiated against all active people in Belarus. I do not think that this will in any way harm Sviatlana Tsikhanouskaya because she is in Vilnius under international protection.
This is most likely a more symbolic move aimed at some intimidation. Naturally, today the police show that they are doing something, but in fact, I would not pay attention to these criminal cases. Four criminal cases were initiated against me in Belarus, and I can't even imagine how many they brought against me for my activities during my emigration. Do not pay any attention to this. We need to keep working.
- At the end of our conversation, I would like to ask about journalism in Belarus. Are honest journalists and publications left on the territory of the country, or have they all been ousted from the territory? What is the situation in journalism in the territory of Belarus?
- I can tell you that not only in journalism, but there are also honest people everywhere. Yes, today it has become very difficult to work in Belarus. Of course, there is a lot of pressure. Journalists are constantly being arrested and detained. We know that journalists have already gone to prisons, people have been sentenced to several years in prison. This is absolutely unprecedented, but people continue to work.
Yes, in conditions of pressure and blackmail from the side of the special services. They have to work with quite strong self-censorship, but people continue to work. In particular, many media outlets that were forced to leave continue to work from abroad. Today, in the 21st century, free speech cannot be stifled.