Volha Bandarenka: Relatives of Political Prisoners Need to Unite and Act Decisively
4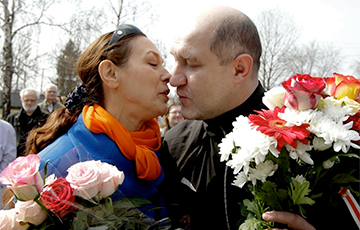 The fate of our relatives is in our hands.
The website Charter97.org talked to Volha Bandarenka, the founder of the Vyzvalenne civic initiative, and asked her to tell about her experience in the struggle for the release of political prisoners.
- Volha, you became one of the leaders of the civil initiative Vyzvalenne after the 2010 Square. Why was this initiative created then?
- Because personally not only my husband was arrested, but also all my friends. The team of presidential candidate Andrei Sannikau suffered the most. Earlier, my husband Dzmitry used to say: "If I'm in jail, our friends will help you, contact them." But after the Square on December 19, 2010, when Dzima was arrested the next morning, and he asked to call Natallia Radzina, editor-in-chief of the Charter97.org website, it turned out that Natasha had already been arrested. I asked to call the activists of the civil initiative European Belarus - and they were also arrested. Andrei Sannikau himself, together with his wife Iryna Khalip, was detained right after the Square. In principle, my daughter and I were left alone. I have not been in politics, but I realized that we need to look for people, like-minded people.
At the first meeting, I saw that everyone was pulling the blanket over themselves. But I didn't want conditions to be improved only for my husband or only talk about his health. It was necessary to release everyone who suffered, not just my husband and our team. The editorial board of Charter-97 was destroyed, and the journalists were arrested. They practically did not write about our team at all, there was an almost complete information blockade. I understood that something had to be done about it.
The idea was in the air, there was an understanding that it was necessary to unite. It is always easier to act together than alone. I was supported by my daughter Yulia; the widow of a kidnapped businessman and public figure, Iryna Krasouskaya also said that it was necessary to unite. I proposed to the wives and mothers and other political prisoners to create an initiative called Vyzvalenne, and we began to act.
The first victory was won immediately. We were not allowed to transfer the care packages, and, having united, we said that we would not leave until the food and belongings were handed over to our relatives, we began to demand - and won. This was the first small victory. When we united and started talking about everyone, and not pulling the blanket over ourselves, then we got more respect, more interest. Both on the part of the embassies and the part of politicians.
I would like to note that at that time very strong ambassadors worked in Belarus: Edminas Bagdonas, Rosemary Thomas, Christoph Weil, Roman Bessmertny, Ferenc Kontra, and others. Many thanks to them for what they did for us. We broke the information blockade when we united. This is probably the most important thing: we constantly appeared in the media and talked about our relatives.
- What else was the Challenge Initiative doing then? What have you achieved?
- First of all, we helped each other, even at the household level, to buy groceries, for example, Andrei Sannikau's mother, and other elderly people. Because then his whole family was in prison, his wife could not transmit care packages to him, and Ala Uladzimirauna was already aged, besides, she had a broken rib. They helped someone who did not know what to do, who did not come from Minsk, advised what to transfer to prison, helped to buy something.
I would like to note that women, whose husbands were not at all friends before the arrests, actively collaborated in Vizvalenna. We acted as one team, fondly remember my sisters, as we called each other: Maryna Adamovich, Milanka Mikhalevich, Maryna Shybko (Feduta), Darja Korsak, Maryna Lobava, and many others.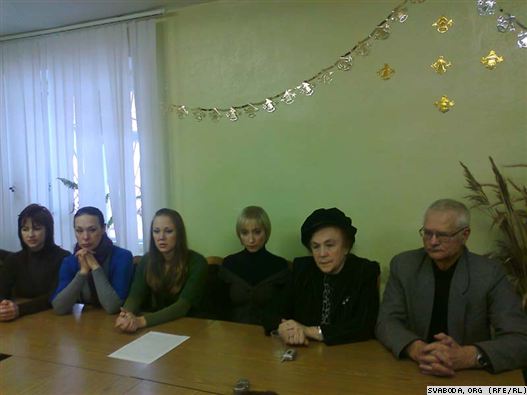 We held press conferences, where we told journalists about what was happening to political prisoners, what we could learn from our lawyers, employees of the DIN, and other prisoners. In the beginning, there was a complete information blockade, it was impossible to write a letter or get an answer. Naturally, the lawyers were under pressure and forced to sign non-disclosure papers. But still, some information was leaking out. And then we gathered a conference and told the media about what was happening.
Plus, we worked very closely with embassies and international organizations and informed them about everything that was happening, everything that we learned. They asked, demanded sanctions, of course. During a trip with my daughter Julia to Brussels, at the invitation of Marek Migalski, MEP, we talked more not even about our relatives and friends, but about young people. We were united, and many young protesters were not even recognized as political prisoners at first, because, as always, it was asserted that "there was some kind of violence," although it was clear that it was a provocation. Then we talked more about them, that we need to pay attention to them. They were soon released. I don't know, maybe this is not connected with our trip and with the fact that we said so in the European Parliament, but the fact remains: sometime after we raised this issue, these people were released.
- Of course, it did.
- Serious information work was also carried out. We wrote letters to whoever we could. Both the Pope and Russian President Dmitry Medvedev. On whatever doors we could knock, we knocked there. Surely it influenced somehow. Even if we did not receive someone's answers, at least after our letter, we were the first from the opposition to be received at the Russian embassy in Minsk.
There were many such victories because we were together and because we were knocking on all doors. If everyone knocked one at a time, they would not have reached this level and would not have achieved this.
- The scale of repression is now incomparably greater than in 2010. But such an association of political prisoners' relatives does not work. Why?
- I do not know. Maybe there was simply no person who would do it. Well, then, our impetus was that at first everyone was sitting in one place - in the KGB pre-trial detention center. We met at about the same time in the same place - in the line for transmissions - we already knew each other. Now a lot of people have been repressed - these are thousands of prisoners, they are sitting in different places. But the fact that their relatives still need to unite, I'm sure.
Naturally, everyone cannot be united when there are many people, but some one group, an asset of some kind that would move this all forward, should appear. After all, in fact, we, the relatives of political prisoners, are a great force. The authorities reckoned with us then and will reckon with us now - that's for sure.
- What, in your opinion, can free all political prisoners?
- First of all, these are sanctions. It also helped us a lot that all the ambassadors of the EU countries left Belarus in protest. It was then that my husband and Andrei Sannikau were released. If the ambassadors hadn't returned so quickly, I think we would have freed everyone much faster.
Naturally, social activity is important. In 2010-2011, people were in a kind of information vacuum, especially at the end of December, when there was no Charter-97, and the people did not fight. Now the people are very active, they are awake. People must understand that it is necessary to free the leaders and the most active ones, those who have long overcome their fear. Real heroes need to be freed.
So sanctions, diplomatic pressure from the EU, the United States, Ukraine, and public activity are needed. I don't see any other options.
- What, in your opinion, should the relatives of political prisoners do today to achieve their release?
- First of all - to unite. To do not only what we did but maybe even more. There are more informational opportunities now. On the one hand, create informational reasons all the time and knock on all doors. If there is an organization that can declare itself, then there will be more meetings with diplomats, more meetings at the international level. I understand that there is a pandemic, but you can act online.
- That is, do not hope that some politicians will remember your relative...
- As they say, your shirt is closer to the body. And the way you fight for your loved one, no one will fight anyway. For strangers, this is some kind of hero, but for you, this is your own, dear, who suffers. But you alone will not do anything. You can, of course, broadcast programs, you can write a heartfelt letter, how good it is, but this is not enough. If there is no public support, if there is no ramming and not some small knock on the door, then it is useless. You can cheer him up for 5 minutes, but you can't free him.
Therefore, there must be a ram. Therefore, we need to get together and beat, brainstorm, as we did when we were going: we thought about who else to write to, what to convey. Ask the embassies to arrange meetings.
- The fate of our relatives is in our hands.
- If the relatives unite and act, then yes. At least I believe in it.