"Aggressive Migrants Broke Windows And Started Destroying Fence"
27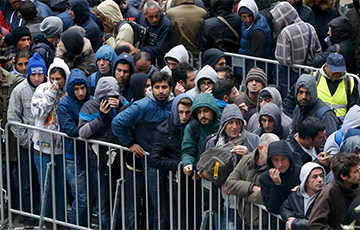 Details of the riot at the Polish migration center have become known.
A riot broke out at an immigrant center in Wędrzyn in Poland's Lubusz Voivodeship on Thursday.
The migrants began smashing the center's security system and fencing, TVP reported.
"A group of 100 men are behaving aggressively at the Wędrzyn immigrant center. Among other things, they have started smashing and destroying the fence. They also have broken windows in the migrant center," said Polish Border Guard spokeswoman Anna Michalska.
The foreigners started chanting "Freedom!" and shouting that the purpose of their journey was Germany. According to the police, trash cans and lockers were taken to the square in front of the center.
Police and border guard units from the north of the region have been put on alert. According to information given by Anna Michalska, there are currently about 600 people living in the Wędrzyn Center for Foreigners.
"These are only men, of whom 358 are Iraqi citizens," the Polish Border Guard spokeswoman said.
Po próbie sforsowania ogrodzenia strzeżonego ośrodka w Wędrzynie, w którym znajduje się ponad 600 imigrantów, sytuacja została ustabilizowana. Nikomu z tych osób nie udało się oddalić. W działaniach wspomagających @Straz_Graniczna bierze udział już ponad 500 policjantów. pic.twitter.com/Rv9e3CwoTv

— Marcin Maludy 🇵🇱 💯 (@Marcin_Maludy) November 25, 2021
Sytuacja opanowana.
Dziś cudzoziemcy umieszczeni w strzeżonymi ośrodku w Wędrzynie próbowali sforsować ogrodzenie. Osoby były agresywne.
W ośrodku znajduje się 600 mężczyzn- ponad połowa to obywatele Iraku.#funkcjonariuszeSG współdziałali z @PolskaPolicja 🤝#NaStraży pic.twitter.com/NXbopyuRIq

— Straż Graniczna (@Straz_Graniczna) November 25, 2021