They Have No One to Drink With
27
IRYNA KHALIP
19.11.2021, 8:16

60,068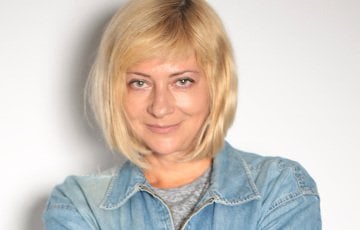 You should retire, yabatki.
The judge of Minsk city court Anastasiya Papko sent Nikolai Dedok to the penal institution for five years. She immediately, without any pause, started a new case: an accusation of the mother of five children Olga Zolotar for the creation of an extremist formation.
Of course, five children, if they all go crazy at the same time, may seem to be not just an extremist formation but a pure terrorist gang. However, Olga Zolotar's children are not mentioned in the charges against her. Although, five children waiting for their mother will certainly be an obstacle for Anastasia Papko to pass a guilty sentence. However, I am not talking about Judge Papko now. I am talking about all the judges, prosecutors, investigators and other our fellow citizens. Under the cover of scandalous provocations on the border continue to quietly pass the sentences, trump up cases, forge indictments. I will not appeal to their conscience. It is useless. I'll just tell you a didactic story.
I have a classmate who is a judge. For many years, she handled political cases, sent people to detention centers in packs. She's a perfectly honed cog; one could add it to a textbook. Another classmate of mine - we had been friends at school and even shared a desk. In 1996, as soon as Viktor Gonchar had been violently driven out of his working place in the Central Election Commission, she started to help the then neophyte Yermoshina. In principle, the statistics are good: only two yabatka for a class of thirty schoolchildren. I say even before the 97 per cent became a symbol that yabatki have never been the majority - even when the Belarusians elected Lukashenka in 1994.
So, we still sat around the same table at meetings of classmates in the "zeros". After 2010, we stopped inviting those two, Yermoshina's admirer and the judge, to our meetings without mutual agreement. Without any ultimatums, declarations, "Aren't you ashamed of yourself?" questions, or attempts to have a heart-to-heart. "It's disgusting," a classmate-writer aptly said. Indeed, "it's disgusting" is the right approach, a common practice in personal hygiene.
Over the past year, there have been more people like my two former classmates - dirty with other people's blood and their lies - in the country. However, the proportion remains one or two of them in every school class. Three at the most. Meanwhile, the population has changed greatly over the past year. The people who did not care two or three years ago what their deskmate was doing barely exist now. We are no longer indifferent. We should thank last August and each other for that. No such company exists, let it be a school class, a university group or a dacha community, which, like in the good old days, will agree to sit with the blood-soaked at the same table. It's disgusting; there's nothing one can do about it.
We are built into society like into a concrete wall, even if we don't want it. In childhood and youth, we acquire so many social ties that even if you take refuge in a farmhouse, hide in a cellar and lurk in a corner, you do not get rid of these ties. You will still be the person from nursery school No. 125, from 11th "B", group No. 203, etc. Your kindergarten potty would follow you around your whole life, bellowing and hooting like the science master with the failed lab report, like Mashka from the third entrance, who got you in trouble at school, like Kolka the tattler, whom you bullied for snitching. You can't put that baggage in a locker or take it to the landfill. We can forget anything but the things that happened to us in our childhood and youth.
Now imagine how unbearably offensive it is when that same Kolka, the former tattler, refuses to sit at the same table with you because he feels uncomfortable now. And everyone else will support him, though they despised him at school because now they feel the same, just because you are an investigator, or a judge, or a prosecutor, or a policeman, or some other cog. It's an unbearable humiliation to be treated as a pariah, even by those with whom you share good memories of the days when no one had epaulettes, positions, crimes behind their backs. When you are kicked out. When they wouldn't let you sit at the table. When they call each other and arrange meetings behind your back and shut up when you appear. In the end, you don't even have anyone to drink with.
The situation is intricate, almost tragic, but not entirely hopeless. The solution is simple: quit. Resign without looking back, without packing up your things. Just shut the door and say to yourself "that's enough". Marvel at your sudden courage, neglected over the long years of work for the freaks. Then, of course, get horrified - "What's going to happen to me now?!" And finally realise that this is when real life begins. Or rather, it's coming back along with the smells and tastes like after a severe infection.
Iryna Khalip, especially for Charter97.org