Life Of People's Blogger In Danger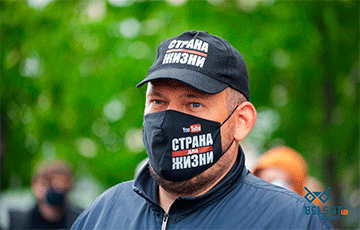 Authorities are hiding Siarhei Tsikhanouski's whereabouts from Sviatlana Tsikhanouskaya.
Nine people have been arrested in the criminal case for violence against police officers. Four of them have been searched. This is reported by the unregistered HRC Viasna.
Nine people were detained in the criminal case for violence against police officers, which was initiated after the incident in Hrodna. These are Siarhei Tsikhanouski, Yauhen Raznichenka, Zmitser Furmanau, Uladzimir Naumik, Viarhili Ushak, Aliaksandr Aranovich, Siarhei Kalmykou, Vasil Bobrouski and Artsiom Sakau.
Sakau is kept in the TDF in Hrodna, while the rest - in the TDF in Akrestsin Street in the capital.
In the evening, June 1, three day period since the detention of Tsikhanouski and seven other people ended. None of them were released. As Valiantsin Stsefanovich explained to Tut.by, it means that the period of detention was extended to 10 days without charges.
- After 10 days (until the evening of June 8), they must either be charged or released, - the human rights activist reported. He added that, according to the information they have, no charges have been brought yet.
In the evening of June 1, it became known that Uladzimir Naumik's apartment had been searched. According to the search results, a laptop and a flash drive were seized. The search was conducted by police officers.
They searched the apartments of Yevhen Roznichenka, Siarhei Kalmykou, Vasil Babrouski, as well as some relatives of the detainees.
In the afternoon of June 2, the human rights activists learned that the operator of YouTube channel "Country for Life" Viarhili Ushak was transferred to a pre-trial detention center, but it is still unknown to which one - to a pre-trial detention center or to Valadarski Street.
According to Artsiom Sakau's mother, her son was transferred from Hrodna detention center to Minsk.
Sviatlana Tikhanovskaya, however, can't find her husband. They refused to take the care package for Siarhei Tsikhanouski at Akrestsina, claiming that he'd been transferred to pre-trial detention center-1. However, at Volodarka they say they do not have the blogger, the Country for Life reported on Twitter.
Blogger Tsikhanouski heads the group to collect signatures for nominating Sviatlana Tsikhanouskaya, his wife, as a candidate in the presidential election. The CEC has blocked his nomination.