Videofact: Рalina Smirnova Wins REP Flag Back From Police
6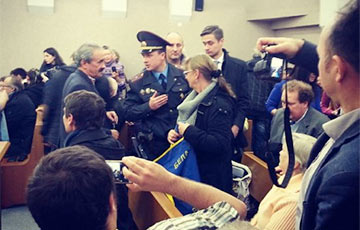 People who came to court to support Fiadynich and Komlik defended the REP Trade Union activist.
Today, the Minsk City Court has begun to consider appeals of Hennadz Fiadynich and Ihar Komlik, the leaders of the independent trade union REP. Over 150 people came to support Fiadynich and Komlik.
Halina Smirnova, the head of Babruisk office of Trade Union REP, came to the court session with the trade union's flag and unfolded it. A police officer tried to forbid the activist to raise the flag, but she did not obey.
After that, the police officer tried to take Halina Smirnova out of the courtroom under the pretext "let's go clarify something," but other activists defended her and the police officer had to go away.
We remind that the leaders of the REP trade union appeal against the verdict of August 24, 2018, which recognized them guilty of tax evasion on a large scale. The Savietski district court sentenced the REP trade union leaders to 4 years of restriction of liberty without sending them to open type institution with the prohibition to occupy leadership positions for a period of 5 years. In the complaint, the union leaders demand to stop the criminal case.
If the Minsk City Court upholds the sentence, Fiadynich and Komlik will be convicted and disqualified for the next four years.