The Gingerbread House Is on the Brink of Ruin
Uladzimir Khalip
22.10.2018, 16:10

1,944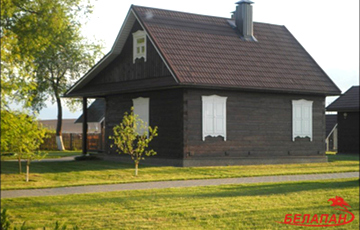 There are no reliable ways to replenish the treasury.
Both of them were facing the gingerbread house and one tried to persuade the other that it's the place he was born. But it looked too good: beautifully maintained gardens, white window shutters, paths with stone setts and a village cleaned thoroughly behind the fence. It was empty due to guards.
Putin touched incredulously a bark; he did not expect to see anything natural in this clean small reservation. Perhaps, he might even be envied of his ally's idea. Such houses mark the birthplace of such comrade like Kim Il-sung. And this person has mix in with this 'club'. And the adherent to a multipolar world doesn't have such a place. What a shame!
Then they ate hash-brown potatoes and and polished them off by water from a spring-well. Then they went to the fienlds and no one saw them anymore.
Meanwhile, the Forum of Regions of Russia organized in Mahilyou was gaining strength. But this time it was held without two bosom allies. They were trying hard to blow up a used integration balloon. Mayors voiced the number of signed and alleged agreements. The final sum of 500 million was persistently pronounced. But, for some reason, it was assessed in dollar. Of course, the desired sum was only alleged. In the course of time, when pigs begin to fly, the target figure will be surely reached.
The governor of the Tula region told what hid behind figures, fiery words and officials' revelations in the lunchroom. "Yes, Tula and Mahilyou regions have no common border. Does it mean anything?" And he immediately evolved an inspiring intergation scheme. It's been decided to grow the Belarusian potato in his region. And, in return, they will supply Belarus with potato flakes. And it's easy to imagine what a lush life comes later.
In this encouraging morning the ruler was glad to report on personal achievements. "We have finally agreed upon resolution to our problems". Finally!
However, the Russian Minister of Energy has spoiled the moment of sincere joy. He announced the ban on deliveries of light and dark oil products and liquefied gas in Belarus until the end of 2019. After all, the oil share in our currency exports estimates at 40%. And the careless movement of an official has ruined the myth about fraternal friendship of two nations and their unique leaders. As they say, best of luck.
And it should have happened during the Forum which, according to organizors, was a success. And he took the floor in front of Putin. And voila! An oil. Some remote threats. It's obvious that even more severe ban may be introduced. There is nothing extraordinary. The ruler has just been remembered who is who.
It has been the third meeting with Putin during a month. Was it accidental? He might be concerned about exchange of vegetables between Tula and Mahilyou regions. The process is so weighty that the person of total authority gives up his affairs and rushed to watch how parsley turns into a carrot. Everybody knows that it's the issue of highest priority. The integration is not a piece of cake.
The cold war is gaining strength again. Russia and its indomitable imperial ambitions urgently need way to the EU border. After the failure in the Ukraine campaign, it needs the way bearing no problems. And there it is. The union state, CSTO, and other clever traps. The very Kaliningrad region is on the right. The Suwalki Gap is extremely attractive. And it's not necessarily at all to start with men in green. Bureaucrats may come first. And almost forgotten union agreement can be given the specific meaning again.
Moreover, a weird person with unrestricted power welcomes you. He has no money, that's it. He is over head and ears in debts. Next year he has to repay $3.5 billion. And where should he get it from? And now he is glad for this remained part of an old credit. Local television praises the ally for generosity. 200 millions! Wow!
But it's not enough. After all, he will go cap in hand to the same person. For some reason, the ruler believes that his extreme complaisance will serve him benefits. And that's why he do such strange things. He terrifies allies with an accession into another state. Or he promises to hand out 7 million guns to people. Receiving a new Russian minister, he started persuading him that Putin had never offered Belarusians to join Russia. What a weird forgetfulness.
In August 2002 Putin invited him in the Kremlin and stated that political elite was mature enough to unite Russia and Belarus. And he offered to hurry up with a decision, to hold the corresponding referendum next May, and in December 2004 to hold elections on the common ruler of the union state. It turned out that Putin had three questions about the desired referendum.
The third one was especially sound. "Will you agree to unite with Russia and to create common regulatory bodies of the union state based on the Constitution of the Russian Federation?"
Will Putin abandon this matured idea, when Russia does not hide its intention to turn to Soviet borders of 1941? Moreover, it's noticeable that old ally who lacks money welcomes him with an obsequious phrase in Mahilyou: "I am glad to see you on this, almost Russian, plot of land".
What does this mean? When did the city of a noble city hall manage to become a "land plot", especially a foreign one?
It's useless to pose questions. The regime is on the brink of ruin. The current team has no reliable ways to replenish the treasery. In this situation it is irresistible to serve a rich neighbor. People who came in power accidentally believe that the slavish obedience and crippled flattery will certainly be requited. And the rule who humiliates the country believes that people can understand him. They will appreciate it and forgive him.
These are distant hopes. They will not.
Uladzimir Khalip, especially for Charter97.org