The War Came To Rublyovka
23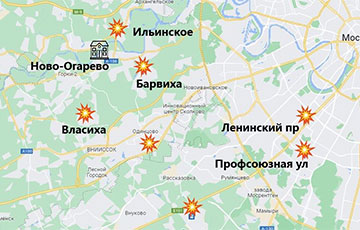 One of the drones fell just 3 kilometers away from Putin's residence in Novo-Ogaryovo.
The war came to Rublyovka. The estates of Putin's elite were at the epicenter of the drone attack. Federal TV reports almost nothing about the attack.
On the air of federal TV channels, practically nothing is reported about the largest drone attack on the capital of the Russian Federation and the surrounding areas since the beginning of the war. Russia-24 emphasizes that the buildings are slightly damaged, and all drones are "suppressed". TV channels did not interrupt their broadcasts for special news bulletins; on the air of Russia-24 there was no special plate with the inscription "urgently"— as usually happens during emergency events.
Probably, it was a psychological attack, moreover, on the places inhabited by Putin's elite. In Moscow, these are prestigious southwestern microdistricts. In the suburbs — Rublevskoe highway and its environs, where Putin's close associates live: oligarchs and officials.
One of the drones fell in the village of Ilyinskoye, which is just 3 kilometers away from the residence of President Putin in Novo-Ogaryovo.
The estate of Putin's friend Gennady Timchenko is in the village of Znamenskoye. In the neighborhood there is the residence of Prime Minister Mikhail Mishustin "Gorki-9", and the house of the former president's son-in-law Kirill Shamalov. The father of the governor of the Moscow region, Senator Yuri Vorobyov and Defense Minister Sergei Shoigu live nearby.
Near the village of Zhukovka in the Ilyinskoye Pole communal complex, the mansions of Putin's closest friends, the brothers Arkady and Boris Rotenberg, stand opposite each other. And next door is the house of Shoigu's mistress Elena Shebunova. Sergei Kiriyenko has a house in the settlement "Landshaft". Igor Sechin's house is in Barvikha. The former dacha of Mikoyan is owned by the head of the National Guard, Viktor Zolotov.
Head of the Constitutional Court Valery Zorkin, who recently brought Putin a map of Europe with Ukraine absent there (later it turned out to be present), has a house in Arkhangelskoye.
The "princes" also live in these places: the children of Igor Sechin Inga and Ivan (in Barvikha), Zolotov's son-in-law Yuri Chechikhin and Zolotov's son Roman (in Rechnoy).
The drone was heading to the village of Vlasikha — the location of the Strategic Missile Forces central command post.
Telegram channel "We can explain"