Natallia Radzina: Lukashenka Wanted To Be A 'Monkey With Grenade'
33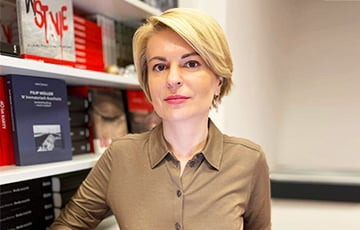 However, after Putin's decision, the dictator's room for maneuver only narrowed.
Editor-in-Chief of the website Charter97.org Natallia Radzina commented for the Ukrainian radio station «Radio New Voice» on Putin's statement about the deployment of tactical nuclear weapons in Belarus.
The journalist agrees with the opinion of the American historian Yuri Felshtinsky, who believes that there is a threat of a nuclear strike on the EU countries from the territory of Belarus:
— We know that the Russian leadership will handle these nuclear weapons. They are not transferred directly to the possession of Lukashenka. Therefore, he loses any room for maneuver in this situation. We have been saying for a long time that Lukashenka no longer decides anything in Belarus today, that Russian military personnel do whatever they want in Belarus, they are not subordinate to the Belarusian command, they are exclusively subordinate to their Russian General Staff. And now, tactical nuclear weapons will also be deployed, which will also be controlled by the Kremlin.
The editor-in-chief of the website Charter97.org believes that Lukashenka did not get what he expected:
— He wanted to wield these weapons because it would strengthen his position. That is, he would be such a monkey with grenades, in this case — with nuclear missiles, and this would strengthen his dictatorship. In this situation, everything only strengthens his dependence on the Kremlin.
Belarusians, according to Natallia Radzina, are well aware that nuclear weapons pose a threat to their country:
— If these nuclear weapons are used, strikes with nuclear tactical missiles will be launched against Ukraine, which means that a retaliatory strike may also be launched against Belarusian territory. And Belarusians are well aware of this. They are well aware that the dictator has become so mad that today he exposed his own population to a nuclear attack.
The Belarusian journalist believes that it is necessary to get rid of the illusion that it is possible to agree on something with Lukashenka:
— Putin's move to deploy nuclear missiles in Belarus confirms once again that Lukashenka is absolutely not in control of the situation in the country today, that the country is essentially occupied by Russia. And therefore, here we need to get rid of all these illusions and only strengthen the sanctions against the Belarusian dictatorship.
Natallia Radzina notes that there is a threat of lifting sanctions on Belarusian potash, which could significantly strengthen Lukashenka's regime:
— This will give the dictatorship billions, which will only be used to strengthen the power apparatus, to tighten repressions, as well as to maintain infrastructure for the same Russian military personnel who are today on the territory of Belarus. And today there are dozens of thousands of them. Because they constantly arrive, train at all Belarusian training grounds, then depart to Russia, new ones arrive. Right now in Russia there is a new wave of mobilization of military personnel, and they will all be trained on the territory of Belarus.
Can Lukashenka blackmail the West when nuclear weapons appear on the territory of Belarus? The Belarusian journalist expressed the opinion that even in this situation the dictator has no freedom of choice:
— We proceed from the fact that so far these missiles are not transferred directly to the Belarusian authorities. That is, they will belong to Russia. And Lukashenka's opportunities in this situation, including for blackmailing the West, are extremely limited. Because it becomes once again obvious to everyone that Lukashenka is a puppet of the Kremlin, that he is not able to handle anything on the territory of Belarus today, including Russian nuclear weapons. Therefore, of course, on the one hand, there will be some attempts to bargain, he can say that "I can somehow influence". But we have already seen February 24, 2022. The day before, Belarusian officials assured the Ukrainian authorities that there would be no attack on the territory of Ukraine from the territory of Belarus. And what happened on February 24, 2022? Where is Lukashenka? Where are his officials who assured that this would not happen? It's the same situation. Nothing depends on Lukashenka today in Belarus.