Natallia Radzina: Lukashenka Can Find Himself In The Hague Even Before Putin
26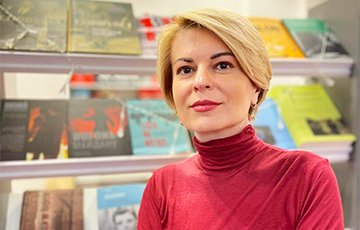 Both the military and the establishment are dissatisfied with the regime.
What sentiments reign in the Belarusian army? How did the International Criminal Court's warrant for Putin's arrest affect the Lukashenka regime? Can negotiations between the opposition and the government start in Belarus? Natallia Radzina, the Editor-in-Chief of the Charter97.org website told about this in an interview with UKRLIFE.TV, the Ukrainian YouTube channel. We would like to present a transcript of the conversation.
— Welcome back. This is UKRLIFE.TV. We continue our broadcasts. We are glad to welcome Natallia Radzina, the Editor-in-Chief of the prominent and authoritative Charter97.org website. Thanks for your time.
— Hello, thanks for inviting me.
— Natallia, you know, I remembered our last conversation with you, and only with your consent. I rarely do this actually, but the issue that we discussed was critically important for Ukraine. Therefore, I would like to return to our last conversation, and then you said that the issue of the entry of Belarusian troops into the war was a matter of time.
Since this issue still remains very important to us, let me please ask you again. A lot of events have happened that either convince us that Lukashenka is really moving towards this. Do you consider the situation differently after all these visits of Lukashenka to China, to Iran, after his endless negotiations, statements, and so?
I am starting with this question not for a reason. I really like you to tell us as much as possible about Belarus. What do you think has changed for Lukashenka during this time, has he changed, in your opinion, has the understanding changed, have the sentiments of the people changed, have the sentiments in the army changed?
— I still believe that the issue of the entry of the Belarusian army into the war is a matter of time. Because in the time that we did not talk, nothing has changed. Lukashenka is still the Kremlin's puppet. There are still tens of thousands of Russian servicemen on the territory of Belarus, who are being trained at almost all the training grounds of the country. Russia is still deploying its military equipment to Belarus. Belarus supplies missile systems, including Iskander missile systems. The threat of missile fire from the territory of Belarus remains. And this can happen at any moment.
What the Belarusian militaries are telling us, of course, causes concern. First of all, the fact that Russian military equipment, in particular, missile systems, are being transported to the Chornobyl zone. This means that at any moment Kyiv may again be shelled with rockets.
Every day, the MiG-31K fighter jet takes off from the Machulishchy airfield, which can carry Kinzhal aeroballistic missiles. This is the reason why Kyiv launches air raid alerts all the time. Potentially, Belarus still remains an extremely dangerous territory. As long as such a dictatorial, absolutely pro-Russian, absolutely puppet regime rules in Belarus, the threat from the territory of Belarus will come both to Ukraine and other states neighbouring our country, members of the European Union. Poland understands it clearly as well as Lithuania. So, we have the latest news that NATO plans to deploy 300,000 troops on the borders with Russia and Belarus as evidence.
— Then, could I ask you, Natallia, to describe what is happening in Belarus in general? What is the political situation? What are the sentiments among the people? And what are the sentiments of the Belarusian army?
— The situation is extremely difficult. The incident at the Machulishchy airport, where the Russian A-50 AEW&C aircraft was damaged, caused mass arrests and repressions. Dozens of people were arrested and beaten in Homiel recently. The situation is the same throughout the country.
There are thousands of political prisoners already and I think that the number may even approach 10,000 because the arrests have only intensified.
The country is suffering from spy-seeking mania. They are seeking Ukrainian spies and their accomplices everywhere.
Our sources in the army today are even afraid to report anything because all the troops are under total surveillance, their phones are checked, many are called for a polygraph test, that is, terror has only intensified in the country, which has not stopped since 2020 when they dispersed peaceful demonstrations against the falsification of the results of the presidential elections. But now the "Witch Hunt" has only intensified.
— Lukashenka made a number of visits, in particular to China. Clearly, Beijing has been investing heavily in the Belarusian economy and some experts have said that Xi can counterbalance Putin's influence in Belarus. Could you please comment on it? What is your assessment? Is China really influential in Belarus? Can Xi really influence Lukashenka? Yes, we know, Xi was in Moscow, we'll wait and see how else this whole story will end. But, nevertheless, how deep is the interaction between Belarus and China?
— In fact, it is a myth that China can somehow balance Russia in the Belarusian situation. Belarusian propaganda and Lukashenka personally developed without influence outside. He likes to boast of his "friendship" with the leader of the PRC. We are well aware that this friendship does not really exist, and if we are talking about any economic influence of China on Belarus, then almost all Belarusian-Chinese projects implemented over the past decades have turned out to be unprofitable.
There was an attempt to build the Great Stone industrial park but it turned out to be unprofitable and the idea failed. It practically does not function today. Moreover, it does not bring profit. There was an attempt to assemble Chinese Geely cars in Belarus, which also could not compete with Western cars, because they were too expensive. This project also failed. They made an attempt to build a plant for the production of bleached pulp near Svetlahorsk, but it has not yet been launched. Its construction caused protests in the city, as this production greatly polluted the air. This plant is not working.
Where have they been successful?! This concerns military and technical cooperation. In fact, all these visits of Lukashenka to China and Iran, I think, should be linked directly with the war in Ukraine and with the military and technical cooperation that is possible between Belarus and these countries.
They were successful in developing, for example, the Polonez MLRS and an active multiple-launch missile system when cooperating with China. They really made it in Belarus, the missiles and all the electronics were Chinese, but the vehicles were Belarusian. There is a tractor plant in Minsk, which fits these heavy missiles perfectly.
This also applies to Iran. First of all, there is military-technical cooperation. Now there is talk of assembling Iranian Shahed drones on the territory of Belarus. It is completely clear where they will be used — these drones will then fly to Ukrainian cities. Therefore, it is necessary to consider Lukashenka's visits not just from the point of view of the economy, but from the point of view of military cooperation.
— Natallia, how powerful is Russia in Belarus? Does Lukashenka have a significant influence on the situation? I'm interested in your assessment.
— As I said, Lukashenka is the Kremlin's puppet. Of course, he somehow rules his own establishment today. However, I see from the sentiments both in the army and among the officials that it is completely clear to them who their boss is. It is absolutely clear to all of them that the fate of Lukashenka depends only on the fate of Putin, and the Belarusian dictator has no opportunity to get out of the influence of Russia currently.
— Natallia, I will ask a question that may seem strange to you, but I will ask it anyway. I really do not want to offend the Belarusians in any way. This is the first thing I want to say. However, look, Putin could have taken a simpler path, he could have just annexed Belarus. Not because the Belarusian people wanted it, but because Lukashenka would be ready for it. They could put pressure on him and he would sign some papers. Why don't you think this may happen? This is really a very important question. Because then many factors and sentiments in society become clear. Why didn't Putin do it? What was he afraid of at some point? It seems. a simple decision with a leader like Lukashenka.
— You know, I think that 2020, which someone can perceive only as a defeat, also scares Putin. Because in 2020 he saw the strength of the Belarusian people. Putin saw millions of people on the streets and today it is not so important that this year did not end with the victory of Belarusian democracy. I am convinced that this will happen in the near future because it is impossible to stop time. The dictatorship today has no chance of remaining in power for a long time. But what happened in 2020 shocked the whole world. And it struck Putin first of all. He realized that the Belarusians are unpredictable and that this is not a territory that will silently become a part of Russia. Putin realized that there are people in Belarus who want to live in an independent democratic country and who will fight for its liberation.
When the war began, many Belarusians took up arms and they are fighting in Ukraine now. Many Belarusians are in the EU countries, where they were forced to flee. They are undergoing military training and also declare that if Belarus is annexed to Russia, they will defend the independence of their country with arms.
Putin also understands that the Belarusians hate Lukashenka, and the Belarusian dictator holds power exclusively by force of arms. So, the consequences can be unpredictable in the event of such a total capture of Belarus and in the event of its accession to Russia. I think the Kremlin understands this. They don't need another flashpoint on the map because we see them failing in Ukraine. Hostilities in Belarus will inevitably end in the defeat of the Kremlin. Of course, Putin will lose without that, but in this case, he will lose faster.
— What do you think can make Lukashenka enter the war directly? Let's consider the Belarusian ground troops only.
— I am convinced that he will enter the war when Putin himself makes such a decision. Nothing depends on Lukashenka today. Today, the very fate of Lukashenka and his actions are connected exclusively with Putin. If Putin decides that it is necessary to attack from the territory of Belarus, then Lukashenka will do it, as he did on February 24, 2022.
Many Ukrainian experts resumed discussions on the topic of a certain "independence of Lukashenka" today. It's as if they forgot what happened just a year ago, when on the eve of February 24, Lukashenka and all his officials convinced the leadership of Ukraine that "Russian troops will not enter Ukraine from the territory of Belarus." However, it happened. Then they were shocked and started crying: "How could this happen?", "He deceived us so much? So much! Oh, no!". So, it makes no sense to talk about some kind of independence for Lukashenka now. That's all, Lukashenka is over.
— Lukashenka is a cunning fox, especially after being in politics for so many years. There are several versions that supposedly Lukashenka is trying to negotiate with the West. Just in case. Why not? I don't know how true these rumours are. I believe you know it better. It is very interesting whether Lukashenka is really trying to come to an agreement. I know that many people were talking about the former Minister of Foreign Affairs Makei, who died tragically, he's gone, died. No one knows what has happened there. That's it, but it is the fact. Many said that allegedly he was such a link between the West and Lukashenka. I don't know whether this is true or not.
Yes, he is a connecting link between them. Yes, he did negotiate. Yes, he really tried to use political prisoners for trade, as he was doing all the years of his service for the dictator. And they keep doing it. But in any case, it is a stalemate for Lukashenka. Why? Because the West demands conciliatory gestures from him. What steps are we talking about?
Unconditional release of all political prisoners, all of them. There are thousands and thousands of people. Will Lukashenka agree to this? He understands that if he releases these people, this will destabilize his regime and his power apparatus first of all. No, he won't accept this.
The West cannot negotiate anything with Lukashenka when thousands of political prisoners are being tortured in prisons.
Further, how can Lukashenka himself be recognized? After all, he is a dictator who has ruled for 30 years, and who lost the last presidential election with a defeat. In fact, he has been losing all the presidential elections in Belarus since 1994, when he was elected. There were continuous mass falsifications. But 2020 has already shown to the whole world that Belarusians have rebelled against this dictatorship.
We know that the Belarusian side demands to leave everything as it is and recognize Lukashenka with these negotiations. To stop terror, to release political prisoners, to give freedom to the media, to unblock independent websites and Telegram channels - he is not able to do all this. Because Lukashenka is well aware that this will immediately hit his regime, the dictatorship will collapse, and he will have to leave.
It is also necessary to raise the issue of new, free parliamentary and presidential elections. Is Lukashenka ready to accept it? We see that this man is obsessed with power, that he is a maniac, that he is not ready to make such concessions. Therefore, no agreements between Lukashenka and the West will work. Only increased sanctions can work. I am talking firstly about economic sanctions. Thus, it is of great concern that the West does not impose these sanctions.
By the way, there are rumours that Ukraine is trying to block sanctions against the Belarusian dictatorship with its lobby. I know that the officials of your country denied this information, but it persistently appears. There are opinions that Ukraine asks not to introduce economic sanctions against the Lukashenka regime so as not to provoke him and so that the Belarusian army does not enter the war in Ukraine. However, this is short-sighted. Because you need to understand that nothing depends on Lukashenka today and sanctions against Belarus must be introduced in the same way as sanctions against the Putin regime.
— Can Lukashenka sell the West his direct non-entry into the war between Russia and Ukraine today?
— After all, then it is necessary to demand the withdrawal of Russian troops from the territory of Belarus, and to stop the training of Russian troops at Belarusian training grounds, who then go to Ukraine and kill thousands of Ukrainian citizens. Then it is necessary to withdraw all Russian aircraft and Russian missile systems from the territory of Belarus. It is necessary to stop the shelling of Ukraine from the territory of Belarus. There are lots of conditions. Because even if the Belarusian army does not enter the war, we will see that they continue to use the territory of Belarus against Ukraine.
— Does Lukashenka really need the West to counterbalance Putin in any way? Does it still remain meaningless? We know that Lukashenka has always been able to apply his experience at the right time and in the right place. Let's consider the Minsk agreements. Lukashenka was under sanctions, then negotiations were held in Minsk, prominent political figures began to come there to talk and negotiate. Lukashenka raised his authority due to this. And he always tried to leave this Western loophole somewhere for himself. Is he really trying to get out of this Western loophole? Is it likely that the West will potentially promise him something, anything? It's unclear what exactly but if it happens.
— I believe that the event horizon has already been crossed on February 24, 2022. And it seems to me that all sane people, including NATO leadership, understand this perfectly. Although the NATO military understood the threat that came from the territory of Belarus a long time ago, unlike Western politicians who continued to flirt with Lukashenka and talk to him, including the mistake of the Ukrainian leadership to start a negotiation process with Russia on the territory of Belarus.
Actually, you also were among those who helped this monster to raise. Lukashenka managed to get rid of sanctions in 2015 when Minsk became a platform for negotiations and the West welcomed him. European political figures began to come to Minsk.
It was a start of active trade through the territory of Belarus, which, among other things, helped to circumvent the sanctions that were imposed against the Putin regime after the occupation of Crimea and the seizure of Donbas. Also, we know that Belarus was such a smuggling hub, through which goods went from Ukraine to Russia, from Russia to Ukraine and from the West to Russia. Do you remember these "Belarusian" shrimp and pineapples that appeared everywhere? So, now it seems to me that such a situation is impossible. However, Lukashenka's puppetry and his inability to influence the situation in Belarus are not obvious to everyone today.
— Natallia, after the International Criminal Court issued a warrant for Putin's arrest, information immediately came from the UN on that day that events were clearly taking place in Belarus that are related to a crime against humanity. And Lukashenka's regime was blamed for this. It happened quite synchronously, if I'm not mistaken — within one day. Do you think that these processes are connected, and will the issuance of this warrant for Putin's arrest affect Lukashenka, will it somehow affect his perception of the situation, you know, his caution, which has been formed and established over the years?
— Of course. And it is obvious that they are now in a panic. Because Lukashenka understands that he can be next after Putin. It certainly comes as a shock to them. They thought that Putin would never be held accountable. Now it has become obvious that this responsibility will definitely come.
Therefore, of course, Lukashenka, as Putin's assistant, as a co-aggressor in this war, like Mussolini under Hitler, is very afraid of this. He is well aware that he will have to bear the same responsibility.
In fact, crimes against humanity are taking place in Belarus today. And the Belarusian regime commits these crimes against its own citizens, against Belarusians, as well as against Ukrainians. Because the Lukashenka regime is unconditionally guilty for those dozens of thousands of victims, for those dozens of thousands of Ukrainians who died from missiles launched from Belarus, from Russian military personnel who entered Ukraine from the Belarusian territory — Bucha, Irpin, Borodyanka, and all those horrors, that took place in these cities — this all lies on the conscience of the Lukashenka regime, he must bear responsibility for this.
— Natallia, what is happening now with the Belarusian opposition? You know, this is a very important issue, because we all say that Ukraine will win. If Ukraine wins, then some new political reality will emerge in the post-Soviet space as well. Probably, this is some kind of chance for the Belarusian opposition to think about what will happen next, what Belarus will be like, propose, create a sort of one common program, two programs, three programs, I don't know. Anyway, are there any attempts now by some united Belarusian opposition, or disunited, I don't know how you will tell us about it, to offer something to Belarusians so that they understand: "And what will be instead of Lukashenka?" Or maybe they already understand everything, and this has already been proposed a long time ago — what do you think?
— I would like to see Belarus as a European country. A country that will aspire to the European Union and NATO. As for the Belarusian opposition in general, one must understand that the situation is rather complicated. Why? Because thousands of people are in prison.
The Belarusian opposition is in prison today. Nobel laureate Ales Bialiatski is in prison. Opposition leader Mikalai Statkevich is in prison. A huge number of worthy people, including people of art, well-known political activists who have been fighting the Lukashenka regime for decades, a huge number of human rights activists and journalists are in prison today. What we see today in exile is only a part of the Belarusian opposition and, of course, this part today cannot offer any general solutions for everyone.
Accordingly, I see that today the number one task is to fight for the release of Belarusian political prisoners. And then the program of actions of the entire opposition will already be determined.
— Natallia, frankly speaking, we read and heard a lot about Sviatlana Tsikhanouskaya immediately after the elections, after the protests and so on. Now we don't hear anything about her, actually.
— This is an absolutely natural process. Sviatlana is an accidental person in politics, and it is quite clear that it is impossible to pin any hopes on her to change the situation in Belarus today. Both she and her team did everything to destroy the protest in Belarus through their illiterate steps. Today, people, of course, are disappointed, they do not see and do not connect any hopes today either with her or with the people who surround her. But this is also a natural process, absolutely normal, because everything will change completely, and I am sure new leaders will appear in Belarus.
— Natallia, let me ask a global question, going a little wider than Belarus and maybe even wider than Belarus and Ukraine, and Russia. We remember very well that when there were protests in Belarus, at first it seemed that a little more was needed and there would be victory. We had such a feeling in Kyiv, I don't know about Belarusians themselves, but we had such a vision here.
Then we saw absolutely cruel suppression and terrible repressions in Belarus. And at some point it seemed to us that somehow the West could put some pressure on it, intervene, if not interfere, but, say, impose sanctions or put pressure on Lukashenka there. There are many different political tools that could possibly be used, but this
did not happen. And in this sense, a year of war has passed. Do you think the West has changed? Has the West's strategic vision of the post-Soviet space, Belarus, Ukraine, Russia, and many, many other things, changed?
Because the Institute for the Study of War recently stated that Russia, which is waging such a war in Ukraine, is losing the opportunity to influence the post-Soviet space. But a holy place is never empty, although it is banal, but such is the reality. Who occupies this space in terms of influence: China, maybe the States, we see a certain activation of the West in the South Caucasus, but all this is also debatable, I don't know. I deliberately ask a question for a long time, expanding all this space. I'm very interested in how you rate this. Has the strategic understanding and vision of the West changed, what next? How do they see Belarus, how do they see Ukraine, how do they see Russia? Your feelings.
— Of course, today the attention of the West and all its assistance is directed to Ukraine, this is completely normal. First of all, today we need to help you, especially you, because what is happening in Ukraine is monstrous. It is necessary to save human lives, it is necessary to do everything possible so that Ukraine receives weapons, receives funding, so that comprehensive support is provided directly to Ukraine.
As for Belarus, unfortunately, it seems to me that today the West is still not very occupied with this issue, that is, today we are still considered a territory under the protectorate of Russia. And I don't think the West is ready to enter into some kind of conflict with the Russian Federation over Belarus.
Let's go back to the 2020 situation that you mentioned. Pay attention, you said a lot: "we watched, it seemed to us, we saw". And in this situation watching was not the thing that was needed.
Indeed, Ukraine watched a lot and the West also watched a lot and did not impose the same economic sanctions that should have been introduced immediately in August, in September 2020 against the Lukashenka regime.
Sanctions were introduced only in May 2021, when Lukashenka had already committed a direct terrorist act and landed a Ryanair plane with a blogger on board.
Prior to this, no sanctions were imposed, and already on August 9-11, 2020, demonstrators were shot in Belarus, there were already victims.
Prior to this, no sanctions were imposed, and already on August 9-11, 2020, demonstrators were shot in Belarus, there were already victims. We do not even know the total number of those killed, we only know some of the names. And how many people were killed, abandoned, buried in no one knows where, how many relatives of those killed were intimidated and today they are silent and say that their loved ones "committed suicide" or "died in some domestic brawl."
However, there were no sanctions against the Lukashenka regime, and Ukraine simply watched this, moreover, Kyiv actively traded with the Lukashenka regime. And when we look at the numbers, a huge amount of Belarusian oil products went to Ukraine in 2020-2021, and 2021 was a record turnover. And so I want to say that it is very difficult to blame you for a situation where so many Ukrainians are dying, but the Ukrainian leadership also needs to be aware of this. Why did you trade with this regime in 2020-2021? Why were economic sanctions not imposed against it? Maybe you also nurtured this monster, which subsequently provided its territory for an attack on Ukraine.
— This is a difficult and good question. I think the answer to it is even more complicated than the question itself.
— Yes, it is difficult, but in order to change the situation, you need to think about it, you need to analyze it, and you need to admit your mistakes so as not to repeat them in the future.
— On the other hand, there is one important point here. Here, probably, each country should go through its own Maidan. It was hard for Ukraine, too.
— Undoubtedly. And we have always admired the courage and heroism of the Ukrainian people. Belarusians have always supported all Ukrainian Maidans, they traveled to Kyiv and other cities. Always supported, and now they went to war to defend Ukraine with deadly force.
A huge number of Belarusians are dying in Ukraine today. In recent months, I have been talking with the mother of one deceased Belarusian volunteer. This is a former political prisoner who first served time in prison under the Lukashenka regime for participating in demonstrations and protests against election fraud, and then went to defend Ukraine in 2014. And he died heroically near Vuhledar. The mother, of course, suffers terribly, but from what she tells about her son, I understand that he deliberately went for it. He knew that Ukraine needed help in this situation. And he was not afraid to die, he was ready for it.
You should understand that Belarusians are your natural allies. But it so happened that a very tough dictatorship now rules in our country, which cannot be compared either with the regimes that were in Ukraine, or with today's Georgian authorities. Somehow I was recently asked on the air of Ukrainian television: the Georgians came out, why don't Belarusians come out? Belarusians are unarmed, but weapons are readily used against them, and quite a lot of them have already been killed in recent years, they are now in prisons in the hardest possible conditions, people are being tortured today.
For example, it became known that blogger, Radio Svaboda employee Ihar Losik tried to commit suicide in prison for the second time, because he could not stand the pressure and torture. Our people are already dying, for example — Vitold Ashurak died in prison from beatings by the guards. Therefore, the situation in Belarus is of course very difficult, but not hopeless. Here I will tell you that despite the harsh regime, despite the fascism, the genocide that is taking place in Belarus, I still do not see this regime having the opportunity to rule for a very long time.
— Why?
— Because people hate it. Could this affect the situation? Maybe. No one supports this regime — that's a fact. The economic situation due to the same sanctions and Russia's inability to further provide this regime in the same volume is also rapidly deteriorating.
— Is it already noticeable?
— Very tangible. A huge number of people, hundreds of thousands have already emigrated from Belarus. Education, medicine and science are actually destroyed in the country today. People are fired for any offense, dozens of people are arrested every day on completely far-fetched pretexts. Because even what human rights activists say is part of what we know. 10-15 people daily need to be multiplied by five. There are mass arrests. All this causes great dissatisfaction. Here, by the way, is an interesting fact that men have gone unnoticed in Ukraine. A letter was published by the editor-in-chief of the newspaper Narodnaya Volya Iosif Siaredich, who is in Belarus, he wrote an appeal and called on both the government and the opposition to national reconciliation. One can evaluate this letter in different ways, whether national reconciliation is possible under such conditions.
— Natallia, could you clarify this a little? Did he call for reconciliation between Lukashenka and the opposition?
— Yes. The national reconciliation.
— Yes, it went unnoticed, it's interesting.
— We can spend a lot of time talking about whether it is possible or impossible in today's conditions. Of course, it's hardly possible. But the letter itself is revealing. Because a person who lives in Belarus took a risk, it actually takes great courage to publish such a letter in today's conditions. Why? Because most of the letter he lists the repressions that are being carried out against Belarusians today, all the horror that the Belarusian people have been going through for two and a half years, about dozens of thousands of people who went through prisons and arrests, torture and beatings, about political prisoners, who today are in unbearable conditions, about the Russian army, which, in fact, today occupied the territory of Belarus. He wrote about all this.
In general, given the current Belarusian legal situation, the absence of any law, we can say that Siaredzich can already be sentenced to life imprisonment. Yes, for this letter itself. Thank God he's still free. And I consider this letter as a signal from a part of the Belarusian officials that the situation is deadlocked.
I think that they, among other things, understand that Lukashenka is already a temporary figure. When they see that the International Criminal Court is issuing a warrant for Putin's arrest, they are well aware that with Lukashenka everything can happen much faster. And they understand that this must change sooner or later. And so this letter appeared.
It is difficult now to predict how this will end, but this letter tells us that today there is great dissatisfaction with the Lukashenka regime itself among the nomenklatura. And even, by the way, the last laws introduced by Lukashenka are the death penalty for treason, because this is his fear. Lukashenka knows that there are a lot of dissatisfied people both among the nomenklatura and among the military. Therefore, such indicative laws are introduced, attempts to intimidate them. But it is still impossible to do this, I am convinced that the development of the situation with the war in Ukraine will inevitably end with the fall of these regimes. And the Lukashenka regime will not be able to continue to balance and survive.
— Then, probably, you have already begun to answer this question partially, but this is how you see the fate of Belarus, connected with the end of the war between Russia and Ukraine, now there is a lot of talk about this, about possible endings of the war. It's interesting how you connect it.
— Of course I would like Ukraine to win as soon as possible. I would like, of course, that the victory of Ukraine would have an impact on our entire region. So that the blow that Ukraine will inflict on the Kremlin would lead to the collapse of this evil empire and stop its influence, its pressure on our countries. And I really want that in the end this will lead to the long-awaited liberation of Belarus and that it will once and for all decide on its development vector. I am convinced that Belarus, in order to save itself, to build a national democratic state, must join the European Union and the NATO bloc together with Ukraine.
— This is an interesting moment, because I think even you and I discussed that there were no anti-Russian slogans at the protests in 2020, right? Do you think it was because there was no anti-Russian sentiment for some other reason, or there is still none? Has something changed in relation to Russia on the part of the Belarusians now, in the year of the war that is going on? This is also an important point.
— Of course it has. Yes, at first in 2020 there were no anti-Russian slogans, but there were national white-red-white flags. And here people have clearly defined that they are Belarusians, that they are for an independent and free Belarus.
Yes, a number of politicians then expressed their wishes, made appeals to Putin, asked for his support, the same Sviatlana Tsikhanouskaya did this very often. But people were cautious, perhaps at first, because they didn't want Russian intervention, but it happened nonetheless. It became obvious to everyone that Putin unconditionally supported Lukashenka in 2020 and the Belarusian dictator was able to stay in power only thanks to Russia's support. It became obvious to everyone. Because the fighters of the Russian Guard also came, dressed in Belarusian uniforms, and participated in the dispersal of peaceful demonstrations, the Russian landing of propagandists came to Belarusian television, from where journalists quit to strengthen Lukashenka's propaganda, there was unconditional support by Putin for Lukashenka in the international arena and, of course, financial support. First of all, this deprived Belarusians of any illusions about Putin, and then the war began, and absolutely everyone was sobered up. It became clear to everyone what Russia is, and what Putin's regime is. And the atrocities that took place in Ukraine opened the eyes of those remaining Belarusians who did not want to see the obvious.
— Natallia, Lukashenka's dependence on Putin before the protests was as strong as after the suppression of the protests. In other words, rephrasing this question, do you think that the price of saving Lukashenka from Putin then was the price he is paying now?
— Yes, definitely. The throne staggered very much then under Lukashenka, Putin supported him in exchange for the fact that later Lukashenka himself would support his military operations in Ukraine. And it is quite clear that such a conversation between them happened indeed.
— Natallia, thank you very much! Thank you for taking the time to speak with us. We are very grateful to you.
— Thank you!