Explosions At The Machulishchy Airfield: Aircraft Damaged
127
26.02.2023, 17:36

153,638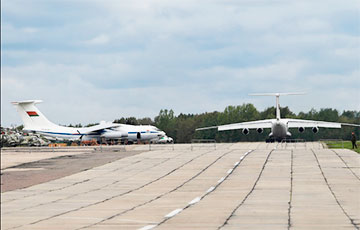 The village is cordoned off.
Today, on February 26, several explosions rocked the Machulishchy military airfield located near Minsk.
RBC-Ukraine reported.
This morning, two explosions rocked the Machulishchi military airfield. It is located 12 km from the capital of Belarus. A Russian military transport aircraft and snow-clearing vehicles were damaged.
In the area of the airfield, local residents saw a large number of military and traffic police crews who were checking all passing cars.
"Half of Machulishchy is cordoned off. Lots of soldiers everywhere. We saw five military vehicles with machine guns. They are stopping all cars and minibuses there, checking bags and trunks," local residents write.
It is this airfield that is often used to send Russian MiG aircraft, which pester the Ukrainians because they can potentially carry Kinzhal missiles.
Recently, the engine of a Russian MiG-31K caught fire there. The locals even heard the explosion. The aircraft was forced to make an emergency landing.