Dzmitry Bandarenka: It's Time To Create Kastus Kalinouski Division
45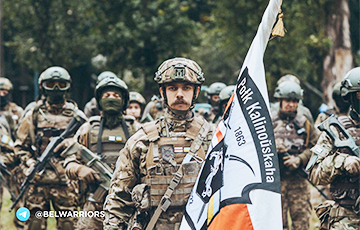 There is a real danger of a drunken horde invading Belarus.
Coordinator of the European Belarus civil campaign Dzmitry Bandarenka told in an interview to the Charter97.org website what threatens the Belarusians with mobilization in Russia and what the citizens of our country should do in this situation.
— We are witnessing the counter-offensive of Ukraine. The Kharkiv region has been recaptured, there is a successful advance to Donbas and the Kherson region. What are the main components of the success of the Armed Forces of Ukraine would you indicate?
— The Ukrainian people are fighting for their land and are waging a just war. The courage of Ukrainian soldiers is perhaps the main factor that broke the Russian military machine. Another factor is, of course, the military art of the Ukrainian military leadership. It is not in vain that Zaluzhny's talent and his teams are celebrated and the head of the Armed Forces of Ukraine is called the most outstanding commander of the 21st century.
Of course, the superiority of Western weapons and intelligence systems over Russian ones is also the most important factor. Victory in a war is often determined by the presence of strong allies, the Ukrainian leadership was able to solve this problem - within the framework of the Ramstein group, Ukraine has a powerful friendly bloc.
— Putin announced mobilization in Russia. Will it change the course of the war?
— It will change very seriously, because mobilization is a war, and a big mobilization is a big war. Of course, we are not talking about 300,000 people who they allegedly want to call. It is clear that large-scale mobilization is already underway. Paragraph seven shreds of evidence to this. The paragraph is sometimes "secret" and then "disclosed". I think that Putin will try to recruit now from one and a half to two million people. And this radically changes the whole situation, because it is one thing when 200-300 thousand people participate in hostilities, and another when there are two million of them.
The scale of mobilization suggests that Belarus, Georgia and Moldova are under a huge threat today. New Russian troops will inevitably enter Belarus, at least for the war against Ukraine.
If a huge number of Russians (maybe 200-300 thousand people) come to our territory because of the war with Ukraine, then it is not a fact that they will then leave our country. Of course, Georgia is in danger today, because a significant part of the Georgian territory has already been captured: these are Abkhazia and South Ossetia, and the Russians will be tempted to seize the entire territory, send troops in order to stop energy projects related to the supply of energy from Azerbaijan to Europe. And mobilization can be done precisely for these purposes.
— What will be the consequences of mobilization for Russia?
— Certainly, war in Ukraine will lead to termination of existence of the Russian Federation as it is. We know that the Soviet Union had huge expansion plans at one time, and millions of soldiers were abroad: in East Germany, Poland, Hungary, Czechoslovakia, Cuba, Mongolia, and Africa, and the invasion of Afghanistan also followed. It seemed that there would be an expansion of the communist bloc, the seizure of new territories, and the emergence of new state-satellites. But Moscow did not take into account the fact that the West began to react, the United States saw this threat and took a number of countermeasures, which then ended with the rescue of the starving population of the USSR by "Bush's legs".
The war in Ukraine will inevitably lead to the disintegration of Russia, but it will not happen all at once. There will be protests by the Russian population against forced mobilization, as well as the flight of probably millions of Russians who do not want to fight. We are already seeing the beginning of this process. So far, the situation in the region has only worsened. Putin went all-in.
— Are there any chances that Putin will crush Lukashenka and force him to mobilize Belarus?
— A greater threat to Belarusians is the danger of this drunken horde entering our lands. Putin will inevitably send troops into our country in order to threaten Ukraine from the north, perhaps to repeat offensive operations from Belarus against Ukraine, and these will be hundreds of thousands of outcasts, bandits and lovers of easy money. Lukashenka's behaviour does not play any role in this situation. We saw that Russian troops launched missile strikes from our territory at the same time when he publicly declared "Belarus for peace". Our homeland is in incredible danger today and we must defend ourselves with weapons in our hands.
It is necessary to inform NATO about this danger to countries because for Belarusians are allies of Ukraine and NATO countries. And we should not have any wild ideas about saving Lukashenka thinking that "he will protect everyone from Putin". That's crazy. We saw that when 30,000 Russians came out, Lukashenka, Makei and Kolia were not running around with guns. They took guns to fight against their fellow citizens, but when, according to the Constitution, they must defend the independence of the country, they did not even lift a finger.
Therefore, there will be no role for Lukashenka, but there is a danger of occupation and a temporary loss of independence. Every Belarusian should realize this.
— Do recent events accelerate or delay the prospect of Belarus' liberation?
— We must respond to the threats that we face. It is necessary to bring to our Ukrainian friends and Western allies the idea that the time has come to create a full-fledged Belarusian division named after Kastus Kalinouski. To train it specifically for protection of the independence of Belarus. This division must be well trained and well armed. It seems to me that the moment has also come for the formation of a political force around the Kalinouski Regiment. Because those people who failed the revolution in Belarus do not even have the sponges today to say such words as the Kastus Kalinouski Regiment. Tikhanovskaia's entourage speaks of some kind of abstract volunteers in Ukraine who must swear allegiance to them.
I recently read a short interview with an international representative of the Vilnius office Kavaleuski about a heroic trip to New York. He talks more about Makei than about his leader. It seems can be seen that for Kovaleuski even today. I'm just saying this in order to make an understanding, do not rely on those who are not leaders and have failed everything that could be failed.
Our heroes in prisons and hundreds of people who can become the backbone of the Belarusian division, the Belarusian army, are our leaders today. That is, those who have already proved their loyalty to Belarus by their actions. We are to rally around them.
Today we must gather all our strength in order to protect the country. The Putin regime will fall if there is resistance everywhere: in the Caucasus, in Crimea, in Donbas, in Belarus, if sanctions against the regimes of Putin and Lukashenka are strengthened and if NATO is involved significantly. In the meantime, Belarusians need to gather their strength and act. Our homeland is imperilled.