"Sense Of Inevitable Change Runs Rampant Through All Post-Soviet Space"
5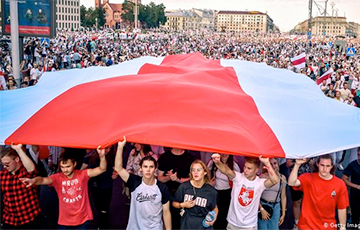 Revolutions are brewing not only in Belarus and Kazakhstan.
Dzmitry Balkunets, a political scientist and popular YouTube blogger, held a discussion on his channel entitled "How to Win? Towards Changes".
The strategy of changing the situation in the country was discussed during the live broadcast by Andrei Sannikov, leader of the European Belarus civil campaign, former Deputy Minister of Foreign Affairs, presidential candidate, and Valeryj Tsepkala, presidential candidate, former Deputy Minister of Foreign Affairs, founder of the Hi-Tech Park.
Andrei Sannikov said that the events in Kazakhstan are a proof that there is a demand for changes in the entire post-Soviet space:
- After all, it was a revolution, no matter they try to say that it was riots there. No, when people come out with slogans like "Old Geezer, Leave!" and "Onwards, Kazakhstan". - these are not economic riots and these are not riots over rising gas prices. Mark you, there were such timid slogans in Zhanaozen, and then when Kazakhstan erupted - they were all over Kazakhstan at the same time. They weren't demanding lower prices, they were demanding the resignation of the entire government and of the entire country's leadership.
I would like to say that everything is brewing not only in Kazakhstan and Belarus. Look at what's happening in Moldova.
I mean, even if we take this invasion of troops into Kazakhstan under the aegis of CSTO, I think that Pashinyan will reap the fruits of his betrayal, because he has signed the decision to bring in troops. He managed to stay in his position at the elections with the help of Russia, with the help of strong administrative resources, which were used during the elections. But for one thing, the Armenians took it hard that it was Pashinyan who signed the decision. And for another, they simply refuse to trust him. So, I think there will be some developments there soon.
In Georgia, where there is president Saakashvili, it goes beyond all limits, they were chasing him all over the country, refusing medical care to the head of state and reformist, no matter what's your attitude to him.
Look at Kyrgyzstan. Kyrgyzstan did not want to see the name of the country mentioned among those CSTO punitive troops and the parliament raised this issue, even though the leadership is not the best there. And there were protests, unlike the other countries. And they protested against deployment of troops. They came out, like this group of seven to the Red Square in 1968.
Uzbekistan is not eager to share Lukashenka's approach, when he was trying to bring Uzbekistan to his side and saying: "It is going to blow up there, look guys, join us. We are going to chin them all". But they don't want to, even under this government. So there is a boil gathering head everywhere, and it is going to burst, and more and more people are saying now, that not everything is that simple in Russia. And Putin in Russia is not sitting on his throne with ease right now.
Valeryj Tsepkala also believes that the desire for change is a distinctive sign of the times in the post-Soviet space. He sees the formula "if you are leaving, leave" as the main lesson that governments need to learn from recent events:
- There is a feeling of serious transformations, a feeling that something is about to change. Belarus is in a depression now, but still, back in 2020 we felt this need for changes. As a matter of fact, it is present everywhere. And that is one lesson.
The most important lesson is that "if you are leaving, leave". There are no more scenarios where you have left and stayed at the same time. Much better scenarios are those where you just get a normal farewell, as happens in all democracies, like Merkel, like American presidents get farewells. You leave - that's it, well done, you got a round of applause, let others move on. And then you can breathe peacefully, travel in peace, you are a respected person, you continue to have influence with your authority.
So it seems to me that there are similar moments with the 90s, when there was a certain sense of inevitable, serious changes, and there is such a feeling now, too. And it is also present in Russia.