'You Are Just A Coward': Belarusian Wipes Floor With Health Minister Pinevich
13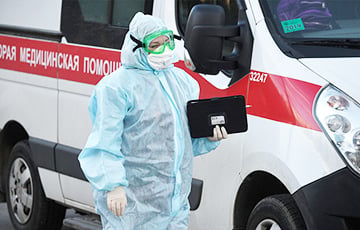 The heart cry of a person watching the covid catastrophe in Belarus.
The Telegram channel "White Coats" published a heart cry of a Belarusian observing how a covid catastrophe has been unfolding in our country for many months:
"The City Clinical Dermatovenerologic Dispensary (CCDD), and partly the 1st City Clinical Hospital (CCH 1) will be re-profiled to host COVID patients in the coming days. Let me just remind you: people are admitted to the hospital not only with a diagnosis of COVID, but only with its severe course.
You know, everyone has already lost count of how many times they additionally deployed the CCH 1 and CCDD to combat COVID, probably this is already their 3rd attempt of unscrambling scrambled eggs.
Yes, the Minister of Health predicted an increase in COVID-19 back in early September. But he assures us that this is okay, declares that many vaccines, hundreds of thousands of doses were brought in, the only thing left is to convince people to get vaccinated.
And Natallia Kachanava confidently stated in August that the right way to combat COVID was chosen, which fully justified itself.
And against the background of these speeches, to read that Denmark is the first in the EU to lift ALL quarantine restrictions is just surrealism. They are just now starting to lift something that we have not even imposed!
Has anyone understood in general what the Belarusian way of combating COVID is?
Let me give you a thesis:
Denial of the disease, contempt for the sick, dancing on the graves of the dead, holding mass events with people forced into it, not giving a damn about doctors who fought against COVID, insulting volunteers, victorious reports, hidden mortality and morbidity, gagging doctors talking about the problem, dismissing doctors, the creation of hotbeds of COVID in prisons, imposing a ban on the import of foreign vaccines, paralysis of the healthcare system, a catastrophic outflow of doctors from the country, mortality on schedule.
The only thing that has been done to combat COVID in our country is a ban on LEAVING the country (WE WILL NOT GIVE OUR DEAR CORONAVIRUS TO THE SUPOSTATES!) And the order: wear masks in public places, but not only is it late, but also officials do not comply with it almost never (apparently imitating one mustachioed healer who was eager to treat COVID with a tractor and a bath).
The vaccination rate is scanty in comparison with the whole world! Remote education? What for? Let's put turnstiles in schools, make more crowds! And concerts, necessarily concerts! And I also want to see young girls in swimsuits! And catch up with the crowd to run! Feast in Time of Plague? No, this is a feast in a time of madness ...
The incidence is on the rise, hospitals are being redesigned, and the feast continues! Dance, we want to dance! Let's celebrate the city day, run half marathons, hold Slavonic bazaars. It's high time for this - the pandemic, the delta strain, the coronavirus!
I am not trying to reach out to the authorities, I just want to ask the person sitting in the chair of the Minister of Health of our long-suffering Motherland:
- How did you come to this? How can you lie day after day? How do you have the conscience to spit on the health of your citizens? Lord, how do you sleep after this? How do you look people in the eye? What do you say to your daughters and wife?
You, Mr. Pinevich, are obliged to keep people healthy! How can you look without pain and shame at the work of your hands? On your conscience, the lives of thousands of people, deaths from COVID are growing while you are inactive, trembling in your chair. And not 10 a day! You have to be a complete idiot to believe in the veracity of the official data and in the effectiveness of the "national" way to combat COVID-19.
Can you imagine, it may happen that there is less blood on the hands of the criminals Karpiankou, Balaba and Karayeu than on yours! What is it like not being able to wash your ministerial CV of thousands of deaths?
You know, I want to ask you a question: how do you sleep after that? This question will give at least a rough answer to whether you are a scoundrel or just a coward.
I wish you, Mr. Pinevich, health and longevity, because there is still a glimmer of hope that you will be able to realize what you have done and sincerely confess this to the prison priest. I'm not sure that Belarus will forgive you, but maybe at least it will make you feel better."