"I Would like to Know the Truth": A Strong Appeal of the Mother of an Official from Shchuchyn to the Ministry of Health
27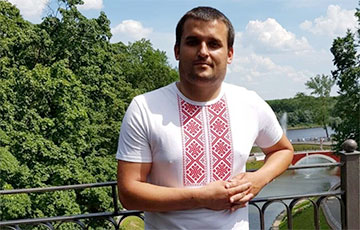 Why is information about coronavirus being hushed up in Belarus?
Recently, information appeared about the death of a 31-year-old official Dzmitry Kryvetski, who worked as deputy chairman of the Shchuchyn regional executive committee for economic issues. Nasha Niva talked to his mother.
Kryvetski comes from Kopyl, where his mother Iryna Ivanauna still lives today. Dzmitry was the eldest son, there is also a daughter, Ksenia.
Dzmitry Kryvetski studied in Homel, where he also worked in Priorbank, says his mother. At the age of 28, he was diagnosed with leukemia.
"He had chemotherapy. At first, there was a small dose, but it didn't help, then it was increased," Iryna Ivanauna says.
Despite his illness, Kryvetski continued to work. He even went for a promotion - he was appointed deputy chairman of the Shchuchyn regional executive committee. He worked in this position for about a year.
"He made his own way, he achieved everything on his own. I don't even know how he got the job. Under him, the Shchuchyn district was one of the top three in terms of economic development in the region," says the mother. "Illness at work did not affect, he worked at his full capacity."
When the coronavirus began, Dzmitry tried to be careful. In 2020, he was lucky, he did not catch covid. But this year, in early June, he did get sick.
"As far as I understand, this is the job, you have to meet people. When the coronavirus started, I was very worried. Dzmitry was being prepared for a bone marrow transplant, and he received chemotherapy. The donor has already been found, and tests were taken from him. My son had a weakened immune system, and I don't know how they treat it here," the mother says.
She says that Dzmitry spent almost 2.5 months in the hospital.
"At first, he was in Hrodna, then he felt better and worse. He was even discharged for a while, but his condition worsened, he was again hospitalized," the mother recalls.
In August, the official was already on a ventilator, fell into a coma, and, two days later, on August 24, he died.
Iryna Ivanauna says that the death certificate of her son says: "Coronavirus infection."
Dzmitry did not live to see his 32nd birthday in several months. He was married, a little son was left without a father.
At the end of the conversation, Iryna Ivanauna asked to publish her appeal to the authorities, primarily to the Ministry of Health:
"Write about my attitude to all this. My opinion, as a mother whose son died of coronavirus: I want nothing to be hushed up in our country. So that everyone speaks the truth: the truth about the number of cases, the truth about the number of deaths. I want the truth to be told about where the hotbeds are - even in our city, I know that there are outbreaks in the housing and utilities sector at the moment - so that people don't go there without an urgent need. Likewise, any neighborhood: we just wouldn't go there if we knew anything, if there was any information.
Having lost my son - and I know a lot of such people - I would like to know the truth. Where the hotbed is - so people don't go there. So that nothing is hushed up."