Famous Pesnyar Leonid Bortkevich Passed Away
6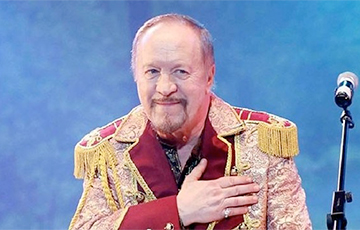 The performer of the famous songs "Belovezhskaya Pushcha," "Veronika" and "Kupalinka" was 71 years old.
It has become known about the death of Leonid Bortkevich. The Belarusian artist of the legendary Pesnyary band died at the age of 72. On May 25, he had a birthday, writes kp.by.
Singer Irina Vidova informed about the death of the famous Pesnyar. The singer wrote that Leonid Bortkevich passed away on Tuesday, April 13.
Leonid Bortkevich was born May 25, 1949 in Minsk. He had been fond of music since childhood: he was a soloist in the choir of the Palace of Pioneers, played the guitar and graduated from a music school as a trumpet player. During his study at the College of Architecture, he was a soloist of the local orchestra, and afterwards - a vocalist of the Golden Apples band.
In 1970, Vladimir Mulyavin called the singer to perform in his Pesnyary band. Leonid Bortkevich became the voice of the popular band. He sang such hits as Aleksandrina, Olesya, Birch Juice, Belovezhskaya Pushcha, Veronika, Kupalinka and many others.
In 1971, the first foreign tours of the band began. They performed at the International Song Festival in Sopot (Poland). In 1973, the ensemble won the All-Union Soviet Song Contest in Minsk. In 1976, Pesnyary had great success in the USA. Pesnyary band was the first Soviet vocal-instrumental band that performed in the United States. They became the first owners of the Golden Disc of the USSR.
In 1980, Bortkevich entered the Russian Institute of Theatre Arts (GITIS). The legendary stage director, Professor Joachim Sharoyev took the course. In the same year, Leonid left Pesnyary because of the inability to combine touring and studies.
Since 1983, he performed solo for Belarusian TV and radio. In 1989, he moved to the USA with his wife, Olympic champion gymnast Olga Korbut and son Richard. He lived there for about ten years.
When he returned to Belarus, he used to work in Pesnyary until the death of Vladimir Mulyavin. In 2003, Bortkevich and some members of Pesnyary created a new band under the same name that existed till 2008.
In 2009, musicians Anatoly Kasheparov, Oleg Molchan and Leonid Bortkevich united in Pesnyary headed by Bortkevich.
Leonid Bortkevich is the Honoured Artist of Belarus (1979), the 1st prize winner of the All-Union Contest of the Soviet Song (1973) and the winner of the international festivals and contests.
The artist has released an autobiographical "Pesnyary and Olga". He shared his creative and personal life with the readers, spoke about the unique nature of Pesnyary. He dedicated a separate chapter to his friend and teacher Vladimir Mulyavin. Bortkevich's graduation project served as the basis for the construction of the Oktyabr Cinema House in Minsk.