Petras Auštrevičius on Disconnecting Lukashenka's Regime from SWIFT: It Would Be a Strong Blow
45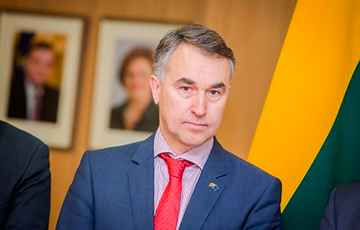 MEP told what the fourth package of sanctions included.
It has recently become known that the European Union has developed a document to disconnect Belarus from SWIFT and freeze the assets of all major companies. Charter97.org spoke to MEP Petras Auštrevičius about the fourth package of sanctions.
- The EU has introduced three packages of sanctions against Lukashenka's regime. Nevertheless, repression of Belarusian citizens continues. Do you think we need tougher and more effective measures against the dictator?
- Yes, we believe so. The West and the European Union, in particular, must be more active, so we have begun to impose sanctions against Lukashenka's regime. But this is not enough. We have to admit it.
He has received a clear message. However, it's not the limit. Things he said these days about a blitzkrieg on the part of the European Union was a lie. He lives in a parallel world, so we have to take all possible measures to pressure and prove to him that we are not just talking, but we have all the instruments to influence his position and make him pay the price for his undemocratic policy line.
- What kind of sanctions against Lukashenka's regime do you consider necessary at this stage of the political situation in Belarus?
- I would expand the number of targeted sanctions by delving into the security forces, which are still loyal to Lukashenka. There should be a lot of these sanctions. I mean hundreds of people who are involved in this brutal campaign against civil society in Belarus.
Secondly, concerning economic sanctions, I do not think that we have reached all the economic and legal persons who should be affected by our decision.
I consider it crucial to move forward and do much more as sooner as possible.
- Lithuanian Foreign Minister Gabrielius Landsbergis says that the EU is developing a fourth package of sanctions against the regime in Belarus. What can we expect? Will Lithuania push its EU partners for tougher measures against the dictator?
- I believe it's true. Lukashenka's "All-Belarusian People's Assembly" initiative is another proof that we act tougher and try to make Lukashenka initiate a national dialogue, not its imitation, and respect fundamental freedoms. I believe that the fourth package will about to come. It's my expectation.
- Late last year in Minsk, the ambassadors of 16 EU states and the head of the EU Delegation drafted a document outlining four policy options about Belarus. The toughest version implies termination of diplomatic relations, disconnection of Belarus from SWIFT and freezing of all major companies' assets. Do you think such measures are necessary if the regime does not stop violence against citizens and persecution of political opponents?
- If we implement at least one of these 3 or 4 tough measures, it will already be something. Imagine, Belarus is cut off from SWIFT. It would be a strong blow to the economic regime, of course, every citizen or every consumer would feel it immediately. I believe that the sanctions you've mentioned can be imposed.
It may bear lower diplomatic relations. I believe we should take this path. Although, we have to stay in touch with civil society in that regard. So I don't think we've run out of measures from our package of possible sanctions. I hope this initiative will come not only from Lithuania but also from like-minded people and those countries that better see and understand the situation in Belarus. They must take the initiative.