Polish Border Guards Repulse 102 Attempts To Break Into Country By Migrants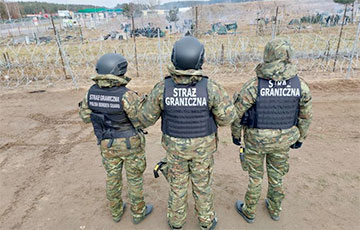 Several groups of illegal migrants attempted to storm the border in the Mielnik area.
Over the past day, 102 attempts of illegal crossing of the Belarusian-Polish border were recorded.
This is reported by the Polish Border Service.
5 orders on expulsion from the Polish territory were issued in relation to the illegal migrants.
Several groups of foreigners tried to force their way into Poland, in an area guarded by the Polish border post in Mielnik.
Minionej doby tj.30.11 na granicy 🇵🇱🇧🇾 odnotowano 102 próby jej nielegalnego przekroczenia.Wydano 5 postanowień o opuszczeniu terytorium Polski.
Kilka grup cudzoziemców próbowało przedostać się na terytorium RP https://t.co/0z0iwvjWyT. na odcinku ochranianym przez PSG w Mielniku. pic.twitter.com/uCCFS0jXq2

— Straż Graniczna (@Straz_Graniczna) December 1, 2021
Important to note, on November 8 Lukashenka's regime staged a large-scale provocation on the Polish border. Thousands of migrants under the control of the Belarusian special services stormed the border of Poland. The Polish side reports that up to 10 thousand illegal immigrants may take part in the next assaults of the border.
On November 15, the Belarusian military drove the illegal immigrants under escort from their camp on the border with Poland to the Bruzgi-Kuznica checkpoint.
On November 16, the migrants set out to storm the Polish border.
After that, the migrants were placed in the Bruzgi logistics center at the border. Polish intelligence reported that the Belarusian security forces turned the Bruzgi center into a base for migrant attacks on Poland.
On November 26, Lukashenka visited the camp of migrants to inspire them for yet another assault on the Polish border.