Doctor of the Vitsebsk Emergency Medical Hospital: Official Statistics - 16 Deaths per Day, But There Are 10 Only in Our Hospital
6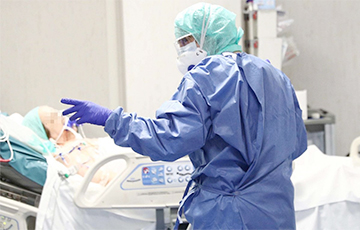 Rastsislau Savitski spoke about the new wave of coronavirus in Belarus.
Doctor of the Vitsebsk emergency medical hospital: Official statistics - 16 deaths per day, but there are 10 only in our hospital
While new peaks of morbidity and deaths from coronavirus are noted in Russia and Ukraine, the mask regime is canceled in Belarus. At first, the Ministry of Health introduced a mandatory mask regime, but, after Lukashenka called this pressure on people, the obligation to wear masks was canceled. According to official data, there are about two thousand infections a day in Belarus. Also, the Ministry of Health announced the registration of a new strain of coronavirus, which has not been seen in other countries - "delta light."
The resuscitation physician of Vitsebsk hospital emergency room, Rastsislau Savitski, told Current Time about how truthful the official figures on morbidity are and what is now happening in Belarusian hospitals.
- According to official data, over four thousand people have died in Belarus over the entire period of the pandemic. But some doctors say this statistic is 16 times underestimated. How do you assess whether the official data differs from reality?
- The data is definitely different. I would agree in principle that the statistic is 16 times underestimated because we see a completely different trend. They provide official statistics - around 16-17 deaths per day in the region. However, I can say that only in our hospital now the average number of deaths per day is about 10.
- One hospital has 10 deaths per day from covid, and they say there are only 17 in the country?
- Yes.
- Can you explain in more detail, is the current wave of coronavirus different in Belarus from the previous ones?
- We see a significant difference. We see younger patients, that is, the trend has gone towards rejuvenation. There are many patients under the age of 40 who are quite severe and oxygen-dependent. And we also see an increase in mortality, which worries us extremely in this regard. Young people also die from COVID-19 and its complications.
- Can we say that this wave has become more powerful because the so-called parameter of infectivity, transmission of this virus has become higher?
- Most likely, yes, we can talk about it. And we can clearly trace this trend.
- You say that the wave has become more powerful. What is the situation in hospitals now? Are there enough beds, are there enough drugs, is there enough protective equipment for doctors?
- There is enough protective equipment for doctors now. There is no need for us, we are fully provided with it. However, there have always been questions about medicines, and they remain now, including anticoagulants, which thin the blood and prevent blood clots from forming, which are very often formed during COVID-19. We have always had problems with these drugs, and now we still have these problems.
In terms of places that the hospitals didn't have, they still don't have them. And there is a great shortage of oxygen points, not enough concentrators. We have to find some very strange reserves to somehow give at least some oxygen to the patient on duty.
- The anticoagulants you're talking about, are they not available in pharmacies or do you just have to buy them for money?
- They are in pharmacies, but they are in very limited quantities. We can only give these drugs in intensive care units, that is, good drugs. And the rest have to be given weaker, not so proven. Therefore, we have a discrepancy in terms of treatment in departments and intensive care.
- Have you noticed some connection that there's supposedly less cancer because of covid?
- I can say that, in the first two waves that we had in our country, we observed quite a few cancer patients who fell ill with coronavirus. And, unfortunately, these patients mostly did not survive. And, most likely, it was during those two waves that a very large number of cancer patients simply died. That is why we see now that there are fewer of them. Probably, this can be attributed to the fact that they simply do not exist. Why they began to be detected less - most likely, this is more of a problem with screening, because now people are not particularly examined, there is no concept of any planned medical examinations, and because of this, there are also very big problems.
- What do you know about the "delta-light" strain, which was registered in Belarus the day before?
- It's quite strange information that we have received. They are trying to present the strain "delta," but with an interpretation of the numbers in Belarus. Such a strain, of course, most likely does not exist. This is just another invention by the Belarusian authorities to justify their statistics.
- So, there is a "delta" strain, and "delta light" is something made up?
- Most likely, yes, it is.