"Hospitals Are Already Like At War" : Doctor's Shocking Story About Lack Of Oxygen For COVID-19 Patients
8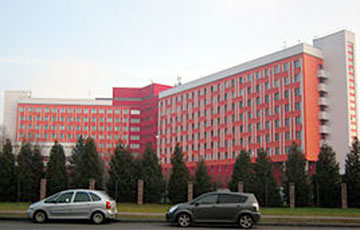 The Minsk therapist shared the facts about what is happening in the clinics.
On condition of anonymity, a therapist of one of the Minsk hospitals shared with Belsat his vision of the situation with the shortage of oxygen points.
Recently, the main Belarusian enterprise for the production of oxygen - OJSC "Krion" - announced that it is working under conditions of 100% load. Every day, the enterprise produces 200 tons of medical oxygen, and the same amount is shipped to hospitals. Additional production began in almost all regions of the country at other large enterprises. Will there be enough domestic oxygen for everyone who needs it?
According to our interlocutor, a therapist of one of the capital's hospitals, there is still oxygen, but it is not enough for the number of patients who are now in hospitals.
"There are not enough oxygen points. Therefore, some non-heavy patients lie together on a point. Accordingly, if someone is doing worse, it is necessary either to look for another item so that all the oxygen goes to one, or to turn off someone who is not yet so critical. Because there are more patients, the pressure in the oxygen system throughout the hospital is not what it should ideally be: somewhere less, somewhere it jumps."
Part of the wards in medical institutions have already been re-profiled for patients with coronavirus infection, the Ministry of Health said. In a conversation, the doctor notices that the rest of the beds are of little use, because the main treatment for the COVID patients today is oxygen, and the wards and points where he was are already occupied.
It makes no sense to engage in traumatology and other departments without organizing oxygen points. It is necessary now to provide stocks of oxygen cylinders and mobile stations in every hospital. Our interlocutor asserts: if there is no oxygen in Belarus, we need to ask for help from Russia and Europe, since there is no reserve of our healthcare system for a real pandemic.
"The further, the more burnout, both physical and moral. The patient is worse, but you can't even give oxygen, and you can't transfer them to the intensive care unit, there are no places there.
Yes, and the patient does not want to go there, they understand that the intensive care now is almost a sentence. The only thing that remains for the doctor is to cry with the patient or to get hysterical.
Will you work a lot, changing clothes in the red zone several times a day? In reality, there are almost no clean zones. In hospitals, it's like in a war - sorting is going on: who is younger, who is given oxygen, who is taken away and taken to the intensive care bed.
The number of patients, the specialist notes, has increased significantly - the hospital needs more doctors, nurses, attendants, psychologists, as the phones are red-hot with the calls from relatives. Patients and their relatives constantly complain, swear and take offense that they are given little attention, not being treated, they even threaten.
"Everyone sees death in reality. And no one adds rates. There is nowhere to take personnel from, you just hear: you are already getting covid bonuses".
We tried to get a comment from the Ministry of Health, but for several days no one answered. And on the hotline of the Health Commission of the Minsk City Executive Committee, they asked the Belsat journalist not to exaggerate.
"We love to add something else to the information we have. But in fact you go on call, but there was no problematic situation ... I cannot tell you about the situation with the coronavirus. Anyone who needs oxygen is on oxygen."
Belarusians began wearing masks a year and a half after the start of the pandemic. Lukashenka's regime had to survive three waves of the pandemic in order to introduce a mandatory mass regime in our country on October 9. Failure to comply will lead to a fine of 870 rubles. Doctors urge you to take care of your own health and advise you to get vaccinated, wear a mask correctly, use antiseptics, and keep your distance.
The Ministry of Health, meanwhile, is recording an increased number of deaths. As of October 18 - 15 people. In total, 4,417 patients officially died during the pandemic. These figures are contradicted by "leaks" from doctors, as well as numerous testimonies from users of Telegram channels. According to the initiative "White Coats", only in two Minsk hospitals during October 14, 21 people died from COVID.