Siarhej Shchurko: We Are at a Historically Good Moment When the Belarusian Nation Is Being Formed
9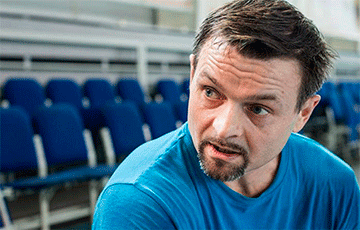 We live this year with a sense of some special dignity.
The author of "Pressball" Siarhej Shchurko was released today after 15 days of arrest. The journalist told Radio Svaboda about the conditions of detention, and also shared his opinion about what is happening in the country.
"We are not surprised at anything in our country: we discussed this with all the guys because you get to sit in different cells. Everyone has such amazing stories. I understand that the legal system in our country has simply collapsed. Probably, we still haven't reached the bottom, but what we see... It's strange: they do it, but, for some reason, we are those who are ashamed of it.
They brought me to Akrestsina Street and said: "You probably think that they will beat you here or there will be some other repressions. You will see: nothing will happen. "In fact, there was nothing. The food on Akrestsina Street is worse; their mattresses are not very comfortable. It is cleaner on Akrestsina than in Zhodzina. But this is a prison.
A big advantage is that I met a lot of good people from different spheres of our life. There is at least one IT specialist in each cell. So the country is on the right track.
Be that as it may, you still come to a lawyer afterward, because you know that the legal system has failed. Inexplicably. Everything will work out; the perpetrators will be identified; the customers will be found.
We are at a historically good moment when the Belarusian nation is being formed. We must understand this as smart people, as journalists. Therefore, we are living this year with a sense of some special dignity," Shchurko said.