MMA Fighter: Inadequate Person Is In Power In Belarus Now
7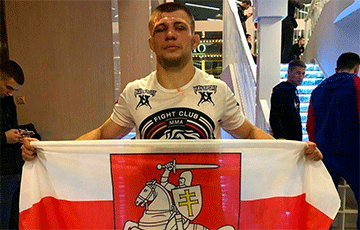 Illia Khadkevich actively supports those who go to the protests.
Belarusians who are fighting for change in a peaceful way are supported by the whole world. The athletes also show solidarity, demonstrating their attitude to the current government and the lawlessness of the security forces. One of those who showed that he is with the people is the Belarusian MMA fighter Illia Khadkevich.
The native of Homel has been living and training in Moscow for more than four years, he takes part in Russian tournaments, but always emphasizes that he is a Belarusian. After his recent victory at the Fight Nights Global tournament, Illia posed for a photo with a white-red-white flag and posted the picture on his Instagram page.
In an interview with Tribuna, Khadkevich, who has the title of winner of the World Cup in Combat Sambo-2017, medals of the World and European Championships in this sport, and the current professional MMA fighter, spoke about his attitude to the situation in his homeland and the actions of the security forces, about how why he could not vote at the elections in Moscow, and also about the opinion of his Russian acquaintances about Aliaksandr Lukashenka.
- First, tell us about the Fight Nights Global tournament you won.
- It was conducted by the Russian company of the same name, one of the largest in the field of MMA in the country and, in principle, in Europe. All the fights were held in Moscow in the Mir concert hall. There were several championship fights, several rating ones. And as a result, I became the champion (in the category up to 70 kg, the Belarusian defeated the Russian Kurbanali Isabekov by a split decision of judges - edit.).
I must say that I have been living in Moscow for four and a half years, I train there, and I do all the fights in Russia. Therefore, it was not difficult to organize my participation in the tournament, especially since my manager deals with such issues.
- Why did you leave for Moscow?
- I moved when I was studying at BSUFC as a sambo coach. I just saw that there were no prospects for development, including in terms of MMA, in Belarus, there was no support from the state and sponsors, and, in fact, very few people had a professional attitude to this sport. And I wanted to progress, grow, so I decided that it would be easier to do it in Moscow. There are more opportunities, finances, prospects. At the age of 19, I moved to Russia, and graduated from BSUFC remotely. Now I participate in various tournaments for the Moscow club "Lion Heart".
- However, in the credits next to your name there is still a Belarusian flag.
- How else? Before one of the last battles, I was announced as a fighter who stands for Moscow. But this time I specifically asked the organizers to indicate that I am a Belarusian and I represent this country. I am a patriot in any case, and even more so in the situation that is now unfolding in Belarus. Therefore, I wanted to show what was happening to the people by taking a picture with a white-red-white flag.
- Where, by the way, did you get the flag?
- My friends passed it from Minsk at my request. Simply, you know, these colors fully reflect my position regarding today's events. Plus the white-red-white flag is our historical flag. Why can't I show my attitude to it?
- Thai boxer Vital Hurkou entered the ring with this flag. Didn't you plan to do the same?
- I could, to be honest, but the organizers asked not to do anything like that. In the big arena, they ask not to mix politics and sports. Yes, I could disregard everything and everyone, come out with the white-red-white flag, but after that the organizers and I could have problems. So it's best not to risk it.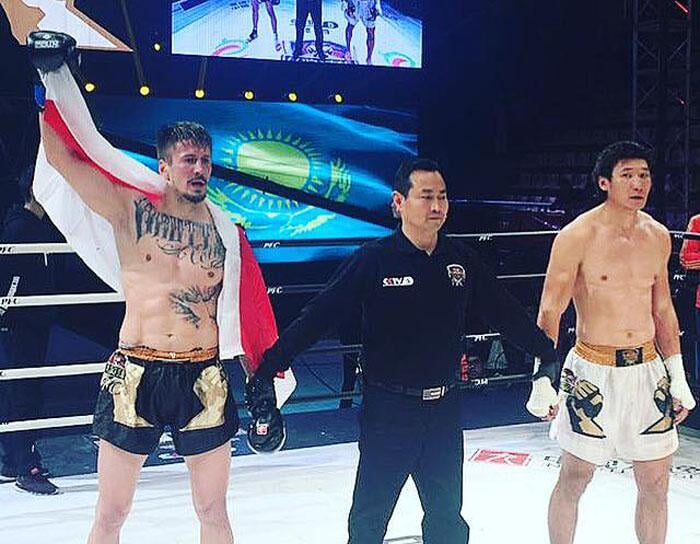 - So you decided to pose after the fight.
- I planned this in advance, and I'm glad that everything worked out. I am glad that my friends in Russia and in Belarus supported me. Anyway, I think I expressed the position of a normal, healthy, adequate person. I, like many others, stand for fair elections, for the termination of the execution of criminal orders by the security forces, for the freedom and independence of the state. Everyone understands and sees everything perfectly well.
- What do your colleagues and friends from the club think of everything that happens in Belarus?
- Same as me. And you shouldn't separate - a Russian, a Belarusian or a representative of another country. Any adequate person understands what is happening in Belarus, so everyone has the same position, regardless of their country of origin. Moreover, thanks to the Internet, telegram channels, people can see the truth, the reality of what is happening. Nobody believes TV anymore. My friends and acquaintances in Moscow are also tracking everything by Telegram. They are very impressed by the unity of our people. But, of course, the behavior of the power structures, if you can call them that, is terrifying. I would call them somehow differently. Cowards, shame of the country and the people. I do not understand why these people are needed on planet Earth.
- Looking from Moscow at all the events in Belarus, do you understand that all this is happening in your homeland?
- On the one hand, yes, I understand. But, to be honest, I could never imagine that something like this would happen in Belarus. Although closer to the elections it was possible to imagine something like that. I understood that Lukashenka would not leave power, so one could assume that there would be falsifications, deception and so on in the elections. I approximately suspected that something bad would happen in this case, but, frankly, I hoped that the police and law enforcement officers for the most part would still be on the side of the people. But this did not happen, so everything began to develop according to the scenario that we saw. I am sure that if the military and the police had supported the people, then everything would have ended long ago.
- Why did you think that the security forces would side with the people if they obey Lukashenka?
-I don't care who they obey. They are responsible, first of all, to their conscience, to the people. And they also have brains! If commanders give criminal orders, do not follow them. If you do, you yourself become a criminal. Still extremely simple. Therefore, I hoped for the conscience of people, but my hopes did not come true, unfortunately.
- Honestly, I am surprised that you had such hopes, especially considering how the previous elections and protests were held.
- Well, why not? We are all humans, we all have a conscience. The siloviki, the police are the same people as we are. And even now we have seen examples when security officials still left their posts, quit service, and the people eventually supported them. I am sure that if most of the security officials leave, stop carrying out criminal orders, ordinary Belarusians will support them, they will be considered normal, adequate people. And the whole situation in Belarus can be quickly resolved.
A similar situation, by the way, was in Armenia. In 2018, there was a revolution in the country, but the army sided with the people, and everything ended up a few weeks after the start. The same should be done in Belarus.
- But in our country it is difficult to imagine such a thing, because even the security officials are intimidated by the current government, they understand that if they leave their posts or stop following criminal orders, it will not be good for them.
- Yes, I agree. But if one, two, three people leave, that's one story. And if 100, 200 thousand people leave? And everything will be resolved. Power will pass to the people. Yes, it seems that everything is simple, but you need to understand that people are really afraid to take a step. It is necessary to somehow organize everything correctly, to implement, to convey the truth to people. But, in my opinion, it needs to be done more persistently.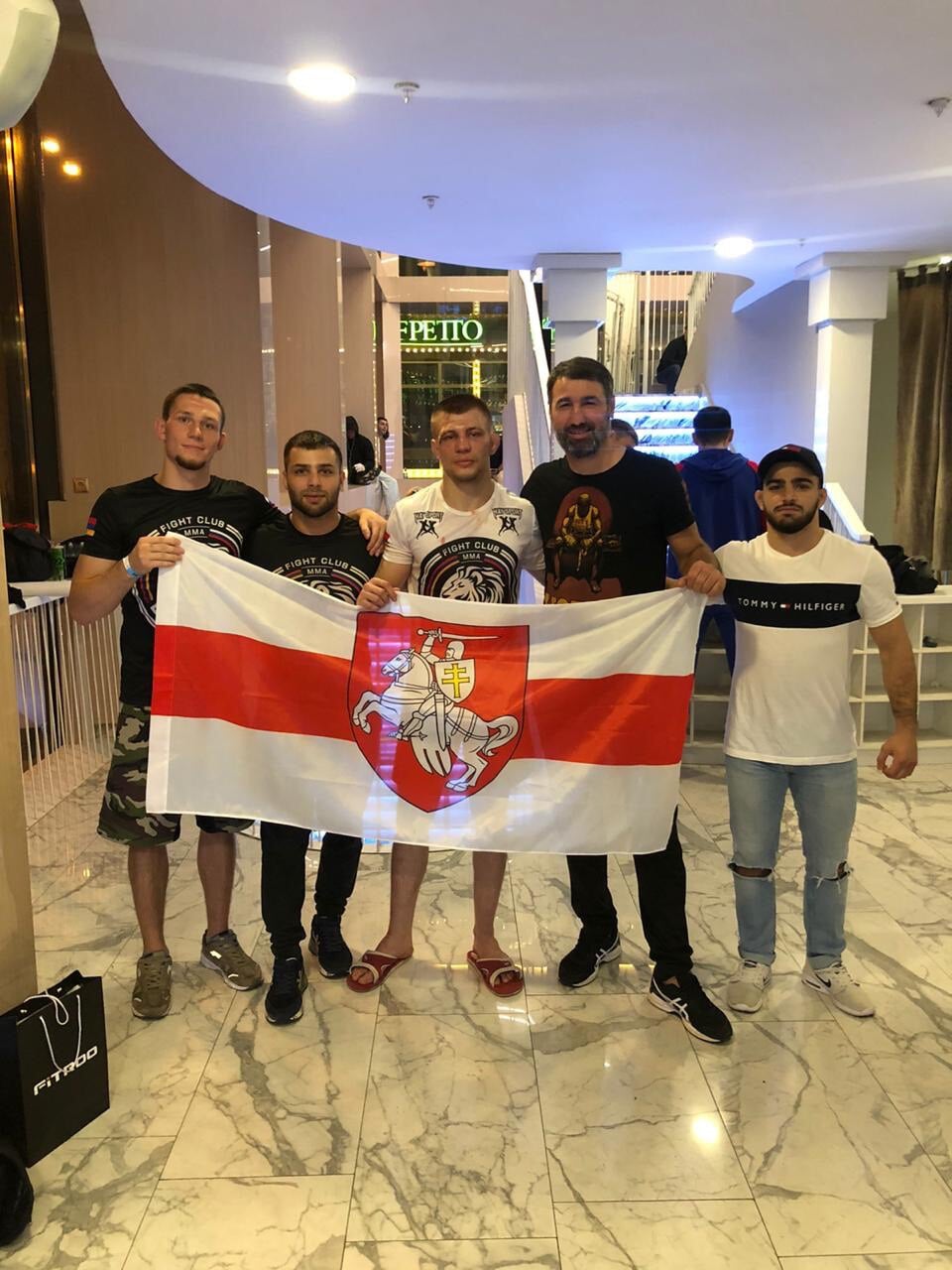 ***
- You are an MMA fighter, a sambo coach and, naturally, you understand how to control your physical strength. Can you understand why the riot police are so atrocious in the streets, why they use inadequate force against civilians?
- I am sure that those people who did all this brutality are offended by life. Surely they failed to realize themselves either in sports, or in studies, or in some other area. As a result, the riot police, who have not realized themselves, put their resentment on ordinary people. And at the same time they do not understand that they should blame no one but themselves in their failure. Plus, the authorities are fueling the brutality of the security forces - intimidating, or allocating some kind of finance.
And there are also people who believe that the protesters are really provocateurs, that ordinary citizens see one picture on the Internet, but the reality is completely different. I even had a chance to chat on social networks with several security officials who convinced me of such things. I am sure that people who, in principle, do not have brains, who can be easily manipulated, will believe in everything the authorities say.
***
- Do your friends in Moscow ask why Lukashenka is so holding on to power, and does not want to leave?
- And not only ask, here in general everyone is aware of the Belarusian events. You go by taxi, so they say it twice in the news. Including the fact that Lukashenka held his inauguration secretly and by himself. When this happened, the Russians were simply shocked, many said that Lukashenka was simply an inadequate person. And I, frankly, was not surprised that everything went like this. After all the recent events, I am not surprised at all. Lukashenka is on his planet, talking about the Americans who follow him from space, and some other things. What is there to be surprised about? Definitely, an inadequate person is in power in Belarus now. I would be more surprised if the CEC wrote that Lukashenka did not get the majority of votes. You know, even before the elections, even in Russia, many people, politicians said that they had no idea how he would give up his power. It was assumed that he would hold on to it with all his might. He will not disdain anything - breaking the law will not be a problem for Lukashenka. An we see it now.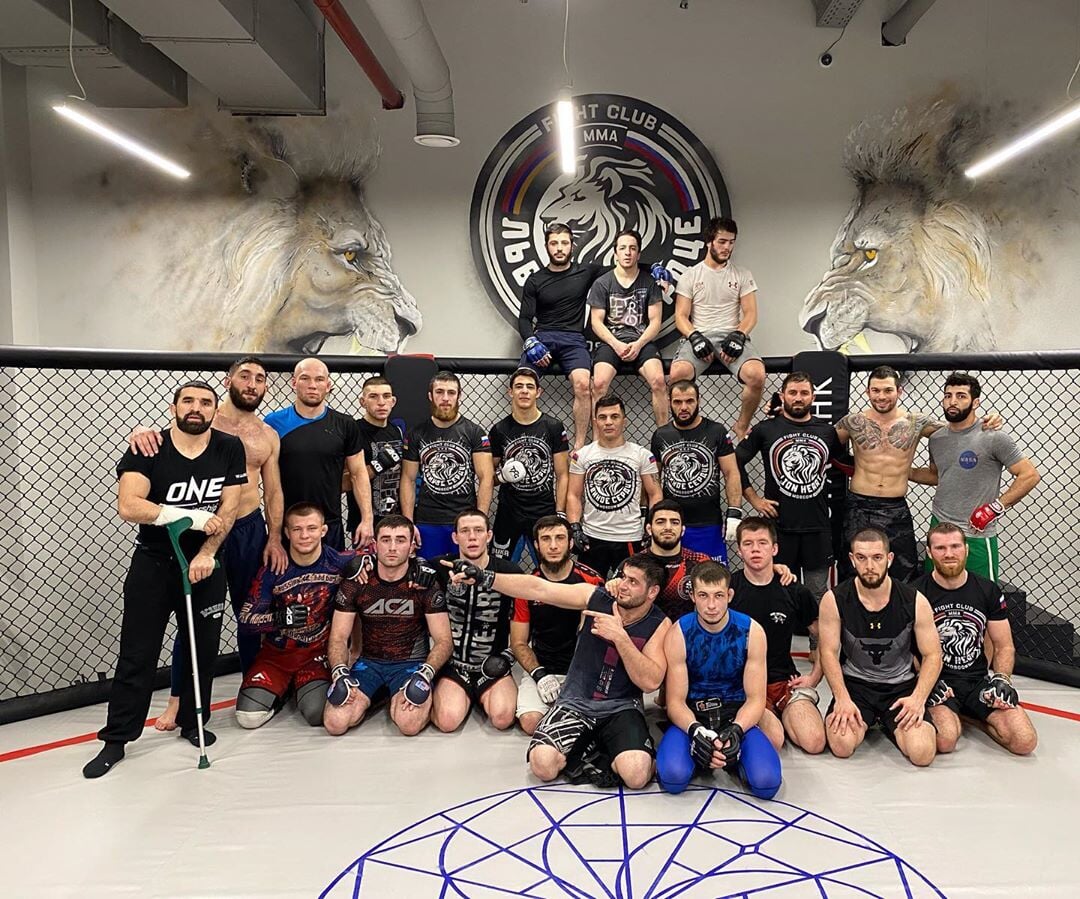 - Do you have any relatives in Minsk?
- Yes, and not only in Minsk. And, to be honest, there are fears for them, so I try in every possible way to support my family and friends, I am interested in their affairs. But they don't really want to move to me, they prefer to stay at home, they just behave as carefully as possible.
You know, if I didn't have relatives in Belarus now, I would have shown my civic position more actively. For example, I would enter the ring with a white-red-white flag, I would publish more posts on Instagram. But for now, I hold back so as not to harm my family.
- Did any of your friends take to the streets in Minsk?
- There were those who went to actions, to meetings, to Sunday marches. The riot police even ran after some of my friends, but, fortunately, no one was detained. Yes, they are athletes, they could fight back the security forces, but then they will jail you. And, I am sure, the security forces, if something happens, can use military weapons. So you better run away.
- Did you want to join your friends, take part in the march?
- I really want to get there, but now it's hard to do it because of the coronavirus. It's easy for me to enter Belarus, especially since I have a Belarusian passport, but then how can I get back to Russia? If it were not for the problems at the border, if not for the coronavirus, I would definitely be at the march.
- Actions in support of Belarusians are held in Moscow near the embassy of our country. Did you participate in them?
- Of course, I think people are still standing there. Maybe not so many, but still the actions continue. I went there myself both on the election day and the following day. I remember that on August 9 we were dispersed, but on Monday they didn't drive us much, especially since we didn't do anything illegal, stood quietly. I would continue to go to actions, but I began to actively prepare for fights, and this is a two-time training session, so there was no time.
- Did you go to vote?
- Yes, I went to the embassy in Moscow, but failed to vote, and wanted to leave my signature, of course, for Sviatlana Tsikhanouskaya. I arrived at the site at two o'clock and stood until closing time. Everything was done there so that as few people as possible voted, they let voters go very slowly. The queue lined up for several kilometers, and people were constantly added. As it seemed to me, four thousand did not vote, very many were not let in. But people still stood up to the end. Closer to eight in the evening, information appeared that they would be allowed to enter the embassy further to vote, but suddenly everything was cut off sharply, all the doors were closed. We stood in the street trying to find out something, but the Russian Guard arrived and dispersed everyone. We managed to stand for about an hour before they dispersed us. And they did it, by the way, without using force, but there was a lot of shouting. And at the embassy they told us that we had to come on the days of early voting. But we understand that it was simply pointless to do it.
- Were you apolitical before all the events?
- I can say yes to this. I followed everything, understood what was happening, but I was sure that nothing could be changed. Most of my friends and acquaintances thought the same, so they slowly looked for prospects abroad. But now, when the opportunity to change everything has appeared, the views have changed, the people are flocking into the streets:)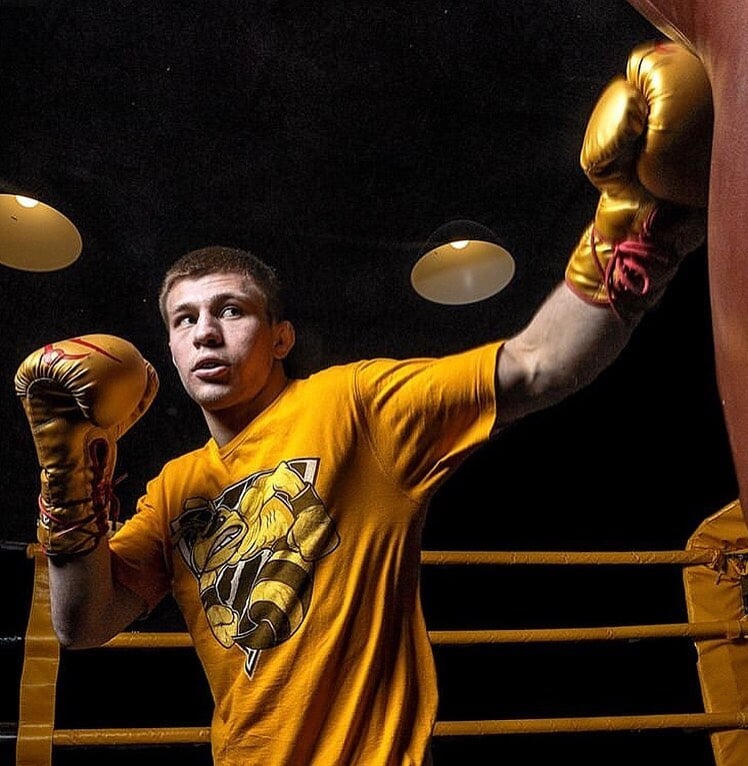 ***
- Do you know what helter-skelter is going on in Belarusian sports now?
- Yes, I know how officials behave and under what pressure the athletes are. This is a complete chaos, the same as, in principle, in all the spheres in Belarus. I don't even know how to describe it differently. Officials intimidate people, try to shut everyone's mouths, but they do not understand that their actions are only provoking Belarusians. People have no choice but to resist even more, to move only forward.
Protest athletes talk about '90s-style intimidation and have created a sanction list. Security officials claim: there are no threats.
- Our top athletes in such a situation say that they are ready to leave Belarus and play for other countries.
- What else can they do? People are preparing for the Olympics, putting their whole lives on it, and they are deprived of the opportunity to participate in the Games. Is this normal?
I want to say that I also signed an open letter from the athletes, expressed my attitude to all the events happening in the country. And I have nothing to be afraid of, because I am not a member of any national team, I am not a member of state organizations. So I don't care if there are any sort of sanctions.
- How did you know about this letter?
- Familiar athletes wrote that there is an opportunity to sign such a letter. And if I agree, then I can do it. Naturally, I put my signature.
- Illia, some may say that you live and work in Moscow, the events in the country did not affect you, the officials do not put pressure on you. Why do you need all this?
- I have a Belarusian passport, I am a citizen of the Republic of Belarus. Therefore, everything that happens in my homeland concerns me. And it doesn't matter what country I live and work in. And, again, my move to Moscow is for the most part a forced measure. If we had conditions for growth, and not only in sports, no one would leave the country. But we see how actions of solidarity with the Belarusian people were held around the world, Belarusians took to the streets in different cities and countries, those people who had to leave once. Surely they would like to live in their homeland, but they were simply left with no options. And I myself went through many trials: beggarly funding, poor conditions for training and performances. And I wanted to develop, grow, that's why I left where it was possible to do my job.
- Are you considering the option of returning to Belarus?
- Someday I will definitely return. But while I am active in sports, this option seems unlikely. I train in Moscow, work as a children's coach, everything is fine-tuned here, so there is no particular point in going to Belarus.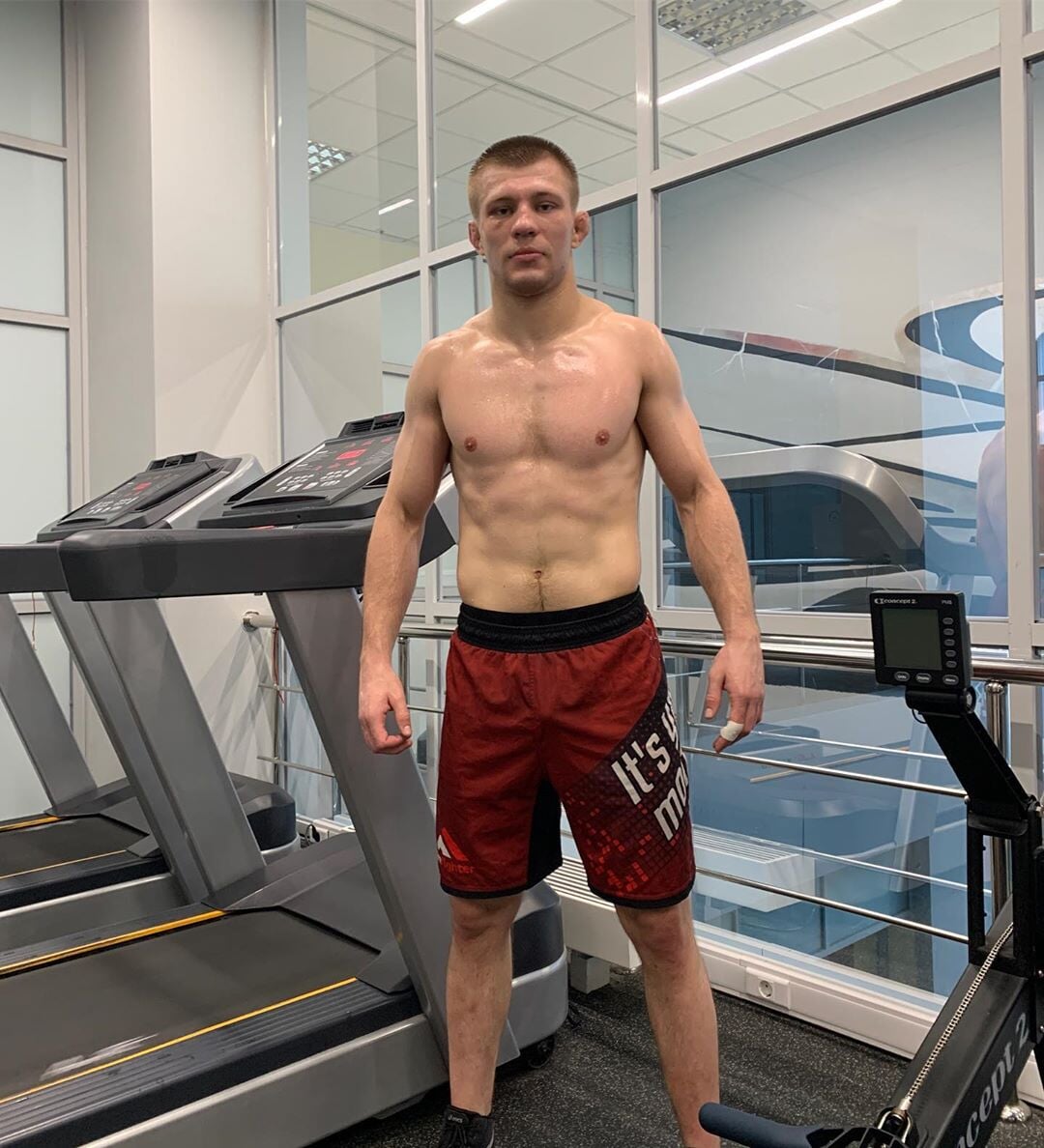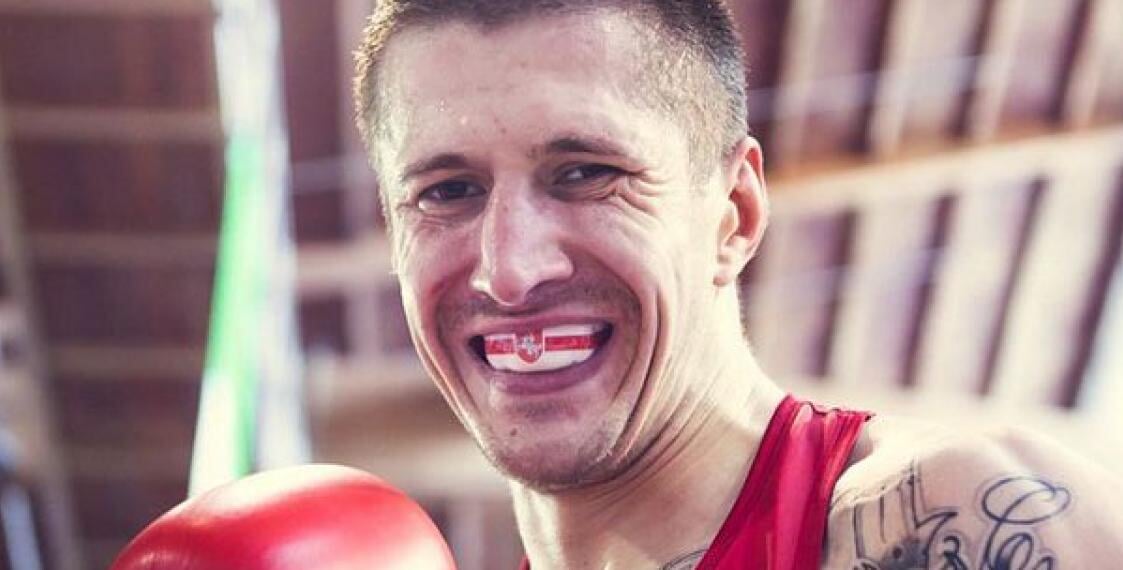 Photo from the personal archive of Illia Khadkevich, pressball.by, euroradio.fm