The Actor Of The Drama Theater In Hrodna Swam Across The Neman To Escape From The Punishers
6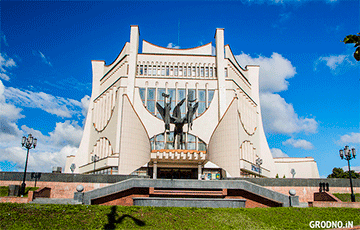 An unusual story happened on September 23.
Actor of the Hrodna Puppet Theater Aliaksandr Ratko was detained yesterday, September 23, after a protest. Fleeing from the police, he tried to swim across the Neman, writes Hrodna.life.
The reader of the site, who was sitting near the local drama theater, saw people in uniform.
- After some time, a bus drove up to the theater and took several AMAP officials, but there were still a few left. After that, I noticed the silhouette in the Neman. At first, my friend and I thought that the person was drowning. As it turned out later, he simply did not swim well.
According to the reader, the man tried to swim across the Neman for about 10 minutes, and, when he reached the shore, the police detained him.
In this man, readers recognized Aliaksandr Ratko, an actor of the Hrodna Puppet Theater and a musician.
The surname Ratko is on the list of detainees on the deprived of registration website of the human rights center "Viasna."
Minsk spectators could see Aliaksandr Ratko many times. He plays in "Guardians of the Taj Mahal," one of the best productions for the 2019-2020 Minsk season.
This is not the first attempt by Hrodna residents to escape from the police in this way. On the evening of September 13, Viktar Kasciuk went to Hrodna's center wearing a T-shirt with national symbols and a flag. Police officers tried to detain him. He was forced to run away and, in order to escape the pursuit, jumped and swam across the Neman. Passers-by helped Viktar to get out of the river; he was not detained.