Former Police Officer: I Know Guys Who Left Holding Their Heads Proudly
8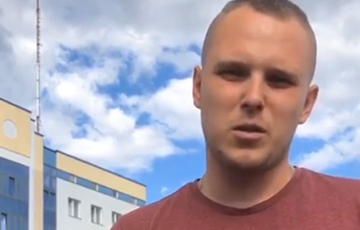 An appeal to the security forces.
A former policeman from Hrodna has recorded an appeal to his colleagues, the "Basta!" telegram channel writes.
"Hello, my name is Zhenia Krus, I am from Hrodna, I am 26 years old.
And it's true, from 2013 to 2017 I, to put it mildly, worked in this office, worked as a patrol officer. I resigned voluntarily at the rank of senior sergeant. And today I want to address all the police officers, the riot policemen and patrol officers.
A real Belarusian does not want war today, does not want the Maidan, Belarusians are peaceful people. The Belarusian only wants fair elections, but for 26 years he no longer believes in honesty and therefore goes to peaceful protests.
I repeat: peaceful protests, where you flagrantly violate the Constitution of the Republic of Belarus. You spit on the oath, by which you swore first of all to protect your people and the Constitution, and only secondly to follow the orders of your superiors.
And I am not afraid of this word, these are criminal orders. Criminal orders of your superiors, who spit on you and worry only about their shoulder straps.
I know the guys who, in this troubled time, broke ranks and said they wouldn't follow these criminal orders and quit holding their heads proudly.
I can also say with confidence that none of you have told me that you agree with the current government and regime, everyone is against it. And everyone was asking two main questions: where to go? And where is it good now? I'm going to try to answer that.
If you like to serve - serve away, only serve as prescribed by law. And if you don't like to serve - you're not a fish in an aquarium, all roads are open, just go.
And finally, I want to address those people who are taking part in all this hype in the first place, it is of course the riot police. Today, the Maidan can be organized only by the current government and only by your hands. Riot policemen, you're fighters, who said otherwise? But you're fighting for the wrong side."