Seven Takeaways After Sviatlana Tsikhanouskaya's Journey Around Western Belarus
12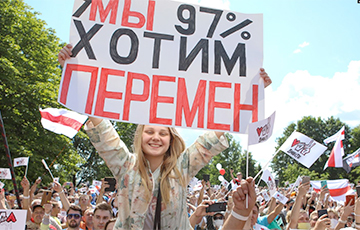 The United Headquarters visited the West of the country last week.
Sviatlana Tsikhanouskaya and the United Headquarters spent the end of last week on a trip to the western part of Belarus. The Radio Svaboda journalist shared his impressions of visiting Lida, Hrodna, Slonim, Brest and Biaroza, where the rallies took place.
1. "This has never happened"
In absolutely every city, the meetings of the United Headquarters have become a distinctive event. The meetings with the candidate Tsikhanouskaya have already gone down in history as the most massive political events in many decades.
"This is a historic day," a woman in her 60s says to her friend at the stadium in Slonim.
The only time a crowd gathered at this stadium during the presidential race was a concert by Nadezhda Babkina in 2001. She campaigned for Lukashenka in the elections, and then people from state enterprises were herded into the stadium. This time, people stood almost in a kilometer-long queue to get to the Dynama stadium.
What can I say, if in Slonim and Vaukavysk,with 50K population, more people came to the rallies than to the majority of the opposition rallies in the 2-million Minsk in recent years.
2. Every Belarusian has a white-red-white flag hidden at home
Lida struck with flags more than other cities. There was probably their greatest concentration. But from where?
"This is my father's flag, which he bought back in 1991," says a young guy at a rally in Lida.
It turns out that Belarus is really a partisan land, where a white-red-white flag is hidden in every house. And at hour X, a Belarusian takes out a flag from the closet, which had been there for 10, 20, and sometimes for 30 years.
"I want to buy a white-red-white flag," a 20-year-old guy in Brest says to someone on the phone. - Big, I want a big flag."
In short, Bahdanovich was right when a hundred years ago he wrote "Unbreakable, unrestrained, unstoppable".
3. Army's with the people
Everyone saw footage from Brest, where the former paratroopers came to the Tsikhanouskaya rally with white-red-white flags and badges with "Chaser". At the speech of Lukashenka's main rival, about a dozen flags of the Airborne Forces fluttered. In other cities, the military reserve also came to meetings with Tsikhanouskaya, in uniform. And the acting military and cadets of military universities carefully watched the rally from aside. In one of the cities, I got into a conversation with two young guys who turned out to be acting officers. They really wanted to get to the Tsikhanouskaya rally and found a "safe" point to see everything, but not be noticed.
4. People are not afraid to speak to the camera
Journalists know how cautious and mistrustful Belarusians are. And how difficult it is to get a stranger to talk on the street. And even more so on a sensitive topic, so that they speak about politics. And if on camera, then it's almost impossible. It is still difficult to believe that people are asking to speak to journalists. The queues to give interviews to journalists is something that colleagues from Ukraine once told about, and it was impossible to imagine this in Belarus. Not even close. And now, without any fear, Belarusians speak out very sincerely, not hiding their faces.
5. Government employees openly protest
What is important, even those who work in state enterprises and even in budgetary organizations - schools and polyclinics - speak without fear to the camera. People who are intimidated at work by dismissal and family problems come to rallies and talk about politics.
6 "Long Live Belarus!"
The crowd in Slonim and Biaroza starts up with the exclamation "Long live Belarus!". And this is despite the fact that most people in this crowd did not even think about participating in a political action two months ago. And now they are already starting from the words "Long Live Belarus!" And then "We Believe! We Can! We Shall Win!", No matter how hard the representatives of the Joint Staff tried to impose their slogan" Love! We can! Feathers! " It turned out that what many considered opposition slogans were in fact popular exclamations.
7. Maximum politicization of the population
"Let's go without politics," now people do not end with such words any sharp conversation that spills over into the discussion of Lukashenka. Now you hear about politics from under every bush. In a textile store, where they sort out all white fabric for bracelets, at a gas station, in a night bar.
For the first time in many years, people are eager to discuss politics. This is also why they come to the rallies. Just to let it go. To talk to friends, or strangers.
"Thank you for hearing me out," this is how the interlocutors in the streams often end their speech. It seems that people are letting go of the thoughts that they have kept to themselves for 26 years.