Launch Of Unfinished BelNPP: Will Lukashenka Be The First To Flee?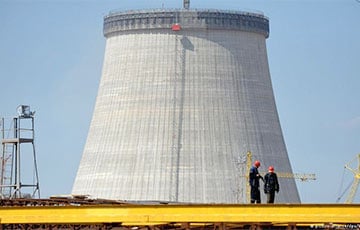 Here's what became known thanks to the workers' revolt in Astravets.
The workers at the construction of the BelNPP, who hadn't been paid their salaries for several months, rebelled. On August 15, more than 50 people joined a spontaneous rally at the central square of Astravets. In total, more than 90 workers had been wronged by wage frauds.
The workers' unrest coincided with other dramatic events. On August 13, a crane operator who worked at the construction of the BelNPP died. Earlier, in July, two more workers were seriously injured, having fallen from a height.
On August 8, a secret "product" (presumably a nuclear-powered missile) exploded at a military training ground in Arkhangelsk region of Russia, which resulted in deaths and radioactive contamination of the ground. The testing at the training ground was conducted by the Rosatom Concern, which is building the nuclear power plant in Astravets.
What is actually going on at the BelNPP construction site and how much more dangerous has this "project" become in the light of the latest facts?
The Charter97.org questions have been answered by United Civil Party activist from Astravets Mikalai Ulasevich.
- How would you comment on the mass riot of the BelNPP workers? Do you know any more details?
- As for the details, I probably won't be able to add anything in addition to what is already known from the media. Now the construction management is classifying all the information very carefully.
But there is no smoke without fire. If people come out and demand to protect their rights, it is good on the one hand. Secondly, it was a revelation to me that the people there are not paid for months. We knew that the majority of people there were paid very little, but not to be paid at all - it was the first time I learned about it.
After all the emergencies that happened during the construction of the nuclear power plant, starting with the fall of the reactor (which I once reported), they classified information about everything that happens at the construction site. The workers' revolt contents me in the sense that the unfortunate situation at this construction site and the chain of accidents confirm that it is premature to talk about the launch of the NPP. And we must do everything to ensure that this construction is never over and that the nuclear power plant is never put into operation in Belarus. This is my position.
- Once, in 2016, you were the first to report shocking figures that about 10 people had died at the construction of the BelNPP. How many people have died and suffered, according to your estimates, to date?
- You know, now we can't give any concrete and reliable figure. When I spoke about the figures for 2016, I meant not only the cases that had occurred directly at the construction site: there were also domestic incidents, at the builders' place of residence, and so on.
Therefore, I do not have complete statistics. But I do not doubt that there had been many more emergencies, with different outcomes, injuries or more tragic finals than we know.
But I can't talk about it in specific and unambiguous terms: to do so, one has to have very reliable sources. I have reliable sources - this is what I hear from the builders, but they usually agree to talk on condition of anonymity.
- The rebelled workers say that they have answered an advertisement in Russia and then they are sent back without any payment. What can we say about the quality of work at BelNPP, if it is built by such methods?
- I'll tell you the following: I have had private conversations with workers, including Russians. For example, a Russian driver was taking me there, we started talking to him and I asked: "Why do you come here? Is it really not possible to earn money in Russia?"
He replied: "Yes, there is no work there. If it hadn't been so hard in Russia, we wouldn't have come here."
The fact that Russians come here and at that go back unpaid is both surprising and indicial for me. These people, who come to the other end of the world, who have been promised good money, and then "screwed over", who became indignant and started to protest, have shown a good example, in particular to our workers.
What happened to the Russian workers proves once again that there can be no safety at this nuclear power plant, because in many cases, come-and-go people work there.
Now test runs of various systems (so-called shakedown runs) are being carried out at the plant. So, the workers report that during these test runs, it "flushes from every chink and crack". This or that system works at a manual run - but not at an automatic one. There are constant failures.
So the BelNPP is still completely raw and its launch is impossible.
- Workers threaten to tell the whole truth about the violations during the construction of BelNPP if they are not paid their salaries. What facts do you think may be revealed if they fulfill their promise?
- You know, if I'd known all the facts, I'd have made them public myself.
I have already said what I knew. And not only about the fall of the reactor casing. There was also a fire the day before the "elections" to the local "council" on February 18, 2018, when the control room burned down. They then got away with that saying "that was the cable on the outer wall that burned down."
Nonsense! Then the control room was completely burned out - and this is a large room with reactor emergency shutdown equipment. And this is a very serious incident.
The fact that workers have threatened to reveal violations confirms that these violations take place during construction, and the unfavorable situation at the construction of the nuclear power plant is growing from the very beginning to the present day.
For example, at the very beginning of construction, cracks occurred when they laid the drainage concrete blind area. But they started the construction without carrying out a full research on the ground, without full development of design and estimate documentation - they started to build everything much earlier.
But this is not a cow barn or a pigsty! First, it is necessary to do serious soil and geological research - and they immediately began to build. Then there were cracks in the drainage blind area.
They used to remove construction waste at nights in order to hide their shortcomings, and they filled all the open mines in the vicinity.
Therefore, I will say once again that the construction of the BelNPP is marked by a number of incidents, a series of gross violations and facts that demonstrate that the plant is very unsafe and cannot be launched in any way.
- A nuclear accident occurred in Severodvinsk, Russia, during the tests conducted by Rosatom. Does this confirm that the nuclear power plant in Astravets is much more dangerous than it was previously believed?
- Of course it is. Both Rosatom and space programs of the Russian Federation are constantly experiencing state of emergency. This all shows that Russian technologies are not safe by definition. And those cases that happened only a few days ago show one thing: God forbid that this nuclear power plant, which is raw and not fully adjusted, is launched.
I would like to stress once again that the Finns have been building nuclear power plants since 2005, and they have not finished it yet, and it is unknown when they will finish it. We started building it in 2009 (or in 2011, if officially) - and we have already " finished it" in 10 years!
No, this is a very, very unsafe, unready, raw construction site. God forbid that it works.
- Lukashenka has repeatedly stated that "considerable money" (about $3 billion) was saved during the construction of the NPP, as well as that it is being built faster than other NPPs and will be put into operation almost without delays. How do you assess the position of the country's leadership on the construction of a dangerous nuclear power plant in Belarus?
- This is not the case where you have to save money. One should be careful here, and, as they say, you can't be too awary in this case.
If they saved money, it means that something has not been done or has been done poorly. Savings are inappropriate here, and the mention of it confirms that everything is going very bad with BelNPP.
- In October, BelNPP is going to receive nuclear fuel. You have created a petition calling to stop the launch of the nuclear power plant. Why is it important to do this?
- Everything I have already said is a reason to prevent the launch of the BelNPP. This petition is another way to stir up public opinion in Belarus, and not only in Belarus. So that people would look at this problem seriously: this construction won't result in anything good.
In this case, I will mention such a mystical sequence (and mysticism often materializes). One of the first major accidents occurred in Pesselvania (USA) at Three Mile Island station. In 2011, there was an accident at Fukushima. Fukushima means "island of happiness" in Japanese. Astravets - no need to translate ("little " – editor's note). These are all unicorn words that mystically form a line.
The fall of the first reactor... The second one was hit against the column in the Tolochinsky district... It's as if omens from above: you guys are doing something wrong, stop - it won't end well.
This mystical row is very disturbing to me. And once again I would like to say that the NPP in Belarus should be put into operation after a long time of checks. We need to double-check everything not only 3, but also 333 times. And it will be better and cheaper not to launch it at all. Because nothing good was done there.
- If something happens at the NPP after the launch, God forbid, then who will be responsible first of all?
- I'll tell you one thing, then it will be hard to find the guilty. Although we know the main person to be blamed. Of course, he will be the first to flee from here, with the gold reserve of the country. And we will face the consequences - everyone who lives in Belarus.
Especially those who live near the nuclear power plant. I live 4-5 km away from it. Millions of Belarusians, who will innocently suffer, will have to face the consequences.
And those who promoted the BelNPP will not be held responsible for years afterwards. Especially since some of them have already gone to the other world. A few days ago my classmate, geographer, academician Aliaksandr Karabanau, who at first signed the act of 1993 that Astravets site is not suitable for construction, but in the end he came here and promoted the idea of the NPP.
Those who brought this evil here are not necessarily the ones who will take responsibility. We will pay for it with our lives, health, life and health of our grandchildren and children.