Don't Bother Lukashenka
46
Iryna Khalip
8.09.2023, 19:17

69,962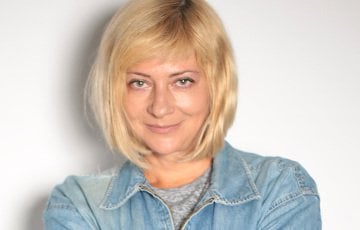 Dig deep, Aliaksandr Ryhoravich.
My friend Olya is packing her things, taking her children and going to Poland. No, not from Minsk. From Turkey. Their family - like many other Belarusian families - are not activists. They just left to breathe more freely, decided to spend "thirty-seven" (1937 - the year of severe repression in the Soviet Union) by the sea. They even registered with the consular authorities so that they could easily change their passports when they expired. It is about to expire. And it's dangerous to go to Belarus. They managed to take part in the 2020 rallies by posting selfies with flags on social networks. So now they're on their way to Poland to ask for asylum, with one goal in mind - to get travel documents and refugee status.
If Lukashenka thought that his new legislative perversion, which bans Belarusian consulates from issuing passports abroad, had brought further misfortune to the activists who had fled the country, he was wrong again. The poor thing has lost his senses, has completely stopped orientating himself in time and space, has gone downhill. He failed to see that nothing would change for those who had fled across the border in their slippers. Many Belarusians had already fled without documents, asked for asylum, received protection and with it travel documents to travel safely. Those who have not asked, because they have been able to obtain a temporary residence permit, because they have found a job or a training course and are hoping to return soon, have already begun to get used to the idea that it is necessary to unpack the suitcase and not just to dust it off from time to time with the thought "what if I need it packed tomorrow". For them, international protection and a "blue passport" are more of a procedural nature. And not those Azaronak mentions in his mad streams, but quite different people will suffer: relocatees and "overstayers". That is, those who lived well for many years under Lukashenka's regime and were quite satisfied with life.
I personally know people who left the country and organised the relocation of their own companies, not because of repression and violence, but because "the Internet was cut off all over the country, and our game servers are down, and if they go down one or two more times, it will cause huge financial losses". So the whole office left for a stable internet connection and profits, but being decent people, they could not but respond to other people's misfortunes - they helped this one, transferred money there, left a comment there. And three years later, it turned out that it was already dangerous to go back, even for a few weeks to get a new passport. Many people did not go to EU countries, but to Georgia, Turkey, Montenegro, where the climate is mild, the weather is sunny and life is not too expensive. Now they will all rush to Poland or Lithuania, because, of course, they will have to apply for political asylum there, a procedure familiar to the local officials, tried and tested to the point of automatism with tens of thousands of Belarusian refugees. Try asking for asylum in Turkey or Serbia - you'll have a hard time explaining why it's dangerous for you to return and what the secret of the white-red-white flag is when you can go to jail for it. At least Poland doesn't ask such questions anymore.
And there are those who left long before the 2020 protests - just to work, and far away: to China, the US, Japan, Argentina. They had only seen the protests on the Internet and had no great claims on Lukashenka, because they had not personally experienced arbitrariness and repression, had obtained the necessary documents at consulates, had notarised powers of attorney and did not care. For them, Lukashenka was a cartoon character. Now he will become a personal enemy for this category of Belarusians because he has ruined their lives.
And what about Belarusian Muslim women who live in Arab countries and have no right to leave without their husbands' permission? They become illegal immigrants, because not every Arab husband will let his wife go to Belarus to get a new passport or a power of attorney - not because he's an Eastern tyrant, but because he understands that it's dangerous for any Belarusian to return to Belarus. Even if that Belarusian didn't take part in the protests. Any likes, comments or even telephone correspondence is a crime and a prison sentence in these times.
So if Lukashenka wanted to ruin the lives of "fugitive fighters", as propagandists like to call them, he was wrong. He has ruined the lives of absolutely no one, but he has made several hundred thousand more personal enemies. Good job, what else can I say?
By the way, about passports. The last time my friend Natallia Radzina saw her Belarusian passport was on 19 December 2010. After she was arrested, the passport went into the criminal case file and stayed there, even after Natasha was released on her own recognizance. So she managed to get to Russia without her passport, then to the Netherlands, then to Lithuania and then to Poland. Yes, it was hard. Yes, at times it seemed hopeless. But in the end, Lukashenka, with his always new, beautiful, shiny passport, is not allowed to go beyond the duty-free zone, while Radzina speaks in the European Parliament without a passport.
In any case, there is no obstacle that the Belarusians can't overcome. Soon notaries will travel to Vilnius or Warsaw to put their stamps on Belarusian documents, consular stamps will be sold in underground passages, and a passport will be brought in from somewhere in Guatemala for a small sum of money. Only the state will lose another flow of money made on all kinds of documents. So keep shooting yourself in the foot, Aliaksandr Ryhoravich. I don't understand the old Chinese thrill of sitting and waiting for the enemy's corpse to float by. It's much better to watch the living enemy burying himself deeper and deeper. The main thing is not to bother.
Iryna Khalip, especially for Charter97.org