Missile Demolishes Russia's Black Sea Fleet HQ In Sevastopol
123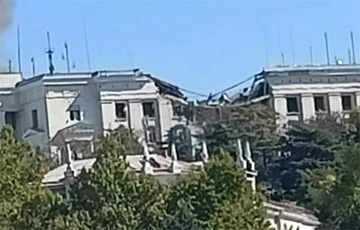 The building is on fire.
Powerful explosions occurred in occupied Sevastopol for the second time in a day, Crimean Wind.
reports.
Black smoke rose over the city, the occupation "authorities" complained about the Ukrainian Armed Forces' missile attack on the headquarters of the Russian Black Sea Fleet.
In the photo you can see thick smoke and fire in the building of the Russian Black Sea Fleet HQ.
The Gauleiter of occupied Sevastopol, Mikhail Razvozhzhaev, said that a missile attack was carried out on the headquarters of the Black Sea Fleet.
"A fragment fell near the Lunacharsky Theater. If you find such elements, we kindly ask you not to approach them, and call 112. All emergency services have arrived at the scene. Information about the victims is being clarified," he wrote on Telegram.
According to local Telegram channels, fragments from missiles are falling near the Lunacharsky Theater on Nakhimov Avenue in Sevastopol. At the same time, dozens of ambulances are already rushing around the city.
The Crimea. Realities confirms a missile attack on the headquarters of the Russian Black Sea Fleet in Sevastopol.
According to the publication's correspondent, three powerful explosions thundered in the city, causing the glass in the windows to tremble.
"A missile was also heard flying over the southern part of the city," the publication adds.
Separate Telegram channels claim "air defense work" in the Saki and Bakhchisaray districts of the Crimea.
It is reported online that air defense is operating in the area of the Belbek airfield, and it is also "loud" in the garrison of Hvardiyske and Saki.
In addition, traffic on the Crimean Bridge was blocked, and maritime passenger transport was also suspended.
The Crimean Wind channel reports that explosions are heard in the Bakhchisaray and Simferopol area, as well as in the Pervomaiske and Krasnohvardiyske areas.
According to an eyewitness, the downed drone fell into Sevastopol Bay. Also, a large smoke mushroom was spotted in Bakhchisaray in the area of the military unit of the Russian Federation.