Natallia Radzina: We Are To Deliver Harsh Ultimatum To Lukashenka Regime
28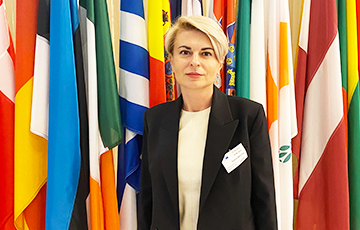 We don't have time to wait anymore.
On September 13, Natallia Radzina, the Editor-in-Chief of Charter97.org, spoke at the Kalinowski Conference in the European Parliament on September 13 in Strasbourg. The conference was dedicated to the situation in Belarus. The journalist spoke about the catastrophic situation with Belarusian political prisoners and called on the European Union to take decisive measures against the dictatorship. Here is the full text of her speech:
– People are being killed in Belarusian prisons mercilessly and really with impunity. We cannot even say exactly how many people are in prisons because repression has not stopped for more than three years. Moreover, the repressions are getting stronger. Let me give you statistics: according to human rights activists, about a hundred politically motivated arrests were made per month in 2021, and already in 2023 the figure reached 700. The increase in repression has been sevenfold over three years!
Thousands of people are in prisons today. How many are there? Much more than human rights activists and journalists know, since full monitoring of repression within the country is impossible. I think the real number of prisoners of conscience today is about 8,000-10,000 people.
In the last year alone, we have learned about the death of six political prisoners in prisons, penal colonies and detention centres, including the famous artist, one of the leaders of the Belarusian National Renaissance, Ales Pushkin. How many political prisoners actually died? The conditions of imprisonment are so horrible that it is very difficult to survive in Belarusian dungeons, especially for elderly and sick people, and there a many of them imprisoned.
Today it has been 216 days since nothing is known about the fate of the real leader of the Belarusian opposition, Mikalai Statkevich. A man who fought against the Lukashenka regime for almost 30 years. He spent more than 10 years in prison during these years.
The last time he was sentenced to 14 in a maximum security prison. In fact, it's a sentence of death, because few people can withstand more than 10 years in a maximum security prison.
For more than three years now, Mikalai Statkevich has been kept in solitary confinement. Now he is being held in one of the toughest penal colonies in Belarus, in the city of Hlybokae, in a basement, in a cell-room measuring 1 by 3 meters. For more than 7 months there have been no letters from the politician, no calls, and he is banned from meeting with his lawyer and visits of his wife. They often place him in a punishment cell, where conditions are even worse than in solitary confinement.
In prison, Mikalai Statkevich contracted COVID-19 four times. He has serious heart problems, but even sending medications to prison is incredibly difficult. They are often just refuse to take parcels for him.
People are being denied medical treatment. Necessary medications are denied. Activist of the European Belarus Andrei Voinich needs an urgent liver transplant. He may die within a year without the necessary surgery.
Political prisoners Henadz Fiadynich, Aliaksandr Frantskevich, Vasil Berasnieu are imprisoned and each of them have one kidney. Political prisoner and journalist Kseniya Lutskina suffers brain cancer. Pavel Kuchynski, about whom there has also been no information for a long time, has stage 4 cancer. Pensioner Halina Dzerbysh is a disabled person of group II, she also has cancer and heart problems, pensioner Uladzimir Hundar is disabled person without a leg, activist of the European Belarus Yauhen Afnahel is losing his eyesight, activist Mikita Zalatarou, arrested when he was a minor, suffers epilepsy.
I can't help but mention the situation with activist of the European Belarus Palina Sharenda-Panasiuk. Recently, me and her husband Andrei Sharenda met with members of the European Parliament in Brussels. The situation with this heroic woman is catastrophic. They are just killing her. She spent more than 200 days in a punishment cell in a prison for female repeat offenders in the last year. With a height of 170 cm, Palina weighed 47 kg! Recently she was beaten in a colony and her ribs were broken. The woman has a liver pathology, but she is not provided with medical treatment, and the transfer of medicines is also prohibited for her. Now they want to convict Palina again and sentence her to a new prison term for the third time. She may simply not live to see her release!
There, in a colony for female repeat offenders, Viktoryia Kulsha and Alena Hnauk are abused and tortured.
The most difficult situation is with Nobel laureate Ales Bialaitski, presidential candidate Viktar Babaryka, Pavel Seviarynets, Alena Lazarchyk, Mikalai Autukhovich, Maksim Znak, Maryia Kalesnikava, Volha Zalatar, Maksim Viniarski, Ryhor Kastusiou, Ihar Alinevich and others.
There are thousands of people whose lives and destinies largely depend on our actions and on our solidarity today,. It is possible to save these people, but decisive action is required.
The Lukashenka regime understands only the language of force. Unfortunately, the current Western sanctions imposed on the dictatorship are insufficient and ineffective, they are bypassing most of them through the third countries. The trade surplus between the EU and Belarus amounted to €3.2 billion in the first half of 2023. Main beneficiaries: Poland (€985 million), Germany (€798 million) and Lithuania (€787 million).
Thus, despite the sanctions, trade with the Belarusian dictatorship is well under way, while people are still being killed in prisons with impunity.
There is a quick and effective way to save political prisoners - to completely stop trade with the Lukashenka regime and the transit of goods through the territory of our country. Believe me, in a very short time after the borders are closed to goods, the regime will retreat and start releasing people from prison. I think that the economies of the EU countries can withstand this pause in trade with the criminal regime, and the stop in transit will increase pressure on the Lukashenka junta from all directions, including Russia and China, which, I am sure, also for the sake of their financial interests, will be forced to call on the dictator to release prisoners of conscience.
Enough with half-measures, enough with "few and far between" sanctions. We are to deliver a harsh ultimatum to the Lukashenka regime!
It is also necessary to act unreservedly against Belarusian embassies in Western countries, which, by order of Lukashenka, stopped issuing passports and other documents to hundreds of thousands of Belarusian refugees who were forced to flee the country after the 2020 events. It is necessary to close Belarusian embassies, expel Lukashenka diplomats! In fact, after ceasing to perform their direct duties, they turn into trade missions of the criminal regime and offices of intelligence services abroad - but no more than that.
Today, the Western world requires resoluteness and will. We are talking about the lives of thousands of Belarusians, real heroes, the best representatives of our nation. There is no more time to wait. We need to act, and immediately!