Chairman Of Belarusian State Border Committee Dismissed: Ukrainian Border Guards Joke On This
15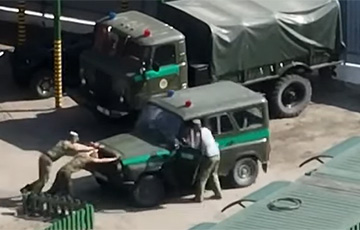 What caused the tough staffing decision?
Charter97.org website, on May 30, Aliaksandr Lukashenka removed the head of the State Border Committee of Belarus Anatol Lappo from his post. Kanstantsin Molastau, the former head of the Hrodna border group, was appointed to this post.
The State Border Service of Ukraine told with irony what caused the tough personnel decision:
"Lukashenka just saw our yesterday's video with Belarusian border guards. A tough personnel decision was not long in coming: a representative of their border service, General Anatol Lappo, left his post! Kanstantsin Molastau will take the post, by the way, he is a native of Russia!
We promise that we will conscientiously record the 'achievements' of your subordinates in the future," the Ukrainian border guards wrote.
Charter97.org wrote earlier that Ukrainian border guards laughed at the "threat" of an offensive from Belarus by showing a video of the Belarusian military pushing an old UAZ-469 car.