'Why Are You So Excited?' Solovyov Raises Snakes On Air Over Strikes In Moscow
24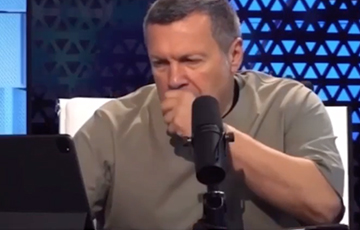 The propagandist didn't like the reaction of Russians to the attack on Rublyovka.
Russian propagandist Vladimir Solovyov was outraged that many Russians were rejoicing on social media after the UAV attacks in Moscow and the Moscow suburbs, saying "Muscovites learned today that there is war in the country".
Solovyov expressed indignation in a live broadcast of his author program, reports Censor.net.
"Guys, why are you writing this crap? Do you really like that Moscow is being hit?" he asked the audience.
Solovyov urged the Russians not to gloat over the people of Moscow and Rublyovka.
"What are you rejoicing at? "Ah, Rublevka...". Don't Russian people live there? Not our compatriots? "Ah, Moscow...". Are all Muscovites on smoothies and in the falafel shop? Why are you so happy?" he stated.
"Just shake it up a little bit and take away that 'It serves you right!' Shove your ego for not being a star up your ass a bit. And think about your country. And think about people," the propagandist concluded.
Earlier, it was reported that drones attacked Moscow in the morning. The media noted that more than 10 UAVs had been shot down in Moscow Region.