Russia's State Duma Announced Strike On Ukraine With Tactical Nuclear Weapons From Belarus
91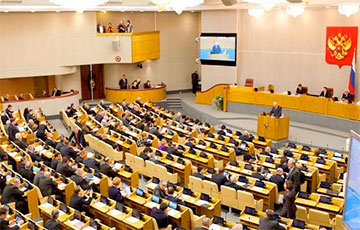 They are talking about 'response' to the drone attack.
State Duma member Oleg Nilov said that the Russian Armed Forces could respond "with all available means" to a Ukrainian drone attack on Tuesday morning that damaged three residential buildings in Moscow and nearly destroyed elite residences near Rublevo-Uspenskoye Highway.
The Moscow Times quoted the Russian member of the State Duma.
"The Russian army has tactical nuclear weapons. It was deployed in Belarus in May. It will not be ensheathed for long," Nilov said.
According to him, the leadership of Ukraine "does not accept" and "does not understand" this, because "they seem to have a very reliable backing" in London and the US.
Nilov said that the drone raid, which, according to the Ministry of Defense, involved 8 aircraft, and according to unconfirmed information - more than 30, is a "new round" that "will not lead to good things".
Dmitry Peskov, the Press Secretary of the Russian President, attended a briefing where he said that the Kremlin does not see threats to the citizens due to the UAV attack and considers the work of the Ministry of Defense successful.
"Everyone worked properly, they worked well, the air defense system worked," Peskov said. He added that Russian President Vladimir Putin "directly" received information about what was happening. He is not going to address citizens since he has "a lot of meetings and a number of briefings", in particular with representatives of Russian business.
When asked what the Russians should prepare for after the attack, Peskov refused to answer, citing the fact that he had already said everything he could on this issue.