Libereco Human Rights Activists Stages Rally To Suspend Belarus From UEFA Euro 2024 Qualifying
1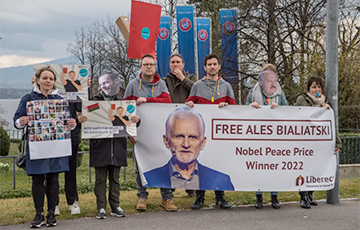 The action took place near the UEFA headquarters in Nyon.
The journalists and employees of the independent German-Swiss human rights organization Libereco took to rally in front of the UEFA headquarters in Nyon to suspend Belarus from UEFA Euro 2024 qualifying.
A representative of UEFA came out to the participants of the action. The representative accepted the demand papers to hand them to Aleksander Čeferin, the head of the organization, according to Tribuna.