Major Accident In Northern Greece: Two Trains Collide
1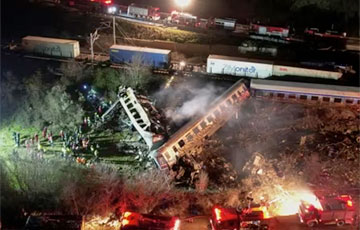 At least 32 people have been killed.
A passenger train and a goods train collided at night on March 1 in northern Greece. At least 32 people were killed and 85 injured. This was reported by the ERT1 television channel.
The collision happened around midnight at Evangelismos station near the town of Tempi near the city of Larissa, more than 200km northwest of Athens.
"There was a head-on collision between two trains at Evangelismos: a goods train and an IC 62 train that was travelling from Athens to Thessaloniki," Hellenic Train, the operator, said in a statement.
Three carriages of the passenger train overturned in the collision and a fire broke out. It was so severe that the first two carriages collapsed completely, one of the cars burnt out.
The circumstances of the accident are not yet known. Iefimerida writes that for some unknown reason both trains ended up on the same track.
Rescuers are still trying to remove the debris. A total of 150 firefighters are involved in the rescue operation. Forty ambulances are on duty at the scene of the accident.