'A-50U Aimer Jet In Machulishchy Is The New Moskva Cruiser'
31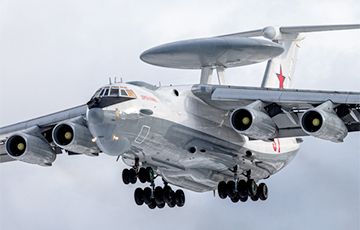 A military analyst spoke about a powerful blow to the military aviation of the Russian Federation.
Yesterday, on February 26, a Russian A-50U long-range radar detection aircraft was damaged as a result of explosions at the Machulishchy military airfield, which is located near Minsk. Some media and Telegram channels report that the Russian plane was attacked by drones.
What kind of aircraft is this and why is it very important for the Russian army? To this and other questions of the Charter97.org website answers Ukrainian military-political expert Oleksandr Kovalenko.
— It has an abbreviation corresponding to its functions: airborne early warning and guidance aircraft (AWACS). This is a rather expensive combat unit, which is designed for orientation, including fighter aircraft, aiming it at targets at long distances.
A-50U aimer jet is an aircraft that can perform both reconnaissance and auxiliary functions in the implementation of missile strikes on the territory of Ukraine. I emphasize that at one time it was an attempt to copy such aircraft of NATO countries, Western models as aimer jets, but still technically and technologically it is more backward. Nevertheless, it is quite capable of performing the aiming function.
This is a very expensive jet. Its cost exceeds 300 million dollars. Secondly, given the ability of Russia to produce such samples, to some extent, damage or loss of this aircraft can be compared with the loss of a full-fledged corvette or frigate of the Russian Black Sea Fleet. Even to some extent with the Moskva missile cruiser.
— Why with the "Moskva"?
— Russian aviation has A50U aimer jets in very limited quantities. There were no more than nine of them. Now we understand that there are a maximum of eight functional ones left. Moreover, I am sure that not all of them are suitable for flights, because some require repair work.
— In your opinion, what part can still be airworthy?
— Probably about 5-6 units. Yesterday there was a tangible blow to the combat capability of Russian aviation. Directly on the MiG-31K fighters, which are carriers of the Kinzhal hypersonic missiles, which are also based on the territory of Belarus. In order for them to additionally carry out aiming at the target, it will be necessary to transfer one more AWACS A50, and this, as we already understand, is not entirely safe.
— How will the decommissioning of the aircraft affect the missile strikes on Ukraine?
— It will definitely reduce their effectiveness. This aircraft, with its aiming, increased the effectiveness of strikes. After all, even modern Russian missile weapons have serious problems with accuracy, and this tip was simply necessary.
I also want to add, as a Ukrainian, that if this attack was carried out by Belarusian partisans, then I cannot but support this kind of activity. It has long been expected and is quite appropriate in the current conditions.