Boryslav Bereza: Lukashenka May Go Right To Hell Without Hearing Any 'Bangs'
22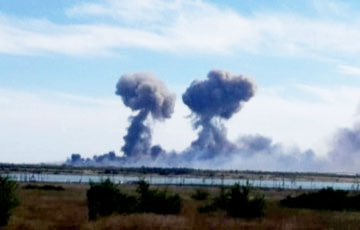 Ziabrauka near Homel is only the first example of resistance to the dictator.
Boryslav Bereza, co-founder and former head of the information department of the Right Sector party, ex-deputy of the Verkhovna Rada of Ukraine and member of the Ukrainian delegation to PACE, political activist and fighter of the Armed Forces of Ukraine, commented to Charter97.org on the explosions near the military airfield in Ziabrauka near Homel:
— The version voiced by the Ukrainian law enforcement and military agencies is fully consistent with reality. At the moment, we are grateful to all Belarusians who help defend Ukraine and destroy Russian military equipment on the territory of Belarus. Therefore, many thanks to all Belarusian partisans.
— Should we expect similar incidents at military bases in Belarus if they continue to be used to attack Ukrainian cities?
— In any case, the Russians will have to get out of Belarus or die there along with the burnt Russian equipment. By the way, the potential fate of Lukashenka is also very interesting. I believe that he, like any dictator, must end up with the same death as his predecessors — Ceausescu or Gaddafi.
— Ukraine expects the supply of long-range ATACMS systems, which can fly to reach Minsk. How likely is it that Lukashenka will one day hear an alarming bang in his residence?
— Bangs and smoke in Belarus can occur if Russian planes continue to rise to shell Ukraine and bomb our cities. Lukashenka may not hear any bangs and see no smoke, but simply meet Saint Peter personally in heaven. And then Peter will send him to hell. And before that, he will be sent to hell by the Armed Forces of Ukraine and Belarusian patriots.
— How can yesterday's explosions in Ziabrauka affect the morale of Lukashenka's army, Belarusian partisans and volunteers fighting on the side of Ukraine? Does this increase the chances of liberating Belarus from the dictatorship?
— Such events motivate those who successfully conduct them, and demotivate those who are harmed by them. The Belarusian partisans, of course, received a new motivator, and the Russian soldiers clearly understand what awaits them. Resistance in Belarus will only grow and end with the overthrow of Lukashenka. And I really hope that he will not have time to escape to Russia, but will either be condemned by the Belarusian people, or simply die while trying to escape.