Kalinouski Regiment Fighter: Brest Was Always First To Rush Into Battle
35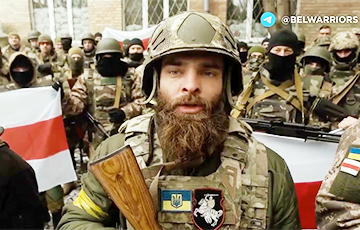 Ivan Marchuk was a true symbol of the Volat battalion.
The Volat commander Ivan "Brest" Marchuk not only enjoyed respect in the Kalinouski battalion — his subordinates loved him. The Volat fighter, who met the future commander before the war, spoke about him in an interview with Euroradio.
"He was the symbol of our battalion. A strongman, idealist. A real man. And the commander, followed by people. He was ready to give everything for his people, including his life.
He was respected in our battalion, and not only there. He was respected in the veteran movement of Ukraine. This is a man who, at the age of 28, passed both Ukraine and the French International Legion.
This is a heavy loss for us. Yes, not only for us, not only for the battalion. I would like to see more fighters like Brest, people of such principles. This is a big loss for the nation. Our dead are its best representatives.
He tried to create a structure in which each person could be replaced in the battalion, as he understood: no one is eternal. What happened to him was possible, too.
The names of our dead will be in our "Heavenly Hundred". They will live forever in Valhalla and look at us, rejoice when we do good deeds.
The interlocutor says that the commander was always the first to rush into battle, and strove to be in the center of all events.
"And he led this group into battle himself. He was very experienced, and wanted to control everything himself. He worried about everyone, loved everyone and said: my fighters are the best in the world."
The interlocutor of the publication recalls how he first met Ivan Marchuk. At that time, there was neither the Kastus Kalinouski regiment, nor the war itself.
"He was 1,70 cm of height. And had a beard! He also had a loud voice that could outshout a tank! All he needed was an axe. I saw him as a mythical character — this man was so charismatic."
Commander of the Volat battalion Ivan "Brest" Marchuk died while on a mission near Lysychansk.