Fight With Belarusian Sambo Wrestler: Sochi Beach Staff Tell Their Version
32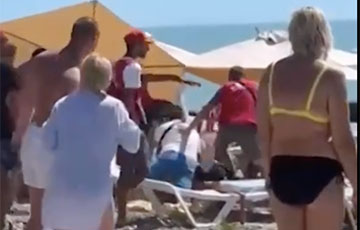 The crowd beat the Belarusian guy.
An employee of the Sochi Fregat Beach, where the guards beat the Belarusian sambo wrestler Mikita Haraeu in a crowd, told the Kub Mash Telegram channel his version of the conflict.
The channel did not disclose the name of the source. The source of the publication called Dmitry. According to him, Haraeu's sisters had been selling watermelons on the beach, thus it was not for free.
"First of all, it is prohibited, and secondly, it is unsafe, so they were asked to stop trading. The sisters continued. Their brother Mikita Haraeu also came in after the second feedback," the publication says.
According to the Kub Mash channel's source, the director of a beach Arman Antonyan wanted to explain that trading is prohibited on a beach and called the sambo wrestler Haraeu in the office to show the resolution. However, the Belarusian began to push the guard along the way, and then hit him in the face. They tried to knock down the sambo wrestler, but he scattered everyone.
"Such a beast on the beach that throws everyone, and that's it. He would just kill everyone there," the Frigate Beach crew member.
Recall that on the beach "Fregat" in Sochi on July 3 there was a fight involving a guy from Minsk, Mikita Haraeu. The younger Haraeu's sisters, girls aged 6 and 14, handed out watermelons to people on the beach while filming this. According to Haraeu's relatives, the beach staff perceived them as competitors and ordered the children to leave in a rude manner, then the guy stood up for them. When it dealt with the offender, then more people with sticks and iron rods approached and severely beat him.
The guy's family said he was in critical care. The Sochi City Administration said that he did not need hospitalization, although they admitted that there was 'harm to the health of the vacationer'. The authorities noted that they considered the behaviour of the beach employees unacceptable, promised to provide assistance to the victim, and they could terminate the contract with the tenants of the beach area.
On July 4 the mother of the victim told Ria Novosti that her son is at home in a serious condition, and there are 'huge hematomas from strikes of iron sticks' on his head.
A criminal case of hooliganism has been initiated against the guards of the Fregat Sochi Beach, who beat up Belarusian Mikita Haraeu.