Boryslav Bereza: Russian Army Will Be Defeated By November
10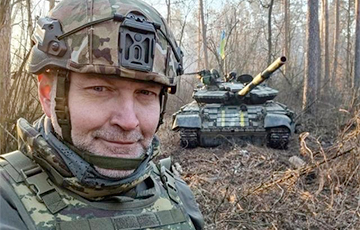 A serious counterattack is ahead of the Armed Forces of Ukraine.
Former non-factional People's Deputy of Ukraine Boryslav Bereza wrote about the situation at the front:
— It's probably one of my main articles lately. And this article is not a political one, it is an analysis by a soldier and a citizen. Read it to the end.
It is not very short but to the point. What is the main for us now? The main thing is that after we accumulate Western heavy weapons, we will have the force to attack and expel the occupiers from our land. And it is also important for us to save people, but not to keep the settlement at any cost. This is a war, and the loss of settlements is possible. But I want you to remember the main thing: we can return the settlements just as we lost them. It has been proven many times in this war. You always have to make a difficult choice during wartime, what decision to make - rational or emotional. I understand the reason when you need to take a step back to take two steps forward and strike after it.
Yes, we lost Svitlodarsk, and Popasna before. Firstly, our troops left Svitlodarsk so as not to be surrounded, and we had to leave Popasna, because the occupiers wiped the city off the face of the earth with artillery. Unfortunately, there was nothing left to hold. We must make a choice: to withdraw troops or to hold a position. But holding in this case would not solve anything strategically, and we would lose our forces. The main task today is to hold back the advance of the enemy until our forces accumulate a fist with heavy Western military equipment. It is coming to us. Albeit slowly, due to logistical problems, but it is coming from all over the world.
The situation is now extremely difficult, but the command of the Armed Forces of Ukraine warned us that the coming weeks would be extremely difficult and heavy. And first of all because of such news as now. Yes, I understand that it is a hard thing. But this will not always be the case. Believe me, it is even harder for my brothers under fire, but we do not plan to retreat or surrender. We hold our positions and act according to the orders of the command. If we are told to retreat to the next line of defence, then we will retreat. If they give the order to advance, we will move forward. Now the order is to hold the position. So our warriors hold it, biting into the ground and not letting the enemy through. Because we believe in our commanders at all levels: from the platoon and company commanders to the battalion commanders and the General Staff of Ukraine. There will be no Victory over the enemy without such trust. And we all live for this Victory and we know what we are fighting for. Liman, Sievierodonetsk, Lysychansk, Avdiivka are under attack today. But everyone understands this. Trust me, the decisions will be made based on the main task: to hold back the enemy and not lose our combat-ready forces. Trust the military. They are definitely not enemies of Ukraine.
The main thing I want to say is there's no need to panic, give up and lose self-reliance belief. This is not only stupid, but also unreasonable. The enemy does not have a strategic turning point in his favour, but only local advances in several sectors of the front. Taking up more convenient positions for defence and preventing our troops from getting into encirclements are more important things for us today. And the main task is to reduce the risk of personnel losses. Because we have a serious counterattack ahead of us.
Pay attention, that the Kremlin used all the forces and reserves, both human and technical, but again failed to achieve a general or even local blitzkrieg. And this is despite the fact that the enemy has much more war machinery and manpower. However, the enemy is now burning much of its forces and weapons in order to get at least a small victory, which the Kremlin "propagandists" will try to flash. Were they able to take Kyiv in three days? This is already history. Russians have only Pyrrhic victories today. They throw their fighters into the slaughter.
And now it is necessary to gather, not to lose spirit and to support our soldiers both in word and deed. Do not sow "treason", but believe in the Armed Forces of Ukraine and Zaluzhnyi. We have repeatedly proved that we are better than the "second army of the world", which has already gotten a beating even from the Hostomel Territorial Defence. There will be a turning point. An active counteroffensive will begin. The Russian General Staff knows about it. They're not idiots. That is why the ruscists are trying to break our morale and sow doubts in our souls firstly.
Don't even count on it! We know that this is a war and there are no victories without defeats. It is important who will have the last word. And it will be ours. Because we have a huge motivation, and the whole civilised world is standing for us with its help and military and financial resources. We will win!
I rarely make predictions, but they always come true. Because I make predictions based on analytics and after data analysis, and not in order to give hope or unreasonably reassure someone. So, the turning point at the front will be this summer, and before November the Russian army will be defeated. But the war will not end so quickly. But the victories of the enemies will end soon. Our enemy understands this clearly. Brace, don't give up and have faith in our force.
P.S. Earlier, I warned that if you constantly watch and listen to soothing crap from various "positive heads" of Bankova, then it will end badly for those who watch it when reality bursts into the pink snot of soothing prophets. That's exactly what happened. Because feeding Ukrainians false hopes voiced in a languid voice was a bad idea. Now we see the result. This warm bath, relaxing and soothing to many, turned out to be a trap of illusion. Put away these false hopes and do not engage in self-deception. It will be hard, painful and difficult. The final will be our Victory. But all of us will all pay a terrible price for it with the lives of our fellows, relatives and close, friends and people we know. Not all of us will see our Victory. We are fighting for the Victory and for the right of our children to live in an independent, European, democratic, legal, free and united Ukraine! That is our choice. We will win! I know it for sure.