Belarusian Ex-Ambassador to Poland Sent To Azerbaijan
1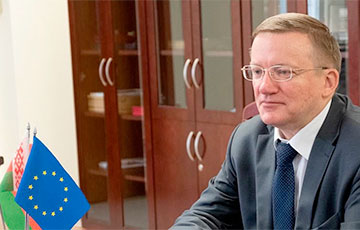 The decision was published today.
Former Ambassador of Belarus to Poland Uladzimir Chusheu, who was deposed of his post according to Lukashenka's decree, became a Consul Ambassador of the Belarusian diplomatic mission in Azerbaijan. The decree was published on May 24 on the National Legal Internet Portal, zerkalo.io reports.
Consul Ambassador to Uzbekistan Aliaksandr Salauiou was relieved according to this decree as well. Aliaksandr Epimakh took his post.
Uladzimir Chusheu has served as the Ambassador of Belarus to Poland since March 2019. In October 2020, Poland and Belarus mutually recalled their ambassadors: the Polish ambassador to Belarus, Artur Michalski, as well as the Belarusian ambassador to Poland, Uladzimir Chusheu, left "for consultations". This happened because of increased tensions between the countries after the presidential elections in 2020.
The Chargé d'Affaires of the Belarusian Embassy in Warsaw has been representing Belarus in Poland since then.