"They Stole Country, Elections, Job"
17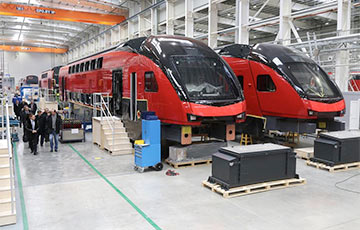 The developments at the Stadler Minsk plant.
Domestic companies, including representative offices of international corporations, started having problems due to sanctions and refusal to work with Belarus. In February, it became known that CJSC Stadler Minsk sent about 60 employees on leave of absence, according to the web publisher zerkalo.io. Now the scale of the reduction in production activity in Fanipol is much more serious, workers say.
Workers: Someone quit, others leave to work in different countries
In February, it became known that CJSC Stadler Minsk was going to send about sixty employees on leave of absence until September. And so it happened, several employees witnessed it. At the same time, the number of employees in the team decreases: someone is on forced leave, someone quits or does not sign a new contract, or someone leaves to work in the company's representative offices in other countries.
"As it was declared by the main owner of Stadler, we are downsizing. Most of the employees receive 2/3 of the salary. Some employees, having assessed the situation, do not sign new contracts on their own decision. Part of the team goes abroad: some go on a business trip, and someone gets a job there to work remotely," said Valery, the worker of the plant.
Some employees relocate to Stadler branches in other countries. Valery is one of them. He says that his specialization allows him to work remotely, so he agreed to continue working for the company, but not in Belarus.
"I can't name the country I'm going to. Nevertheless, we relocated to different branches all over Europe. Everyone has different conditions: some are happy, some are not," he comments.
When asked why he decided to leave his home and relocate, instead of looking for a new job here, Valery answered shortly, but succinctly: "They stole the country and the elections. They stole my job. They do not leave a future for me and for my children here. They are setting sanctions up for what they've done".
Several people from the plant that we contacted said that they no longer work there. One of them clarified that he left himself having assessed the situation at the enterprise, he did not sign a new contract.
"I have not heard about forced layoffs personally. There is no real downsizing, and I doubt very much that it will happen. In general, this is not in the style of Stadler," Viktar, another employee of the company, told us.
According to him, since the employees mostly have one-year contracts, then, most likely, they just do not sign new ones, "a lot of people leave on their own" additionally. The main reason is uncertainty and problems with new orders. Some of his colleagues, he says, have been sent or are planning to transfer to other units in the near future.
"The management does everything to save this situation. Those who meet the minimum requirements (knowledge of the language and good specialisation), are transferred to other Stadler units in Poland, the Czech Republic, Switzerland, and the USA. I know that those who recently moved to the United States received a lot of support," Viktar says.
"Some people who expressed such a desire are sent to work in Hungary through dismissal and signing a contract there for 1-3 years. About 25 people expressed their desire as far as I know. They will leave in July-August," says another worker Siamion. "The rest [in the workshop] are still working without changes until August at least." Since April, the salary of all employees has been raised by 10%. Nothing is so good at the assembly production, because of the sanctions, no new contracts are expected, so there is an outflow of people. They are finishing what is left, and leave for 2/3 of the salary before the end of the contract. But as we were told, they have the opportunity to go to work in Poland or to America.
The management confirms the reduction and relocation of some employees
At the end of February, Stadler management reported that by that time about 300 employees out of about 1,500 had been dismissed. This was due to lower utilization, specifying "the current production capacity of the plant in Belarus is less than 10% of the group's total capacity". At the same time, the company warned that they could transfer production from Belarus to the European Union. The relocation of some employees to other countries is included in the short-term action plan.
"Currently, Belarus processes less than 2% of the order portfolio worth about 17.9 billion Swiss francs (about 17.8 billion dollars)," the company's management statement reads.
The company expects that the sanctions on electronic components will take effect from June 4.