Match Of Century: Argentina Wins FIFA World Cup
28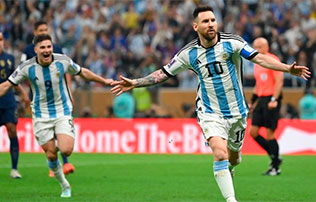 Argentina beat the French in a penalty shootout.
Argentina beat France in the penalty shoot-out in the final of the 2022 World Cup in Qatar.
The main time at the Lusail Stadium ended 2-2. Argentine forward Lionel Messi opened the scoring in the 23rd minute, with a penalty goal. Referee Szymon Marciniak awarded the 11-meter penalty after Ousmane Dembele tripped Angel Di Maria in the penalty area. In the 36th minute, Argentina midfielder Di Maria doubled the score. Alexis Mac Allister provided the goal.
In the second half, 80 minutes into the match forward Mbappe converted a penalty awarded after Otamendi had fouled Colo-Mouani in the penalty area. Then, in the 81st minute, Kylian scored from point-blank range following a Marcus Thuram pass to level the match.
In extra time, Messi scored in the 108th minute to put Argentina ahead. In the 117th minute, Mbappe converted a penalty to level the score, making it a hat-trick.
Argentina was more accurate in the penalty shootout - 4-2. Goalkeeper Emiliano Martinez beat Kingsley Coman's shot, and Tchouameni shot wide.
Argentina captain Lionel Messi, 35, won the World Cup for the first time in his career.
The tournament in Qatar was the fifth World Cup of his career. Messi's previous best was the 2014 World Cup final, in which Argentina lost to Germany.
Messi also broke former German player Lothar Matthäus' record for most World Cup matches. For the seven-time Ballon d'Or winner, the meeting against France was his 26th at the World Cup.
French forward Kylian Mbappe is the top scorer at the 2022 World Cup.
He scored three goals in the World Cup 2022 final.
The forward scored 8 goals at the tournament in Qatar. He is top of the list of top scorers.
Argentina forward Lionel Messi finished second with 7 goals.
Argentina have won the world championship for the third time. Before that, it won the tournament in 1978 and 1986. Argentina have now qualified from first place in the group, beating teams from Poland, Mexico and Saudi Arabia. On their way to the final, Argentina beat Australia, the Netherlands and Croatia.