Dress With Portraits Of Belarusian Political Prisoners Won Most Prestigious Art Competition In Poland
7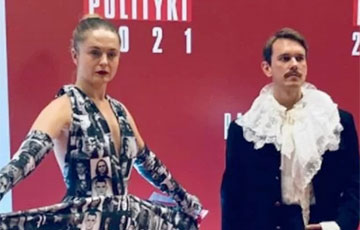 Photo fact.
Belarusian artist Yana Shostak has won the Polish competition "Paszporty Polityki", organized by the newspaper Polityka. It is the most prestigious independent art competition in Poland.
Shostak presented a dress with portraits of Belarusian political prisoners. The jury praised her "for the perfect combination of art and social activism". The jury also paid attention to Yana's talented performances devoted to important social themes and to how effectively she drew the attention of the Polish and international community to the problems of Belarus and refugees. Her most famous performance was called "One Minute Scream for Belarus".
In her speech at the award ceremony, Yana Shostak read out a symbolic letter to the relatives of political prisoners.