Aleksandr Nevzorov: Where Does Lukashenka Work?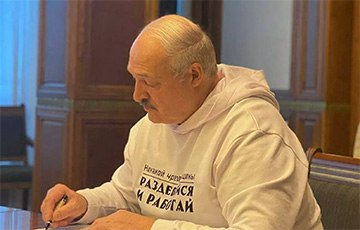 What kind of strange hobby does he have?
Russian journalist Aleksandr Nevzorov wondered about Lukashenka's work on the air of the Echo of Moscow. The reason was the dictator's main slogan, placed on his hoodie.
"Take off your clothes and work!" - is the heavy international slogan of the oppressed prostitutes. But in Minsk, in the country's main shop selling the dictator's merch - T-shirts, vests, nappies, bibs with his expressions - a hoodie with this very inscription appeared: "Take off your clothes and work!". You can open the internet now - you will see it all. Moreover, it has turned out that this is the main slogan of Aliaksandr Lukashenka, his motto in life. And he himself appeared in public in a hoodie with this very inscription: "Take off your clothes and work!" The question arises: where does Lukashenka work? And what does he work with. What is this strange hobby of his? It becomes clear why he fidgets for so long at the State Council meetings, before finding a comfortable position. Yet, even if all the truckers who drive through Belarus are blind, and the trucks find the way by themselves with the help of a white cane, the truckers are still able to find by groping a bald head and a moustache on that girl who has climbed into their cab.
So the "Take off your clothes and work!" situation is absolutely puzzling. It is clear that the financial affairs of Belarus are terrible, and that Lukashenka is trying to replenish the treasury in this way. But it was supposed to be a secret then. Or Lukashenka, in principle, I think, is not very good at reading. And he forgets his crazy statements. All in all, the thought is very frisky and so is the inscription. He already imagines himself a Belarusian Joan of Arc, running around the palace at night with a submachine gun and a banner. And in general, this plaything with the truckers may end very badly, because sooner or later he will come out to compete in the Beauty of Belarus contest.
It is not a coincidence that when he meets with Putin the FSO keeps a crew of urgent psychological help on standby, because if Putin gives Lukashenka not 150 million dollars but, for example, 100, Lukashenka starts chewing the carpet, rolling, howling, spoiling the furniture in Putin's palaces. It all gets on Vladimir's nerves. Also Lukashenka starts tearing his hair out, and then he is given another 50 million.
So, we understand that judging by this inscription, as well as by all the other signs, he is not quite a sound minded man. Now we have added Tokayev with his 40 legions of international terrorists, pianists. And it is clear that they are quite intellectuals, but whoever you look at, not everyone reaches such intellectual heights as Emomali Rahmon did.
You see, Lukashenka is not the only one who lives apart from his own brain. For the Turkmen dictator is very funny. He is going to put out a gas crater now. It is a famous place of devil in the desert, where the underground gas burns. It is 60 metres high. It is an unbelievably beautiful sight. And he has an objection when he is told that it will be very expensive and almost impossible, he says that he has already made arrangements with all the fire brigades in the country. They will come together at some point and fill this bowl with foam simultaneously.
You have to understand that all of them, of course, are former party bosses. And it was not customary in the USSR to torture the party nomenclature with unnecessary wisdom. For example, for the first secretary of the Regional Committee, knowing the four basic letters of the alphabet: F, U, K and C was sufficient. And knowledge of five letters immediately made the Secretary of the City Committee or Regional Committee an erudite at the very least," Nevzorov concludes.