Just One Month
26
Natallia Radzina
15.09.2021, 10:15

48,370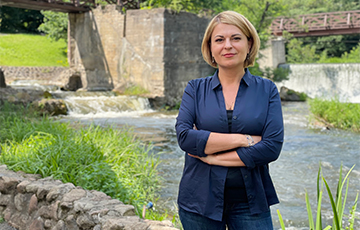 Lukashenka is confused and weak.
I notice that some people in Belarus have fallen into a daze. The lawlessness of illegal power caused some feelings of confusion and a desire to hide instead of rage. Humanly, this is understandable. The question is how long one can remain silent and helpless under such a regime and still be safe. History proves that it will not last for long.
Therefore, it is necessary to stop Lukashenka as soon as possible. We've already lost a whole year.
Do we still have time for inactivity and waiting? No. Let's face it: no one will save us but ourselves. The West has already imposed sectoral economic sanctions against the regime, they have closed foreign currency accounts in Europe for Belarusian state-owned banks. However, if the situation in Belarus is to change fundamentally, the dictatorship must be pressed from within.
The recent announcement of a pre-strike state by the leader of the Belarusian Workers' Union, Siarhei Dyleuski, is the most important initiative over the past year. The strike will deal a knockout blow to the regime. This is the very collective action that can be supported by everyone who wants changes in the country, who is tired of living in poverty, who wants to free their loved ones and friends from prisons, who dreams of a free, democratic Belarus, where every person is valued, where his rights are protected, and work is adequately paid.
What is needed for this? Workers, drivers, and state employees must stay at home, business - to go on vacation. I fully support the 10 demands of the workers, even the point on direct negotiations between the democratic forces and the authorities, which caused so much controversy. There is no other way if we do not want a civil war.
For those who do not understand the strength of the strike movement, I will say there were no real strikes in Belarus: from 1995 to 2020. Having come to power, Lukashenka destroyed the independent trade unions that had emerged after the collapse of the Soviet Union, leaving as a decoration several structures that had never really worked with the workers and had not protected their rights. Few honest union leaders, of course, could not embrace the immensity and help everyone.
Therefore, only in August 2020, when spontaneous rallies began to take place in factories, did we finally see real workers' leaders. It turned out that there are a lot of them, and they are in every enterprise. It is another matter that the workers themselves did not have enough time to prepare full-fledged strikes, and the newly emerged political leaders lacked the courage and determination to call on the people for a long general strike.
I personally know the worker of the Minsk Tractor Plant Siarhei Dyleuski, and I can vouch for his honesty and decency. I know that this person really wants to change the situation in the country, he cares, he feels pain in his heart, and he is ready to selflessly work towards achieving the goal.
I recently watched archived videos of workers' protests last year. Among the employees of the enterprises, I saw many such honest and sincere people. They did not act, did not play in public - they really tried to defend their right to fair elections, decent work, and safe working conditions.
We cannot even imagine how great the potential of the people is and how many leaders there are among us. The scoundrels will not be able to control everyone. The government realizes that it is in a minuscule minority, and so it panics and takes more and more foolish and insane steps. So why don't we realize that power and truth are behind us?
A year ago we knew we were in the majority. Do you think there are fewer of us now? No, there are more, because this year proved to even the most neutral and indifferent that their house is not on the edge, but the next one.
That is why we must not hesitate. Today is one of the most important moments in modern Belarusian history. Lukashenka is insane and weak, there is no doubt about that. And, judging by his frequent trips to Moscow, he may try to sell the country in order to stay in power for a few more months. Although after the signing of the integration cards, Putin will no longer need him.
So let's put things in order in our home, thereby protecting ourselves and the country. The strike is the force that can effectively and in a short time help us achieve our main goal. We have to stay at home for just one month. One month.
Natallia Radzina, editor-in-chief, Charter97.org